In this weekend's Frequent Miler week in review around the web, read about the best ways to use your Singapore miles (or the many transferable currencies that can get you those miles), a way to increase the value of your Marriott free night certificates, lessons learned from a shutdown so you don't get burned the next time around, and more.
When Movie Pass suddenly dropped its price substantially and created noise in the movie-ticket-subscription market, I was less skeptical than most — they weren't dropping rates that much lower than they had offered when I had signed up years prior (and though they had raised rates in the interim, they had survived for years. But when it went mainstream, things went south fast. Now a competitor has shuttered its doors after running fire sales to try to raise cash. Travel With Grant points out some important lessons to learn so that you can avoid getting caught out there the next time a company whose venture capital can't support its aggressive model gets desperate for cash.
---
Hyatt has made great strides in the past year adding properties to its portfolio and expanding its footprint. Nevertheless, it is (in my opinion) still way to small to demand 60 nights of loyalty for top-tier status and then allow hotels to pull stuff like what Gary Leff describes here at the Andaz West Hollywood. As a member of the loyalty program (who likes Hyatt hotels!), I wish Hyatts and its hotels could just come to an agreement where the properties get enough money to stay satisfied and Hyatt gets a good enough deal, too so that consumers can just get the basic benefits of the loyalty program (i.e. easy award reservations). A win-win-win ought to be the goal, and it works that way at so many Hyatt hotels. But stuff like this leaves me scratching my head as to how long smaller properties will play ball with the rules of the program if Hyatt lets places like the Andaz West Hollywood strategize its way out of honoring the loyalty program from which it benefits.
---
You don't have to tell me twice that Singapore Airlines first class is one of the best uses for Singapore miles. But it's far from the only and probably not the best. Travel is Free did a lot of legwork here to point out a number of good sweet spots, many of which I haven't seen discussed elsewhere. Since Singapore Airlines partners with all of the major transferable currencies, it is likely that nearly all readers could take advantage of something from this post.
---
This one from Miles Per Day gave me a good chuckle of the "Who woulda thunk it?" variety. I've probably unknowingly helped some folks hustle money this way more than once or twice. I'd love to hear a direct story from someone who pulls this one off, but something tells me nobody is going to report how they did on it one way or the other.
---
As someone who is relatively new to being "loyal" to Marriott (i.e. having Marriott Platinum status thanks to spend on my Ritz-Carlton card last year), I had totally missed the ability to book cash + points suites with Marriott free night certificates in the new program. It turns out Greg has used certificates this way already, but I hadn't yet stumbled on a situation where I would have thought to have checked this out, though  could see it being a really valuable tip when you're looking to book straight into a suite and could really increase the value of annual free night certificates for those who value confirmed suites. See Middle Age Miles for the details and examples.
---
That's it for this week around the web. Check back soon for this week's last chance deals.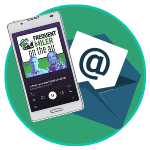 Want to learn more about miles and points?
Subscribe to email updates
 or check out 
our podcast
 on your favorite podcast platform.