Meijer has launched a new mPerks Rewards deal today, offering $5 off your next purchase for every $50 spent on most third party gift card brands. You can take advantage of this deal up to 10 times, so it's good for up to $500 of spend.
The Deal
Buy $50 of most third party gift cards at Meijer and earn a reward good for $5 off your next purchase.
Key Terms
Expires March 28, 2020.
Limit 10 per customer.
Excludes the following gift card brands:

Meijer
iTunes
Amazon
Gaming
Sling TV
Google Play
CBS All Access
Spotify
HBO NOW
Steam
Phone cards
Prepaid debit
Visa
Mastercard
American Express
Quick Thoughts
This offer tends to come around every 2-3 months at Meijer and is a nice way to effectively save 10% on most gift card brands. Note that it's not an instant discount though; you instead earn $5 rewards for every $50 of gift cards you buy which can be used to reduce the cost of your next grocery purchase.
If you're not familiar with how this deal works, there are a few things that are worth being aware of. First, you don't have to buy 10 separate $50 gift cards to max out the deal. Instead, you can buy one $500 gift card (or two $250 gift cards, etc.) and you'll still earn the full $50 in rewards on your mPerks account.
The rewards tend to take a couple of hours to be loaded to your account, although it can be quicker than that at times. I've only been near Meijer stores a couple of times in the last few years, but when I have I've been lucky enough to be near them when they've run a similar offer. Based on my experience, if you buy gift cards when you first arrive and then spend a while doing a grocery shop, the rewards are available by the time you check out. From what I can remember, Meijer emails you once they're loaded, but it's been a while since I last took advantage of this kind of deal so I'm not certain about that.
One other important feature of the offer to be aware of is that any $5 rewards you don't fully redeem are forfeited. Let's say you spend $31.34 on groceries and apply 7 of your $5 rewards. The 7th reward would discount the final $1.34 of your groceries, but the remaining $3.66 balance would be wasted. It's therefore best to only apply your rewards for each full $5 of groceries. When checking out, the POS where you swipe your card will ask you whether you want to apply each $5 reward, so keep track of how many times you press 'Yes' based on your total grocery spend. If you're spending more on groceries than you have in rewards, this isn't an issue.
Finally, be sure to note the list of brands that are excluded from this promotion. Amazon is the most notable brand that's excluded, but other high value brands like Best Buy, eBay and Home Depot are eligible. Hulu isn't listed as an excluded brand this time around, but it has been in the past. I'd therefore be careful about stocking up on Hulu gift cards with this deal just in case they inadvertently left it off the list of excluded brands.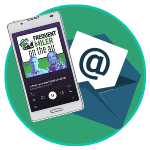 Want to learn more about miles and points?
Subscribe to email updates
 or check out 
our podcast
 on your favorite podcast platform.