Background: Early in January, I introduced the idea of challenging myself (and anyone foolish enough to join me) to earn a million points in one month. So, starting March 1 (tomorrow!), I'll do everything I can to earn as many points as I can while keeping within my ethical boundaries. As a reminder, I don't expect that a million points will have been credited to my account by March 31st: points often take quite a while to get credited. Instead, I'll track all of the points that I expect, and I'll declare victory if the expected total is over a million. Oh, and to keep things challenging, I will try to keep my net costs below $1,000.
My credit churn
Tomorrow (Friday) is the day that I'll apply for a ridiculous number of credit cards and we'll see what happens.  Some think that this stunt will ruin my credit scores.  And, undoubtedly, my scores will go down temporarily.  If history is any guide, though, my scores should recover in a few months and potentially go higher than ever.
Currently, my scores look pretty good:
I'll keep an eye on my scores after the churn to see what happens, and I'll keep you informed.
Ultimate Rewards Mall and other portals
In the past, the Ultimate Rewards Mall has run new promotions each month. Often several merchants would offer 10 points per dollar (or more) for purchases initiated through the mall. Unfortunately, in the last several months there hasn't been much activity of this type, but we can still hope. Friday morning we'll see if there are any great new promotions for March. If so, we'll see what we can do to take maximum advantage. Of course, we'll keep our eyes out for great offers from other portals as well.
My Preparations
Here are some things I've done to prepare for Million Mile Madness:
I signed up for a free month of credit monitoring from Equifax. Yes, I already subscribe to the free services CreditKarma and CreditSesame, but I figured that it made sense to increase coverage this month.
I downgraded my Sapphire Preferred Visa to a Freedom card. This sets me up to be able to sign up for the Sapphire Preferred MasterCard if I choose to. It also lets me take advantage of this quarter's Freedom 5X categories. Note that a downgrade is a very simple process in which you keep your original card number.
I canceled my American Express SPG card to make room for new applications. This may not have been strictly necessary, but I figured that it couldn't hurt. Before cancelling entirely, I asked that the credit line from the card be moved to another card (which was done).
I conducted a number of gift card experiments. For example, I tested the Home Improvement gift card to see what was possible with that. I also tested a number of options for buying gift cards online to see which ones resulted in point-earnings. See the comments section in the Frequent Miler Laboratory for the latest results (scroll to the bottom).
I prepared the Google Docs spreadsheet for tracking all points and expenses. See more below under "Reader Participation".
I delayed paying some bills that were not due until March, as well as some big planned purchases. I won't count these expenses against my $1000 budget, but I will use them to help meet minimum spend requirements on my new credit cards.
I passed on one of the best signup offers in recent times. In January, the American Express Platinum card offered 100,000 points as a signup bonus after only $3000 spend. I passed on it because I was afraid it would hurt my Million Mile Madness churn. This is a good example of why Million Mile Madness is truly crazy and a bad idea for most people. Anyway, luckily, my wife was able to sign up for this offer!
Reader Participation
If you're brave and/or crazy enough to want to play along with this game, first consider the risks: if you're not careful you could spiral into debt, damage your credit score, get targeted for a financial review, have credit card accounts closed against your will, etc. Please only do this if you understand the risks and how to avoid them.
If you still want to play along, here's what to do:
Make a copy of this Google docs spreadsheet.

Open the spreadsheet.
Select File… Make a Copy.
Give the new file a distinctive name so that you can tell it apart from mine.

Setup your copy to be viewable to all, but editable only by you.

Click the "Share" button in the top, right corner.
At the top is a link that can be used to share the document with others.
Under the heading "Who has access," click "Change…" and select "Anyone with the link". Keep the access as "Anyone can view."

Send an email to me (frequentmiler at gmail.com) with the subject heading "MMM Participant". In the body of the email, provide two pieces of info:

The URL for your spreadsheet (the "Share" link)
Your name or alias that you would like shown to the public
I will setup my spreadsheet to automatically show the summary information from each of your spreadsheets. Make sure not to include any personal identifiable information in the spreadsheet since it will be viewable to anyone who cares to look. If you have questions about the process, or about filling out your copy of the spreadsheet, email me and I'll add the question and answer to the Q&A tab of my spreadsheet.
See you in March!
The excitement begins tomorrow! Follow me on Twitter where I'll give updates as I go. I'll also keep you up to date daily through these blog posts every weekday.
Previous Million Mile Madness posts include: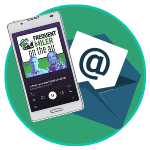 Want to learn more about miles and points?
Subscribe to email updates
 or check out 
our podcast
 on your favorite podcast platform.