There is a new Mint coin deal coming on Monday, May 24th, 2021. This time, there are two coins that will be $85 each with a purchase limit of 10 per household for each coin (for a total of 20 coins at $1700 total for two orders before Mint shipping fees). Various buyers clubs are offering around $150 in profit per order (assuming 10 coins in an order), which could make these a great way to rack up some spend and turn a decent profit, though keep in mind the risks of buyers clubs. You will order on Monday at noon Eastern, but note that the Mint will not charge your credit card until the coins ship in October. This deal therefore won't be a good way to meet minimum spend on a new card unless you've opened one recently with a spending window of 6 months or more.
The Deal
At 12pm Eastern Time on Monday, May 24, 2021, the US Mint will be offering two new limited-edition coins for sale that present an opportunity to pick up spend and earn a small profit through some buyers clubs:
Key Details
Limit of 10 of each coin per household
Will be released for sale at 12pm (noon) Eastern on 5/24/21, but coins will not ship and your card will not be charged until October
Pay close attention to detail if you work with a buyers club (i.e. boxes usually can't be opened and need to be shipped within a specified timeframe)
Quick Thoughts
I was first alerted to this deal by PFS Buyers Club because that's the buyers club with which I have personal experience. I'm sure that other buyers clubs are also buying this coin (and readers often suggest that you can do even better with a reputable coin shop, though I've found local shops in my area uninterested or unreliable on previous deals). I encourage readers to check around with friends to see which clubs they've found reputable (just always keep the risks in mind).
Since these coins will be $85 each, an order for 10 of one coin will come to $850. After the economy shipping fee, you'll pay $854.95 for a full order of 10 coins. As an example, PFS is offering to pay a flat $1,000 for such an order, which means a profit of $145.05. If you order 10 of each coin, that means a total profit of $290.10.
If you want to do the deal, set aside at least 30 minutes as the US Mint site generally crashed repeatedly when these deals go live and you'll need to refresh many times, add to the cart, head to checkout, etc. I've been most successful by making sure I have only a single payment method loaded in Google Pay and allowing Chrome to autofill the payment method info. I find the Mint drop-down to select your saved credit card info just adds another chance for the Mint site to crash on you.
The lag on charging your card / shipping the coins means you'll need to be strategic. First, you want to make sure that you use a card that will still be open in October. Second, you have to consider rewards. Amex updated terms earlier this year to indicate that bullion purchases may code as a cash advance (though we had a couple of readers report using an Amex on a recent deal and not getting hit with fees). Also, US Bank / Elan cards don't pay out rewards and spend won't count toward big spend bonuses on those cards (i.e. don't use this intending to spend toward Radisson free night certificates and don't use your Fidelity Visa). However, I've never had a problem with cards from Bank of America, Capital One, Chase, or Citi (or Amex before the new terminology). I've also used Alliant in the past without an issue, though not recently. Still, since there is some uncertainty involved, a commenter at Doctor of Credit proposed what may be a brilliant solution: use your PayPal Key and then you can change the backing card before the orders charge and ship in October (potentially using this to hit a new welcome bonus on a card you open later this year and/or being able to change your chosen card if another issuer begins blocking rewards or charging cash advance fees on Mint purchases).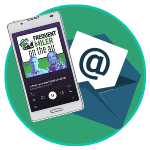 Want to learn more about miles and points?
Subscribe to email updates
 or check out 
our podcast
 on your favorite podcast platform.