Ever wondered what happens if you miss the boat? Looking for a way to eke out value from your Alaska miles post-devaluation? Read about those things and more in this week's Saturday Selection.
With all of the free cruise offers we've written about and the large number of readers who have reported success with them, it's only a matter of time before someone who reads this blog misses the "all aboard" time on a cruise ship. I haven't yet cut it close at all, but I'm really glad that I read this post from Frequent Floaters because I have been bringing passports with us just *in case* we miss the boat. I had no idea that security would open your room, get your passports out of your safe, and give them to the Port Agent so that you can actually get to the next port of call. I still hope to never be in this position, but now understanding how it works I'll be a little less panicked should it ever happen (and also a little less panicked about someone stealing my bag off of our beach chair on land since our passports won't be in it).
Singapore-based blog The Mile Lion covers the best uses of Alaska Mileage Plan miles (post-Japan Airlines devaluation) from a Singapore-centric perspective. I know that most readers of our blog aren't based in Singapore, but a couple of the tricks and values he highlights could nonetheless be useful to anyone putting together a multi-destination trip. There are some nuggets to file away for a rainy day here.
Those who have a Priority Pass from a credit card will be unhappy to read this latest post from One Mile at a Time because it sets a concerning precedent that I can't imagine will remain isolated to this one location which is only accepting those with a paid Priority Pass membership. The value of Priority Pass, particularly domestically, is fairly questionable already, particularly if you don't have a card that includes Priority Pass restaurants/experiences. If more of those restaurants and experiences move to a model where only those with a paid Priority Pass membership can take advantage, this credit card benefit will become significantly diluted.
Oooh la-la! JetBlue will begin serving Paris this summer from both New York and Paris. I'm glad to see JetBlue continue to expand here for its competitive force even if, as One Mile at a Time points out, they have some disadvantages in terms of onward connectivity and lack of lounges. We often see La Compagnie offer competitive round trip fares and I imagine JetBlue will have to compete with those, which could be good news for everyone. For economy class fliers, this may also present another good option for economy awards to Europe, particularly when fares on JetBlue are low (since the TrueBlue points required may also be reasonable).
IHG Business Rewards is a program that allows business travelers to earn points for IHG spend and right now they are offering a double points promotion. This one will be most useful to event planners who will earn 6x points instead of 3x. If you're planning a business event, you'll certainly want to register and pick up the extra meeting planner points.
Frankly, I had almost forgotten that Boxed.com existed until Stephen shared this article from Crunchbase. While bankruptcy filing doesn't always mean much immediately for the consumer (Sears filed for Bankruptcy in 2018 and still exists), in this case it just doesn't sound like Boxed has any sort of hope or plan for the future. I only ordered from them a few times to use Amex Offers or the Gold card benefit — they generally just didn't seem price-competitive to me….which is probably why they sit in the position they're in.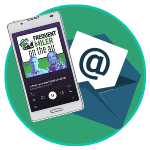 Want to learn more about miles and points?
Subscribe to email updates
 or check out 
our podcast
 on your favorite podcast platform.