Over the past couple of years, we've written about lots of ways to get "free" cruises (in quotation marks because there is usually some relatively minimal cost involved). We even recorded an entire podcast explaining how you can start with a credit card that costs $95 per year and end up with at least 4 free cruises (and I've since added to that). If you've followed along with the stories about how to cruise for free with Carnival and Royal Caribbean and then you've seen the match to get a free cruise with Holland America and the adventures I had in Atlantic City that should lead to a couple more free cruises, you likely know that the story starts with getting Wyndham Diamond status and matching that to Caesars Diamond status. Unfortunately, this is the step where some people get tripped up (through no fault of their own). Here's what to do if it happens to you.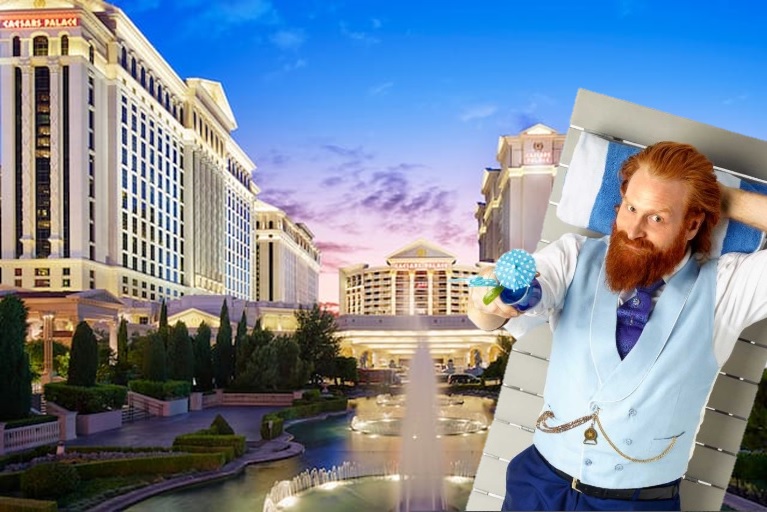 The short story: email Wyndham Rewards
If you're a Wyndham Diamond member and your match to Caesars has failed, go here:
Wyndham Rewards Member Support Page
Scroll to where it says "email us" and click to send a message or click to expand phone numbers and call Wyndham Rewards (my wife emailed). My wife did this and got a reply about two days later that said that her Caesars Rewards status would update within 7 to 14 business days, but she logged into Caesars within a couple hours of receiving the email and her status was already showing Caesars Diamond. That's the outcome she wanted and the short story.
The rest of the details follow.
Caesars Rewards x Wyndham Rewards partnership
Caesars Rewards and Wyndham Rewards have a partnership whereby they offer reciprocal status matching. Unfortunately, that matching does not happen automatically. You need to manually request a match of your status.
That's not too tough — there is a website dedicated to matching status between the two programs. Assuming you have Wyndham Diamond status (which you get automatically when you have the Wyndham Rewards Business Earner card), you'll click the button that says "I'm a Wyndham Rewards member – match my status".
From there, you'll be prompted to log in to your Wyndham Rewards account and enter your Caesars Rewards account information. After you submit, you'll likely get to a confirmation page like this one: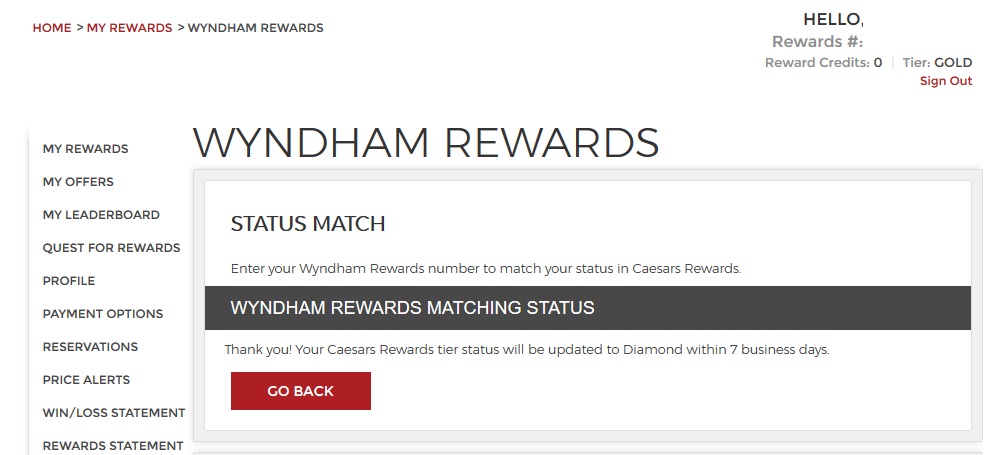 As you can see, the confirmation page indicates that your Caesars Rewards tier status will be updated to Diamond within 7 business days.
That's all well and good if it happens. Unfortunately, it just doesn't work for everyone. This year, when I matched from Wyndham to Caesars, my Caesars Rewards status updated to Diamond within 5 days.
My wife also has Wyndham Diamond status (she is a Wyndham Rewards Earner Business credit card holder). When she matched this year, I thought I had verified that her account correctly updated to Diamond status. Unfortunately, we got to Atlantic City for the matching there and I discovered that, despite having submitted the match on February 1st of this year, her status was still showing Caesars Gold more than a month later (and I did have screen shots from submitting her Wyndham Diamond status for the match on 2/1/23).
We immediately tried matching again. Her Caesars status still remained at Gold a week after trying to match again. Many people have been in the same situation and tried to resubmit multiple times to no avail.
Then a reader mentioned having reached out to Caesars Rewards via Twitter and saying that their status was updated soon thereafter. Next, a couple of other readers commented saying that Caesars was unhelpful but that getting in touch with the Wyndham Rewards team resolved this quickly. I decided to try that angle and contact Wyndham Rewards for help pushing the match through.
I went to the bottom of the Wyndham Rewards home page and clicked "help" under "Member Support".

I immediately noticed that the help page has a subsection dedicated to Caesars Rewards.
Funny enough, clicking that brings you to a page of frequently asked questions about the partnership with Caesars Rewards. Would you be surprised to learn that one of them is "What can I do if my Wyndham Rewards Status Match Application did not go through"?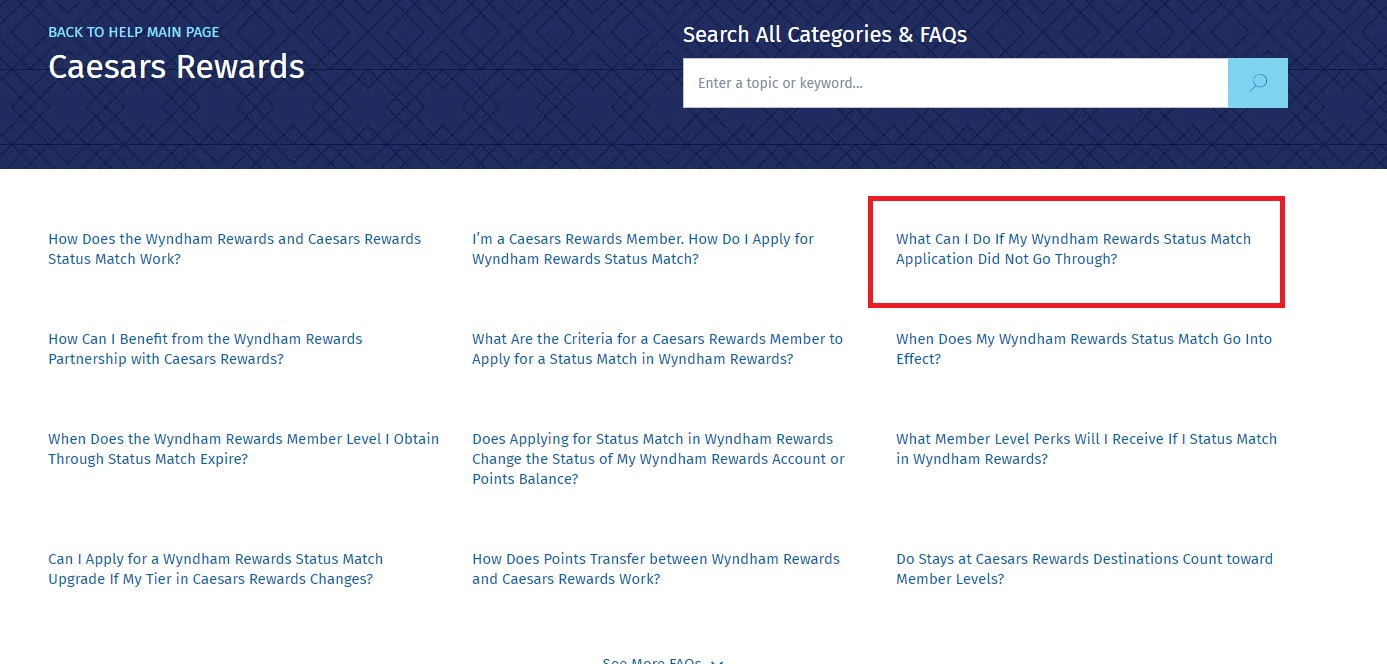 The answer given to that question is that you should call Wyndham Rewards member support and it links you right back to the "help" page (here). Gotta love a good loop.
I scrolled down to the section of the page with Live Chat and Email Us. I My wife tried Live Chat, but despite being within the listed hours for Live Chat, it said that nobody was available. So we opted for "Email Us".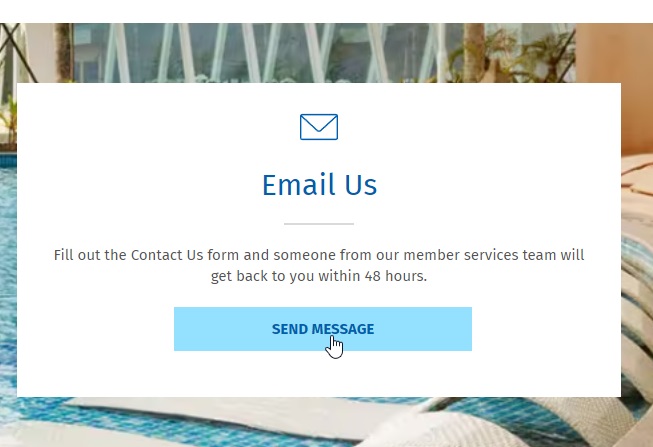 From there, she sent a message explaining that she had submitted for a match to Caesars Rewards on February 1st and then again in March and her Caesars Rewards status was still showing Gold. She included her Caesars Rewards number again in the email and thanked them for their assistance.
While the message above says that someone will get back to your within 48 hours, the automated email response said that someone would respond within 12 hours. In reality, 48 hours was closer to accurate.
When Wyndham Rewards responded, they said:
Thank you for choosing Wyndham Rewards®.

I reviewed your account and we have sent off request to have your account status matched with Caesars, please allow 7-14 business days.

Your Wyndham Rewards status is active through the end of this year and can be renewed annually.

To learn more about Member Levels or to view the Terms & Conditions, please visit www.wyndhamrewards.com.

Please let me know if there is anything else I can assist with.

Thank you for your continued loyalty.
While the email said to allow 7-14 business days, she logged in to her Caesars Rewards account shortly after receiving that email and her status was updated to Diamond (oddly, as she logged in, the screen said "Gold" and showed a "Gold" card, but it immediately changed to the white-colored Caesars Diamond card and the word "Gold" changed to "Diamond").
Anyway, it was pretty painless sending in that email — and now my wife is poised to take advantage of the same Atlantic City matching shenanigans so that maybe she will also get 2 free nights at Wynn Las Vegas and a free 7-night MSC cruise this year – and again next year. Wish us luck.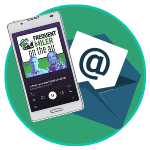 Want to learn more about miles and points?
Subscribe to email updates
 or check out 
our podcast
 on your favorite podcast platform.