Joseph Hostetler at Million Mile Secrets uncovered an amazing find: Hyatt now lets you mix paid and award nights as well as free night certificates in a single booking. This makes it possible to use multiple free night certificates on a single booking (very useful for properties that only show award availability on multi-night stays) and it makes it a little easier to get around the games some properties play that can make it hard to use your points. This is a huge find in my opinion.
Hyatt Pay My Way
The ability to use Hyatt Pay My Way has been in our World of Hyatt Complete Guide, but this was actually the first time I noticed it while searching for a rate. When you search for a stay, you'll now see a "Pay My Way" button underneath the cash rate on a standard room in the "standard rate" search results.
Clicking that button brings you forward to a page where you can choose to mix nights booked on points and/or free night certificates with paid nights as shown below.
Again, this has apparently been an option for a long time, but I had somehow missed it. It looked huge to me because:
Many members now have multiple free night certificates (and they're easier to use). Between credit card certificates and those earned from stay activity, particularly given certificate extensions and short-term opportunities, many World of Hyatt members have multiple free night certificates. Previously, you had to book those free night certificates separately. That was a problem at hotels that required a multi-night stay to book an award. Now you can easily book that multi-night stay using multiple free night certificates.
Many properties play games with award availability. For example, in the past, I had to book a 5-night stay on points at the Andaz Maui and then call the Diamond/Globalist line later and ask to change my checkout date in order to get the 3-night stay I actually wanted. Joseph reports that the Andaz Maui now requires a nine night stay in order to see availability using points. Now you can pop in the dates for a 9-night stay and choose to use points or free night certificates for any number of those nights and the cash rate for additional nights.
I am no fan at all of the games played by properties like the Andaz Maui that make it hard to use the loyalty program's points (if the hotel is unhappy with the compensation they receive from Hyatt, that's something they should be taking up with Hyatt rather than by making it nearly impossible for the guests that the brand brings in the door to use their points). I am a fan of beating them at their own game — and for that reason, I'd like to give Joseph Hostetler a huge high-five. Now if he could just get them to give meaningful upgrades and extend even an hour of late checkout, maybe I'd go back again. I won't hold my breath. It's worth noting that the Andaz Maui isn't alone in this game, but other past common offenders (I'm looking at you Andaz West Hollywood and Hyatt at Olive 8) seem to be happy to take points reservations now that nobody is staying there.
Overall, this is a fantastic addition for Hyatt that I wish I'd seen sooner. It has long been possible to customize a stay like this with Marriott. I am glad that Hyatt instituted the IT to make this happen. In the end, this is a big win for members in that it makes it easier to book the stay you want using the implements you have at your disposal. Kudos to Hyatt for that.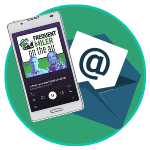 Want to learn more about miles and points?
Subscribe to email updates
 or check out 
our podcast
 on your favorite podcast platform.