This week has been a wild one for Greg and I with nonstop travel and activities for the past week as we spend time on our Passing the GUC (Delta Global Upgrade Certificate) challenge. My quest for 200K bonus points has had us keeping up a frenetic pace. Along the way, we've taken a moment to post about how you can accomplish similar ends — and we will continue to do so over the coming days (a post about how I booked activities is coming soon as are posts on a number of other pieces). The good news is that many of the things we've done — whether booking a huge Hyatt luxury suite, trying to get good value from Ritz-Calrton benefits, or booking backup plans for positioning flights – are applicable in a wide range of circumstances. Read on for more.
Frequent Miler on the Air
This week's Frequent Miler on the Air is a bit different in the sense that we were on the road, so this week we recorded the show on a highway. We may have gotten into the weeds a bit in our discussion of the difficulty of entering Abu Dhabi with COVID protocols, but the key takeaway is that you have to check and double check and triple check requirements in this constantly-evolving atmosphere. See or hear more below.
Subscribe to our podcast

We publish Frequent Miler on the Air each week in both video form (above) and as an audio podcast.  People love listening to the podcast while driving, working-out, etc.  Please check it out and subscribe (if we get enough people to subscribe, we might be able to earn some income from this someday. So far, the podcast is just a labor of love).
Our podcast is available on all popular podcast platforms, including:
You can also listen from your browser:
This week at Frequent Miler
Greg and I took off from Washington, D.C. on Monday for our much-anticipated #PassingtheGUC trip. For those unfamiliar, Greg sort of "gifted" me some Delta Global Upgrade certificates (at a reader's suggestion) under the stipulation that I plan a trip for Greg and me. We took that idea and ran with it, adding a number of challenges that could earn me bonus points. The time has come;  we have been traveling since Monday — see this post for an explanation of the challenges and goals that I am working to meet.
Our first legs of this trip were on Air France from Washington, DC to Dubai via Paris. We booked an economy fare that cost $608 total — which means $304 each way — and we upgraded our flights from Washington to Dubai to business class on Air France. That wasn't as easy as it sounds; although even cheap Air France economy class fares can now be upgraded to business class using Delta Global Upgrade Certificates, finding availability can be a real challenge. It was worth the effort but far from effortless.
We've written before about the amazing value one can get with Hyatt Premium Suites and this week we were able to put the process to the test: we stayed in a Prince Suite at the Grand Hyatt Dubai. It was a massive suite that ordinarily sells for $1500-$2,000 per night with tax and we instead booked it for $150 and 9,000 World of Hyatt points. Here's everything you need to know so that you can live like royalty.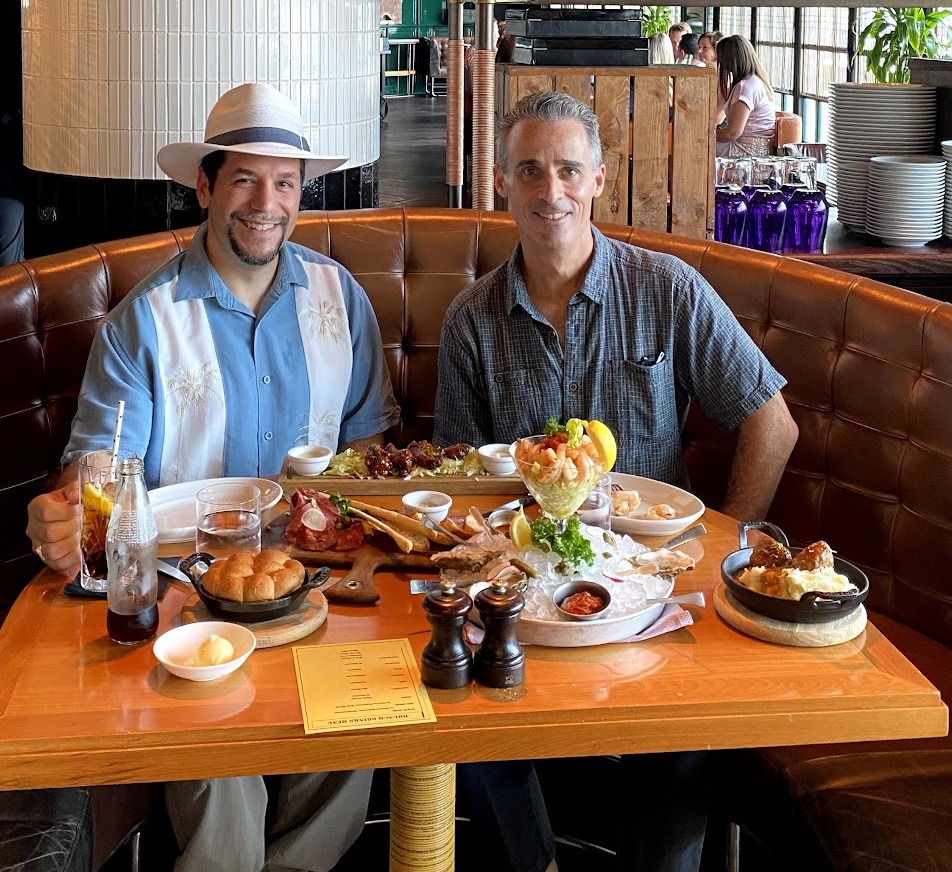 Yesterday it felt like all we did was eat and eat and eat and eat some more. It started in the morning with free breakfast at the Four Seasons as part of our Amex Fine Hotels & Resorts benefits. Then it continued with free (for us) brunch thanks to the $100 property credit, which easily covered the $70 brunch. Brunch included oysters, shrimp, meatballs, mashed potatoes, charcuterie, BBQ chicken wings and bread — and that was just the appetizers! Brunch also came with four main dishes each (and more sides). Then we caught the Grand Mosque before racing to Dubai for an evening food tour that ended in camel meat burgers. Oh, and then there was the Emirates first class lounge and a meal served on the flight. Greg slept through that last one, but Nick went back for just one more meal to round the day out. See more in this "latest news" post and find out more about what we're up to next (hint: we're in the Maldives as I write this post) in our Instagram stories.
One of the lesser-discussed benefits of the Chase Ritz-Carlton Visa credit card is the fact that it comes with 3 annual club lounge upgrade certificates. Those certificates may not be quite as valuable as one would hope, though this will vary considerably. In the example Greg used, there was a great AAA rate offered and in that case I'd hesitate to use an upgrade certificate unless I was sure I'd get good value. On the other hand, at times when discounted rates aren't available you can do well with these certs.
These days, if you're positioning to another city for an important international flight, it just makes sense to book a backup flight. That's because most airlines offer easy cancellation without a fee in our new normal. Just don't forget to cancel that backup was due to depart on Monday. Thank goodness I did recall to cancel before takeoff.
---
That's it for this week at Frequent Miler. Keep an eye on this week's last chance deals.