Alaska made a splash yesterday with the release of its new "unified award chart," which takes affect in March, 2024. This has been in the works for awhile, but it was something that many Alaska frequent fliers (and points and miles enthusiasts) had a fair bit of trepidation about. The fact that Alaska still awards miles based on distance instead of revenue, its recent history of no-notice devaluations and the addition of new partners at terrible value over the last couple of years made many of us feel like it was only a matter of time before the rug was completely pulled out. That said, now that it's out, I'm pleasantly surprised.
There are losers to this new award chart, for sure. However, I think that it strikes a sensible balance between pricing and increased utility. It's not as fun as the old motley patchwork of different award charts for each partner (that also created some incredible values). But, going forward, I think it will make it easier for more people to use Alaska miles more frequently and at reasonable prices.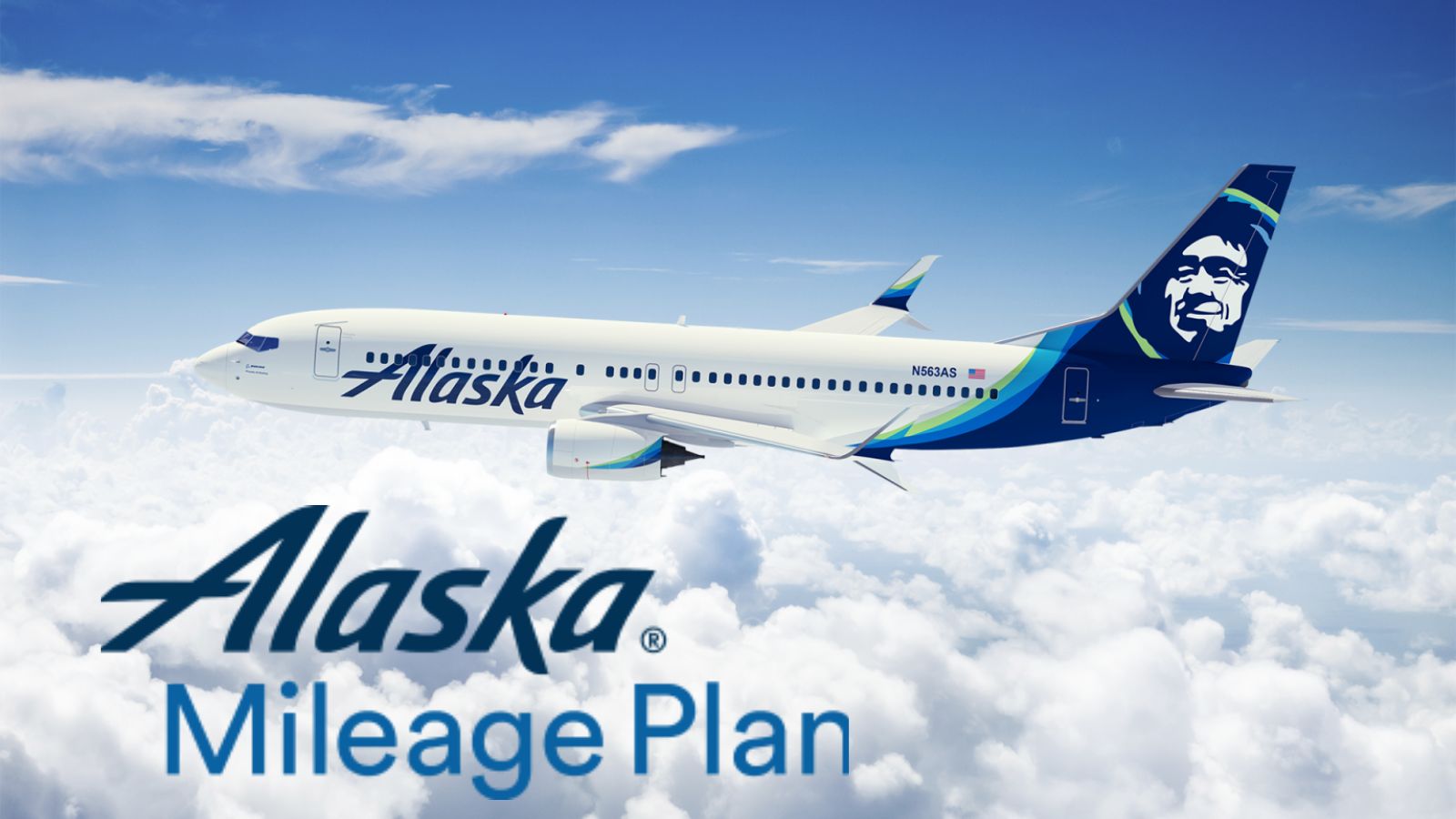 What's Changing
Alaska Mileage Plan has announced new award pricing starting March 2024.  Previously, it's offered separate award charts for different partners. Mileage Plan released a "combined" award chart last year, but it was really just a range of pricing that covered the collection of individual partner award charts. Now, there will be a single set of distance-based award charts that apply to all partners based on different zones of travel.  A few highlights:
Unified saver pricing: Currently, Alaska's award chart lists prices "starting at" and so it's impossible to know what the saver price should really be (and it's often much higher than the starting price shown). The good news is that the "starting at" prices on the new charts will now be the exact price when saver awards are available on any partner award covered by that zone.
Global award availability: Right now, you can only redeem Mileage Plan miles for travel for each partner within select regions. This will be changing and Mileage Plan will be opening up redemptions on all partners globally, with no geographic restrictions. This is a big (and positive) change and will create a lot of additional opportunity.
Mixed partner awards (starting late-2024): Historically, Mileage Plan hasn't let you mix partners on a one-way award ticket, outside of using Alaska to reach a gateway city. After that, all travel had to be on one partner alone. Later next year, Alaska will allow members to mix partners on a single one-way award ticket. This is another terrific change.
Free stopovers continue: Alaska Mileage Plan will continue to offer a free stopover each way on international awards. I imagine domestic awards will offer the same as well, even though it hasn't been explicitly stated.
Cumulative distance pricing: Alaska will price awards based on the total distance flown, including connections, as opposed to using point-to-point pricing. In some cases, this will cause an award to move to another distance band, thus becoming more expensive.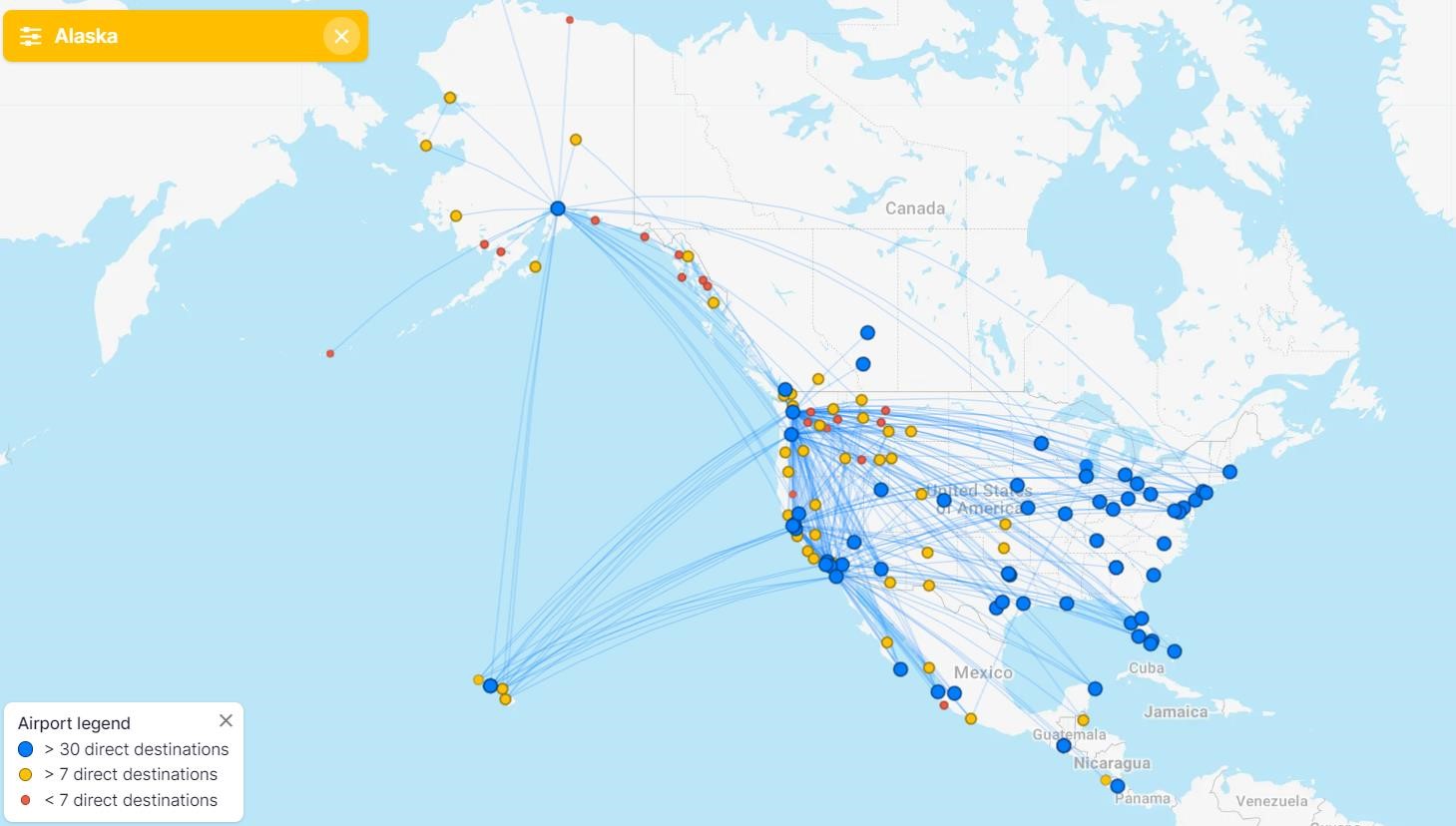 How will routing rules change?
All airlines have some sort of "routing" rules that dictate what sort of path that you can take within each direction of an award flight. For instance, most programs won't allow you to fly from Miami to Seattle by going through Europe, even though flights exist that would make that trip possible. These rules are often explicitly stated somewhere in the terms and conditions, sometimes they're not.
When the new chart comes out, Alaska has simply said that the routing rules will "remain the same." It will allow you to cross a third region in route; for instance flying through and/or stopping over in Hong Kong on the way from to South Africa from the US. Problem is, because Alaska didn't allow global partner availability or mixed partner awards, there weren't really routing rules that governed, say, if you're allowed to transit through South Africa when travelling between India and Europe. Any routes that it didn't want to sell, it simply didn't make available.
Alaska now says that award flights most follow "logical" routes. But, let me tell you, after booking Mileage Plan awards for years, some itineraries that it allows are anything but logical…and some logical routes are oddly impossible.
All that to say, Alaska's IT isn't always the sharpest tool in the shed. I wouldn't be surprised to see fun possibilities that we may not be expecting. With that aside, let's dig into the new Alaska charts.
Alaska Mileage Plan Award Charts (starting March 2024)
Alaska-only
This chart is used for all awards flown entirely by Alaska Airlines (i.e. no partner flights are included).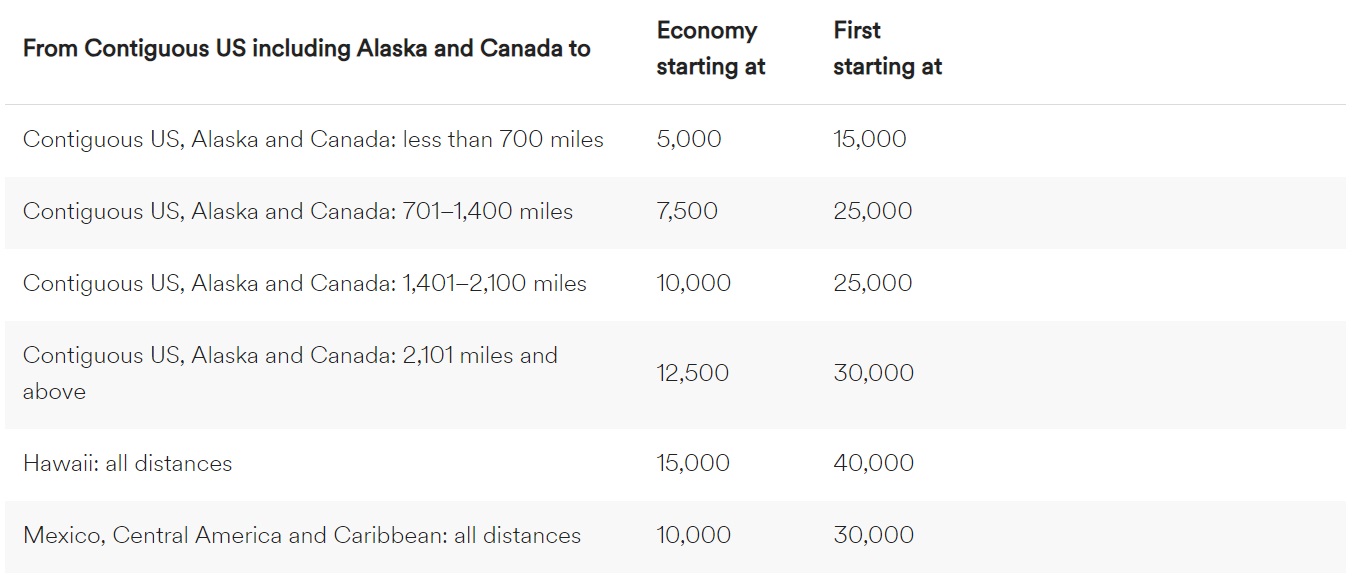 Americas
This chart is used for flights wholly within the Americas including Central, North, and South America, and Caribbean Islands, except when all segments are flown by Alaska Airlines.
Europe, Middle East, Africa
This chart is used for all flights within Europe, Middle East, and Africa; and it includes all flights between the United States, Europe, Middle East, and Africa.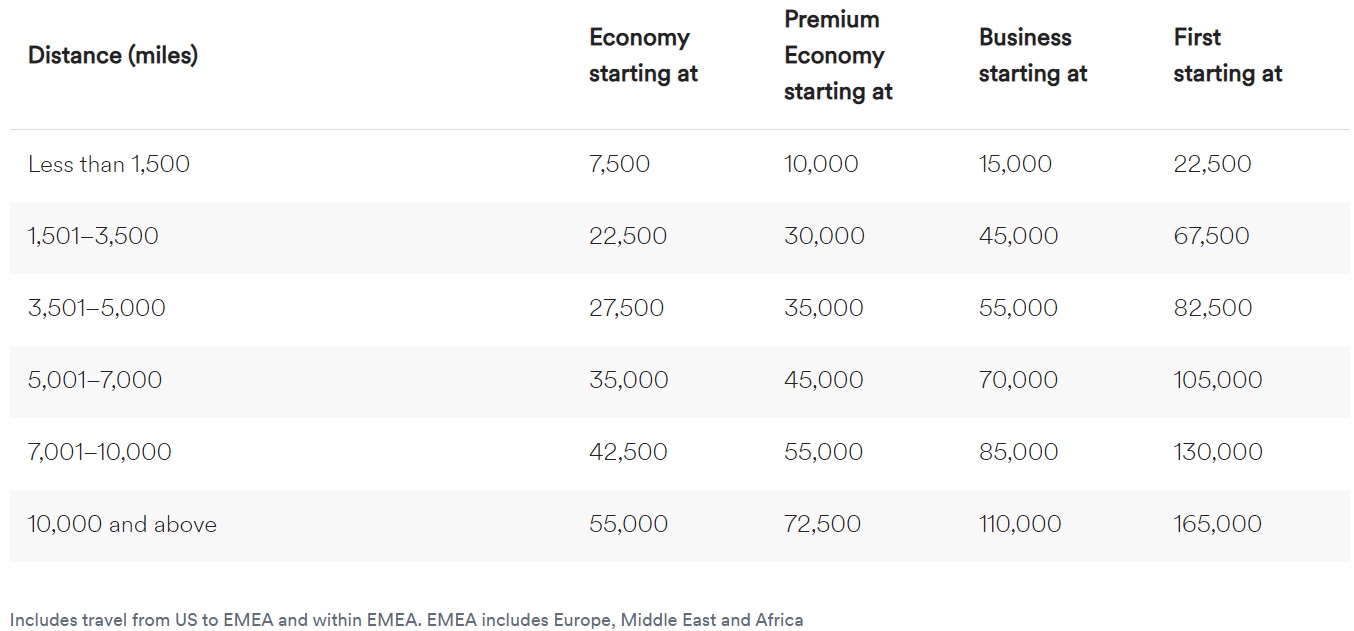 Asia Pacific
This chart includes travel from US to Asia Pacific, within Asia Pacific and between Asia Pacific–Europe, Middle East, Africa.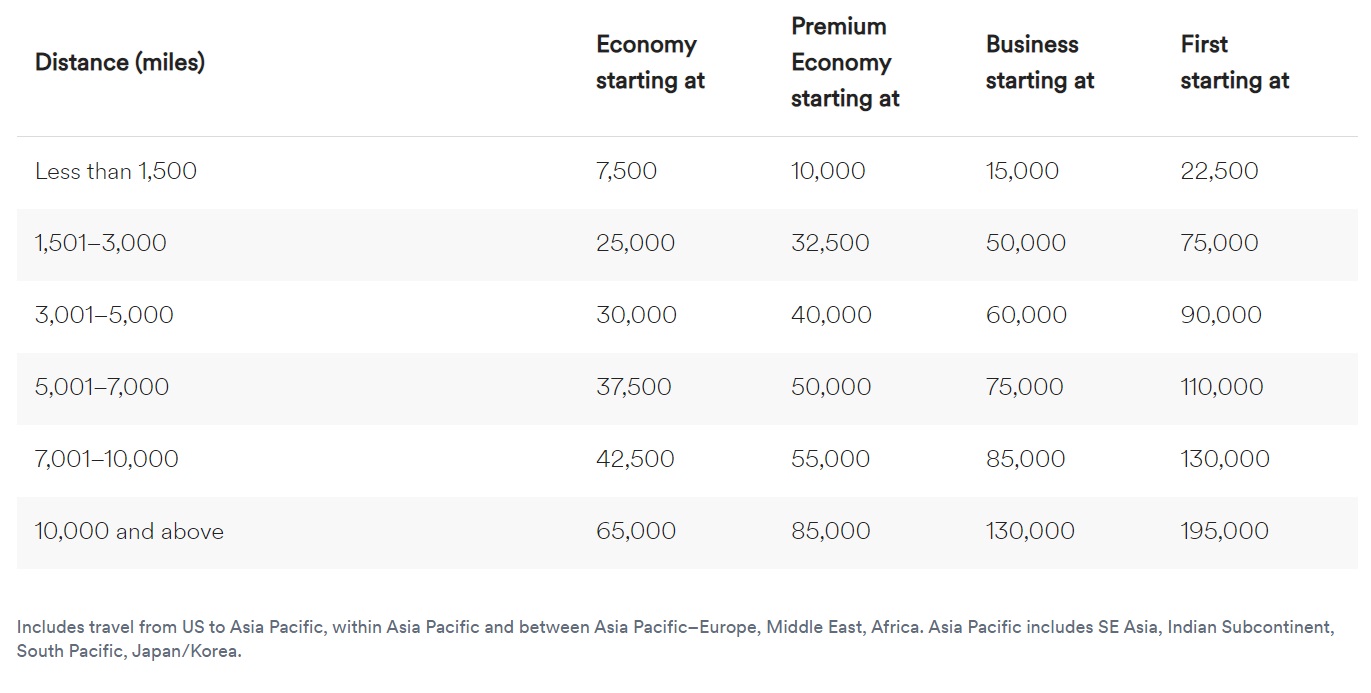 Alaska Award Chart Winners
Short flights and flights in economy
One of the biggest, least sexy, most useful winners on the new chart is for economy flights…especially short economy flights. US redemptions start at just 4,500 miles for flights that are less than 700 miles. 7,500 Alaska miles will get you a saver seat on any on flight in the world of less than 1,500 miles. That's a great deal, both domestically and internationally, as shorter flights can sometimes be unusually high-priced. American Airlines' expensive (and short) flights to the Caribbean will be one a beneficiary, as will flights within Alaska.
Short, international business flights will plummet in cost as well, especially for partners like Malaysia Airlines and Japan Airlines, whose under-1,500 miles business flights will go from 35-65K in business and 25K+ in economy all the way down to 15K in business and 7.5K in economy. Royal Air Maroc is another expensive airline for short connections that will have a a useful route map.
Alaska claims that almost 2/3 of its economy flights will be cheaper on the new charts. Looking at pricing, I'd believe it.
Europe in business from the North/East Coast from 45K
The new chart creates much more opportunity for outsized value from the East Coast to Europe and Africa, as compared to the current version that treats the entire US as the same. Here's some examples (all prices one-way):
Aer Lingus from Cleveland or the Northeast to Dublin – old price 60K, new price 45K. Flights from Chicago and Seattle also will be reduced to 55K.
Finnair from the Northern US to Helsinki – old price 70K, new price 55K.
Iberia from Boston to Spain – old 75K, new price 45K. Much of the rest of the East Coast and Northeast is still lower on both Iberia and American at 55K. This actually makes Iberia redemptions via Alaska competitive again.
British Airway to from BOS/JFK to London/UK – old price 57.5K, new price 45K. Like Iberia, the rest of the Midwest and East prices at a slightly lower 55K.
Singapore Air from Houston to Manchester or from JFK to Frankfurt – previously not offered, new price 55K. Singapore's fifth-freedom flights from the US to Europe are one of the best ways to cross the Atlantic.
Royal Air Maroc from East Coast to Casablanca (and onto Europe) – old price 100K, new price 55K (or 45K direct to Casablanca from Boston). Royal Air Maroc was one of the ridiculously bad value partners that Alaska added last year. The new chart takes it from unusable to attractive.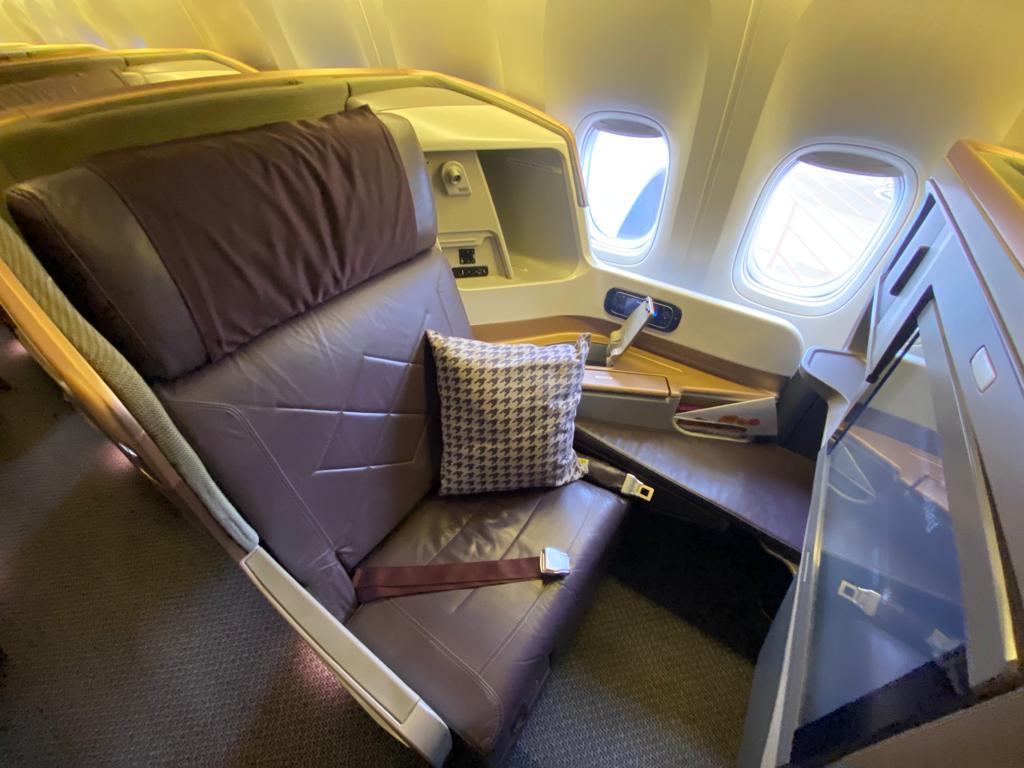 Middle East and Africa in business class from 55K
Overall, the chart to the Middle East either stays much the same or gets far better, especially given the current prices being charged for Royal Jordanian, Royal Air Maroc and El Al.
El Al from the East Coast to Tel Aviv – old price 85K-100K, new price 70K. Flights to Tel Aviv from LAX stay at 85K one-way, without the high-season 100K pricing.
El Al from the East Coast to South Africa – old price 120K, new price 85K.
Royal Air Maroc from US to North Africa – old price 120K, new price 55K.
Royal Air Maroc from US to West Africa – old price 120K, new price 70K.
Royal Jordanian from US to Amman – old price 85K, new price 70K.
Qatar Airways from Northeast US to Doha – old price 85K, new price 70K.
Icelandair "business class" from 30K
Icelandair has a business class that consists of the type of large recliner seats that are more frequently found in domestic US first class. Problem is, they've historically charged the same business class prices for those seats. Now, Alaska is going to sell Icelandair business class at premium economy pricing, which could actually make it an interesting option to consider:
Northeast US to Reykjavik – old price 55K, new price 30K.
Rest of US to Reykjavik – old price 55K, new price 35K.
Connect to pretty much anywhere else in Europe for no more than 45K.
Those are decent prices for what is effectively domestic first class (although the flights are fairly short, as well).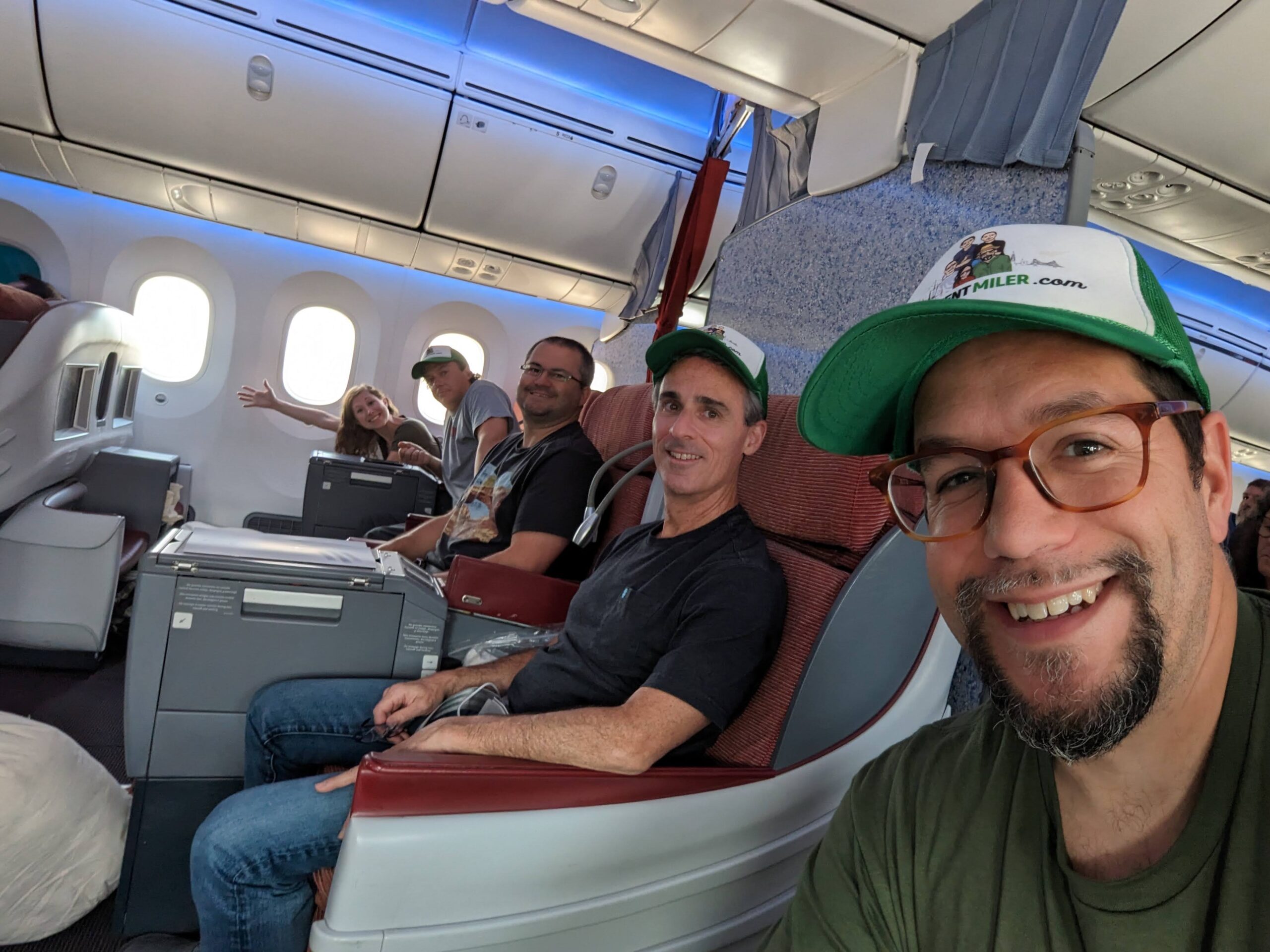 LATAM business class to South America from 35K
This is an often-available redemption that I love. It will be slightly more expensive on most routes, but overall remains a very good value:
East Coast to Lima – old price 45K, new price 35K.
US to Chile, Brazil, West Coast to Chile – old price 45K, new price 50K.
Because of the relatively few hubs that LATAM has, there will be some connecting flights that bump up into the next pricing band.
Business class to New Zealand from 75K
Flights from the US West Coast to New Zealand fall just inside the 7,000 mile distance band, making them 10,000 miles cheaper than business class awards to Australia:
Air Tahiti Nui from US to Auckland – old price 100K, new price 75K.
American Airlines from LAX to Auckland – old price 80K, new price 75K.
Note that awards to New Zealand on Fiji Airways will also be 75K, but we'll read about them later in the losers section.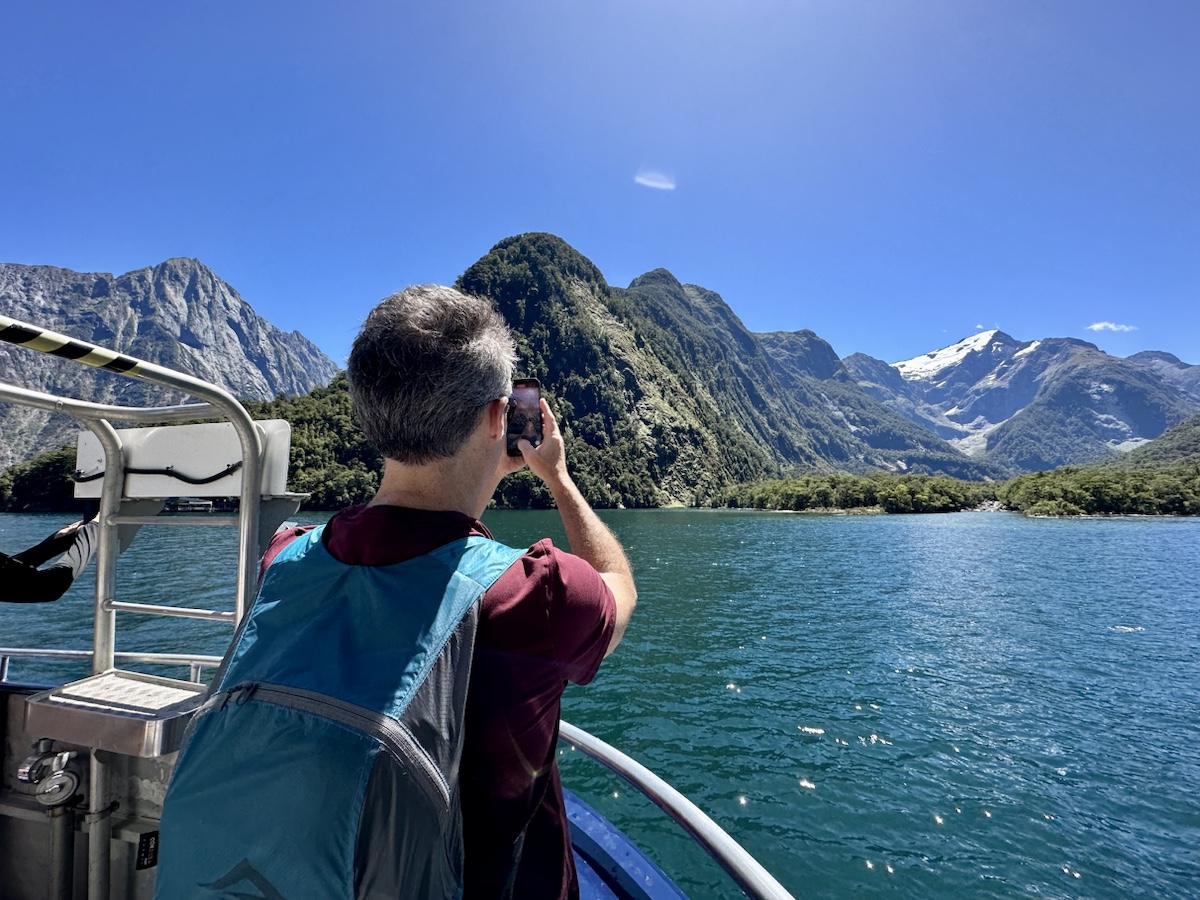 Long, quirky routes to/from Asia/South America in business
Many Alaska partners (and not just the ones below), have some quirky routes that would make for a delightful trip. I'm especially excited to see more availability between Europe and South America on Iberia, as well as increased availability between Asia and Europe on multiple carriers. Once mixed partner awards are live, it will be a whole new world. In the the meantime, here's a few that will drastically decrease in price come March and have some fun stopovers:
Air Tahiti Nui from Paris to Tahiti via US – old price 120K, new price 85K.
Finnair from Northeast US to India via Helsinki – old price 130K, new price 85K.
Royal Jordanian from Northwest US to Bangkok via Amman – old price 120K, new price 85K.
Malaysian Airlines from London to Perth, Tokyo or Seoul via Kuala Lumpur – old price 175K, new price 85K.
Singapore Air to Asia from 85K
Currently, Alaska charges 100K+ to go from anywhere in the US (including the West Coast) to Asia on Singapore Air. Now that will go down to 85K across the board. However, JFK-Singapore is just under the 10,000 mile limit, so adding connecting flights will pretty quickly kick it up to an eye-popping 130K one-way. In that case, it will almost always be far cheaper to book two separate awards.
Alaska Award Chart Losers
Qantas to Australia in business
Alaska currently has one of the best deals in the world with flights to and from Australia on Qantas. They're hardly ever available, but when they are, the pricing is so low that you'd be tempted to think someone forgot about the award chart. Well, evidently someone remembered and that won't be the case any longer starting next year:
Los Angeles to Sydney in first class – old price 70K, new price 130K.
Los Angeles to Sydney in business class – old price 50K, new price 85K.
I know that 85K for non-stop business between the West Coast and Australia is reasonable…it's just a massive jump from the incredible sweet spot that it used to be.
Fiji Airways to Australia/New Zealand in business
Fiji Airways, while not quite as reputed as Qantas, often offers great availability in between the West Coast and Fiji, or onto Australia/New Zealand. Unfortunately, that 55K antipodean odyssey will soon be no more:
US – Fiji in business class – old price 55K, new price 75K.
US – New Zealand  in business class – old price 55K, new price 75K
US – Australia in business class – old price 55K, new price 75K.
Cathay Pacific in first and business to, well, anywhere
Cathay Pacific has long been an absolute steal via Alaska. The problem was finding availability. For years, you had to find it on British Airways' website and then book it by phone. Now that you can book it online, awards are virtually nonexistent. That said, most of us believed that this was a redemption whose days were numbered. And boy, is it. We're looking at 50%+ increases across the board:
US to Hong Kong in first class – old price 70K one-way, new price 130K.
LAX to Hong Kong in business class – old price 50K, new price 85K.
JFK to Sydney in business class – old price 55K, new price 130K.
Wowza. The last of the terrific Alaska trio is another bloodbath. Again, it's not really that these rates aren't competitive. It's that the old ones were incredible, and the new ones seem draconian by comparison.
From California to almost anywhere in business class
The new distance-based pricing on awards is good-ish news overall for East Coasters and basically a push for the Midwest and Pacific Northwest. Then, there's our friends in California. Unfortunately, sitting down there in the bottom-left corner of the country means it's a little further away…and it shows in the pricing. It's probably the biggest loser from a geographical perspective, with increased pricing of up to 15-33% on many routes…without even taking into account Cathay, Fiji and Qantas.
Aer Lingus from LA, San Francisco and Phoenix to Dublin – old price 60K, new price 70K
Condor from West Coast to Frankfurt – old price 55K, new price 70K
Condor from West Coast to Southern Africa – old price 70K, new price 110K
British Airways and American Airlines from California to Europe – old price 57.5K, new price 70K
Korean Air from US to Korea – old price 60K, new price 75K
LATAM from LAX to Sau Paulo – old price 45K, new price 60K
Connecting Flights
With Alaska's current zone-based pricing, adding connecting flights usually don't affect the pricing, provided everything was in the same zone. So, Seattle to Doha on Qatar Airways is the same price as Portland-Seattle-Doha-Istanbul. Now, with the switch to distanced-based pricing, Alaska is counting connecting flights towards the cumulative mileage total, so adding a shorter flight on either end will sometimes push you into another distance band, making the flight more expensive.
There are worse scenarios. It's better than British Airways, which prices each segment as a separate award, often making multi-leg trips much more expensive. There's also some insulation given the commensurate decline in shorter flights. In some cases, it will be cheaper to book a ticket as two separate awards. However, when compared to using point-to-point distances for the total award amount, this will undoubtedly be more expensive.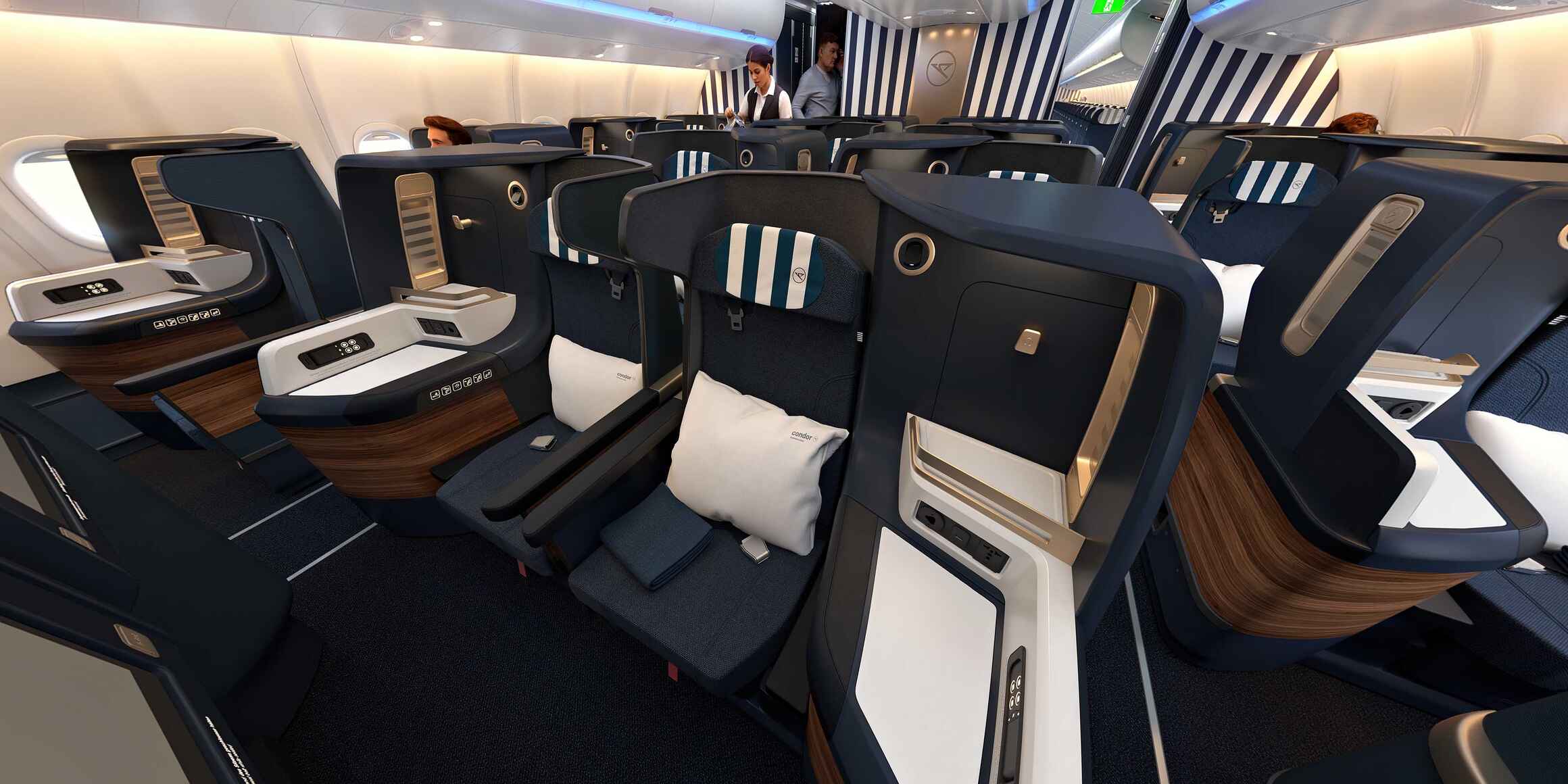 Final Thoughts
It could be worse. Much worse.
In all seriousness, I'm pleasantly surprised by Alaska's first attempt at a "unified" award chart. I don't think that anyone thought that the Qantas, Cathay and Fiji sweet spots would stick around, and they won't. Still, I think that the vast majority of the pricing is competitive or better with the other US programs (and Aeroplan). Free stopovers are still around and once mixed partner awards are live, their utility will be even greater. We'll see how the rollout goes from an IT perspective, and if the global availability is as extensive as Alaska is making it sound. But, overall, I'm cautiously optimistic that Alaska has the foundation for a solid program here, and one that's worth engaging with.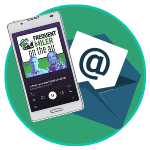 Want to learn more about miles and points?
Subscribe to email updates
 or check out 
our podcast
 on your favorite podcast platform.