Update 1/4/21: Southwest cards are also included in the 5x offer. As with the other offers, that might be targeted.
Update 1/3/21: Kent has advised in the comments below that the Iberia card is receiving the 5x offer rather than the 15,000 bonus Avios offer.
When enrolling my IHG Select card, I received an offer for 5,000 bonus points when spending $3,000, so I've added that to the list below too. I don't have a direct link for either of those offers, so you'll need to use the generic link listed below. It seems that it's possible to register the IHG Select card for both the 5x and 5,000 bonus point offers though.
~
Chase finished 2020 by offering spending bonuses on its co-branded cards and they're kicking off 2021 with a brand new round of spending offers.
The Deals
Earn 5x at grocery stores, gas stations & drugstores on up to $1,500 of combined purchases: 

IHG (Premier, Traveler & Select)
Marriott & Ritz-Carlton
United
Iberia
Southwest

Earn an additional 15,000 bonus Avios when spending $5,000:

Avios (British Airways (& Aer Lingus?))

Earn an additional 5,000 bonus World of Hyatt points when spending $3,000:
Earn an additional 5,000 bonus IHG Rewards Club points when spending $3,000:
Key Terms
(Terms are for the Marriott offer; check registration page for full details of the offer(s) you want to enroll in.)
To be eligible for this bonus offer, you must activate by 03/31/21 11:59 p.m. E.T.
You will earn 5 points total for each $1 spent in the grocery store, gas station, and drugstore categories on up to $1,500 in total combined purchases from 01/01/2021 to 3/31/2021. That's 3 points on top of the 2 points you already earn on those purchases with your card.
Merchants who accept Visa/Mastercard credit cards are assigned a merchant code, which is determined by the merchant or its processor in accordance with Visa/Mastercard procedures based on the kinds of products and services they primarily sell.
We group similar merchant codes into categories for purposes of making rewards offers to you. Please note: We make every effort to include all relevant merchant codes in our rewards categories. However, even though a merchant or some of the items that it sells may appear to fit within a rewards category, the merchant may not have a merchant code in that category. When this occurs, purchases with that merchant won't qualify for rewards offers on purchases in that category.
Purchases submitted by you, an authorized user, or the merchant through third-party payment accounts, mobile or wireless card readers, online or mobile digital wallets, or similar technology will not qualify in a rewards category if the technology is not set up to process the purchase in that rewards category.
For more information about Chase rewards categories, see chase.com/RewardsCategoryFAQs.
Purchases posted to your account with a transaction date during the offer period are eligible for this offer. Delays by the merchant, such as shipping, could extend the transaction date beyond the offer period.
Please allow up to 8 weeks after qualifying purchases post to your account for points to post to your account. ("Purchases" do not include balance transfers, cash advances, travelers checks, foreign currency, money orders, wire transfers or similar cash-like transactions, lottery tickets, casino gaming chips, race track wagers or similar betting transactions, any checks that access your account, interest, unauthorized or fraudulent charges, and fees of any kind, including an annual fee, if applicable.)
To qualify for this bonus offer, account must be open and not in default at the time of fulfillment.
This bonus offer is non-transferable.
Eligible credit cards: Marriott Bonvoy Boundless Credit Card or The Ritz Carlton Credit Card.
Quick Thoughts
Josh in the Frequent Miler Insiders Facebook group gave us a heads up about the Marriott spending offer and I was able to enroll my Marriott card in that one.
I then had a play around with URLs and came across the Hyatt, IHG, United and Avios offers, although didn't come across a link for Southwest. That's not to say there won't be a Southwest offer though. I don't think there was a dedicated link for the most recent Southwest spending offer, but it was possible to register for the offer at chase.com/mybonus, so something similar might happen this time. Update: As per Ashman's comment below, you can enroll Southwest cards using the generic link.
You might have to wait a few days before seeing if that's the case though. When using the generic link, it's looking up the current offers which are due to end on December 31, 2020, so hopefully come January 1 it'll identify the new spending offers without requiring a dedicated registration link.
Be sure to note the terms of each offer as they're set up differently to the current round of offers. For example, the 5x offer for grocery stores, gas stations and drugstores is valid on up to $1,500 of combined spend from January 1 to March 31, rather than that being the limit per month like it is for the November/December 2020 spending offers. 5x is also the total amount you'll earn, rather than being 5x on top of what you already earn on your IHG, United or Marriott cards.
It's also not available on all cards, with the registration page listing eligible cards. For example, the Marriott offer includes the Bonvoy Boundless and Ritz-Carlton cards, but the Bonvoy Bold card isn't listed as being eligible. If you have a Bonvoy Bold card, it's worth trying to register anyway just in case it works – let us know in the comments below if you're successful.
While the 5x offers are a total of 5x, some of the other offers are full bonus points. For example, the 15,000 bonus Avios you earn when spending $5,000 are on top of the Avios you'll earn for your regular spend, meaning you'll be earning at least 4x per dollar on $5,000 of spend.
While the World of Hyatt offer for 5,000 bonus points on $3,000 of spend isn't overly generous, it's still a nice bonus if you're trying to hit $15,000 of spend early in the year before your card anniversary seeing as 2021 sees the opportunity to earn a free night certificate for $15,000 of spend both before your renewal date and after.
Although I was able to register my Marriott card for the 5x offer, I wasn't successful registering my Hyatt or IHG cards. I'm therefore hoping that using the generic link in the New Year will work.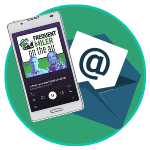 Want to learn more about miles and points?
Subscribe to email updates
 or check out 
our podcast
 on your favorite podcast platform.