We're a week into 40k To Far Away but I'm only halfway through my trip. Even though I've not traveled as far as Greg and Nick so far, I've still managed to fit in a lot of stuff. Here's a recap of how my first four days went.
Day 1
I started off the day oversleeping, but a pre-arranged late checkout from the Hyatt Regency meant that didn't matter, so I just watched TV in bed for a little while.
My first flight didn't leave until the following morning, but that was out of Newark. After checking out of my hotel, I made my way to Union Station and took a Greyhound bus up to Newark Penn Station. That only cost me $16.25 thanks to the 25% off sale a few months ago.
Knowing that sleep would come at a premium during the trip, I napped as much as I could on the way up. It was a quiet, comfortable ride, with sleep aided by the driver turning the lights off between stops.
From Penn Station, it was a $1.60 bus ride to Newark airport where I slept overnight. Well, I say slept, but there wasn't much of that going on.
The airport itself was pretty cold and there wasn't anywhere I could find that was conducive to sleeping. All benches had armrests, so the cold floor was the only place to lay down. There were a few padded seats that would've been more comfortable, but the overnight cleaning staff cordoned off most of it so that they could do the most ludicrously elaborate cleaning of the floor you can imagine. I'm pretty sure Greg or Nick must've paid them off to ensure I'd have nowhere comfortable to sleep.
Anyway, I was glad to have napped on the bus on the way up, as that took a little edge off the tiredness seeing as I didn't really get any sleep overnight at the airport.
Day 2
Day 1 started with oversleeping, while day 2 started with carelessness. My flight didn't depart Newark until about 11:30am, so I headed to the Art & Lounge Priority Pass lounge as soon as it opened at 7am. I placed my 40oz Contigo water bottle down somewhere and didn't notice I'd mislaid it until I was about to leave the lounge.
The guy at the front desk had seen it and moved it to a cart, but it wasn't there anymore. He checked with his colleagues and they eventually found it – one of them had thrown it in the trash! One of the staff members was very kind though and washed it thoroughly, so I was good to go.
I'd had a decent breakfast before the bottle debacle, figuring I should carb load for the journey ahead. I ended up having more potatoes and another bagel after this because, y'know, free food that doesn't come out of the 40k/$400 budget. Having a few sodas and a cup of tea also gave me enough of a caffeine hit to make me feel somewhat human after no sleep at the airport.
My first flight took me to Toronto in United basic economy. It was a 2-1 formation, so every seat was a window or aisle seat; I was on the left of the plane, so had a window seat. Basic economy being basic economy though meant I was at the very back of the plane next to the loo.
In Toronto, we landed at Terminal 1 and I was departing from there too. Seeing as I'd be flying internationally next, I went to the Plaza Premium Lounge (International Departures), although I was a little disappointed as the Priority Pass website said there were no showers in that particular lounge.
It turns out their website can't always be trusted, as sure enough the lounge did have showers.
I had a 5 hour layover in Toronto, so after showering I made the most of the free food and Canadian whiskey before heading to my departure gate.
One of the things I decided to do during 40k To Far Away would be to try a quintessential dish from each country I went to. With a free Priority Pass lounge, I wasn't going to spend $10+ on poutine, so I went for the second most iconic Canadian dish – a Tim Hortons donut.
I'm sorry to say Canada – Tim Hortons isn't that special. Their donuts are OK, but they have nothing on Hurts (which we had in Tulsa last year, but they have locations in several states), nor the Texas-sized donut from Round Rock Donuts north of Austin. Side note: you might think a giant donut like this might be lacking in the taste department, but you'd be sorely mistaken.
My flight from Toronto headed to Madrid on Air Canada. I last flew Air Canada at the very beginning of 2004 and they weren't at all impressive. They had the screens that folded down above the seats about every five rows rather than having individual IFE systems. Even worse, the movies weren't even new – I remember them showing Big (as in 1988 Big featuring Tom Hanks), so I was curious what they were like now.
Thankfully Air Canada has upped its game. It was a comfortable flight, all seats had IFE, the food was decent enough and there's complimentary wine and spirits in economy. Greg had flown to Madrid the day before on Norwegian which doesn't provide complimentary meals, so I certainly couldn't complain about free meals and more free whiskey.
Day 3
I arrived in Madrid about an hour before Greg was due to depart. I'd been hoping to make it over to Terminal 4 to see him, but alas it didn't work out as he was past security and I was now outside of it.
I did still head over to Terminal 4 though to leave my main backpack with a left luggage service. This cost €10 which was a little more than I'd like to have paid, but it was probably the best €10 I've spent on the trip so far.
From there I headed to catch a train. I'd done a ton of research beforehand and seen that it was possible to get a ticket from the airport to Principe Pio station for only €2.60. Unfortunately that turned out not to be true – either that was an old price or the website I'd seen it on was mistaken.
Either way, it meant paying more for a ticket than expected. Thankfully Greg was kind enough to share with me details of the ticket he'd gotten which gave unlimited travel within Zone A for €8.40. My original expectation had been that I'd spend €5.20, so spending €3.20 extra didn't end up being too bad.
Greg had planned to do a free guided walking tour, but I wanted to avoid that seeing as I'd still be tipping. Before the trip, I therefore did a lot of research into some of the key sights and free things to do in Madrid. I plugged all those into Google Maps and rearranged them to create the optimal walking route around the city. Google only allows you to add in 10 stops and I had more than that, so I created two maps, with the second starting off where the first left off. In case you're interested, here are links to directions for both parts of my walking tour – part 1 & part 2.
I wasn't too sure ahead of time what to expect of Madrid, but I loved it. The architecture is phenomenal, there are all kinds of parks to enjoy and the city had a pretty relaxed vibe. Something I didn't know ahead of time was how hilly it was, so I was incredibly glad I'd left my main backpack at the airport.
Here are a few of my photo highlights:
I'd checked the directions ahead of time to make sure I'd have enough time to see everything. What I hadn't paid attention to was how far I'd be walking. It turns out that I walked 10 miles around the streets of Madrid. This would become a theme over the following few days.
One of my favorite parts of Madrid was Mercado de San Miguel. This is a covered market with dozens of vendors selling all kinds of gourmet tapas. I don't even like olives, but I was tempted by these.
My original plan for eating something quintessentially Spanish was to order some paella. That was going to cost €10 which was a little pricey for my budget. I therefore ordered a couple of hand pies; I've no idea if they have a special name in Spain, but they're a little like small Cornish pasties. There were something like 25 different fillings to choose from, so I got one with cod and one with spicy chorizo. At only €3.25 each, they were pretty good value and very filling.
This was my first time in Madrid but I don't think it'll be my last, if for no other reason than I think my wife would like it there.
Once I was done downtown, I headed back to the airport for my 9:10pm flight to Brussels on Brussels Airlines. That flight left from Terminal 2, so after picking up my backpack from the left luggage store, I headed to the Puerta de Alcala lounge. This was another Priority Pass lounge with a shower which I was extremely grateful for seeing as Madrid had gotten hot towards the end of my walking tour.
My flight got into Brussels at 11:30pm, so I'd already decided ahead of time to sleep at the airport. This was a much better experience than Newark though for a few reasons:
It was warmer
I was through security, so it was quieter
The floor was carpeted
Many seats didn't have armrests
I'd planned to sleep on the seats, but ended up being more comfortable laying on the floor. If you're shorter, there were some couches that had armrests in the middle but you might be able to contort your body into a somewhat comfortable sleeping position.
Despite having only eaten a few hours beforehand at the lounge in Madrid, I was felt a little peckish before bed. It was therefore time to finally crack open my wraps and a pack of tuna.
Day 4
Passengers started arriving for flights early in the morning, but I managed to get a good 4-5 hours of sleep on the floor before waking up. After that, it was time for something I'd been looking forward to ever since I found out about it.
Last year my in-laws came to visit my wife and I while we were in Chicago; Shae and her mom have birthdays one day apart, so that meant they could celebrate together. For her birthday, we took her mom to the Morton Arboretum in nearby Lisle. There was an exhibition (which is still there) called Troll Hunt. These are incredible sculptures made by Danish artist Thomas Dambo using reclaimed wood.
To give you a better sense of their size, here's that same troll from behind looking out over I-88. As you can see, he towers over the people below.
We had so much fun looking for them that I wrote a blog post on my own site about them (you can see the rest of the Morton Arboretum trolls here if you're interested). In May, I saw that post had a spike in traffic that came from Facebook. After doing a little research, I saw that Thomas Dambo had come across our post and shared it with his followers.
While checking out his page, I noticed that he'd created more trolls for Bernheim Forest in Kentucky. We just happened to be in Kentucky at the time on our road trip, so a few days later we headed out for another troll hunt.
While planning different strategies for 40k To Far Away, Brussels frequently came up as a possible option. By this point I'd liked Thomas Dambo's page on Facebook and saw in my feed that he'd created an exhibit called 7 Trolls & A Magical Tower for Tomorrowland. Tomorrowland is a dance festival held each year in Boom, a town north of Brussels that's fairly close to Antwerp.
Not wanting to miss an opportunity to see some more of his trolls, I decided to definitely include Brussels in my plans. I took a €3 bus from the airport to Brussels North station, then another €3 bus from Brussels North to Boom.
De Schorre park (where the festival is held) was a bit of a walk from the bus stop. The park itself is pretty big too which is to be expected seeing as Tomorrowland has 200,000 attending each year. That meant quite a bit more walking around which was less fun as I had my 25lb backpack with me this time.
I found three of the trolls and the Magical Tower fairly easily, but couldn't find the other four trolls.
After walking around for ages, I was about to give up on finding the other four as there weren't any signs as to their location. Thankfully I lucked upon an information center in the park just before leaving and they had a map of the park. The map didn't specifically note the locations of the trolls, but the lady working in there marked where they were on the map for me.
Armed with this information, I set back out and found the rest of them.
Once I'd found them all, I started heading back towards the bus stop in Boom. I hadn't eaten anything Belgian yet and a Belgian waffle was top of my list. However, I'd walked 6 miles by that point carrying my backpack, there were no waffles in sight and I was getting hungry.
Belgium is also known for its fries and I passed by a restaurant called Friet Boom. With a great name like that, how could I pass up?! I ordered a curryworst with fries, expecting to get sausage and fries covered in curry sauce like you get in Germany. That wasn't the case though, as the curry flavor was in the sausage itself. It was tasty and, at €6.50 including a soda, fairly budget friendly.
It was also a huge portion of fries. I'd ordered the medium, as a medium in Europe is usually a small/value-size in the US. It turns out that a medium is more like a large, or it is at Friet Boom anyway. I still ate them all though as I wasn't sure when my next meal would be.
My bus back to Brussels North didn't show up but, other than it being a little chilly, that wasn't an issue as my bus wasn't due to leave Brussels North until much later that night. The 460 bus from Boom to Brussels North only runs once every hour at the weekend, so I had to wait an hour for the next one to show up. I was exhausted by this point, so slept a little on the hour-long journey back to Brussels.
That wasn't the end of my large amount of walking, so stay tuned for days 5-8 coming up in the next few days.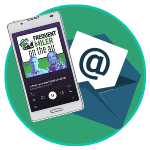 Want to learn more about miles and points?
Subscribe to email updates
 or check out 
our podcast
 on your favorite podcast platform.