Update from Nick 2/18/23
: The Paceline credit card has sent an email to cardholders that the card will no longer be usable after 2/23/23.
Doctor of Credit report
s that statement credits for the Apple Watch Series 7 will end on 3/31. That's pretty awful for people who signed up for the card expecting the reimbursements. It would make sense to file a Consumer Financial Protection Bureau complaint if they don't honor what they advertised for the welcome bonus. Our original post about the card follows, but once again note that 
the Paceline card is shutting down in a few days
.
Paceline is a free app that rewards you for exercising (more on that below).  Now, they've added a not-free ($60 per year) credit card to the mix.  This credit card offers amazing cash back rewards… if you work out at least 3 times per week.  When you meet the app's exercise goals, the card earns 5% back for grocery, drugstore, and more; and 3% back everywhere else.  Any week in which you fail to meet the exercise goals, you earn half that (2.5% and 1.5%, respectively).  To me, this is a really cool gimmick for encouraging people to exercise more.  When you exercise enough, your card becomes one of the most rewarding cash back cards on the market.
The Paceline App

In order to understand the Paceline credit card, you need to understand the free Paceline app first.  The app requires an iPhone and a synced fitness tracker: Apple Watch, Fitbit, or Garmen.  The app uses the fitness tracker to monitor your "eHR minutes" (elevated heartrate minutes).  The goal is to complete 150 eHR minutes each week (and note that you can't earn more than 50 eHR minutes in a single day).
Once you complete the weekly circle, you can select a reward:
I've been playing with the app for a few days, and as far as I can tell, most of the "rewards" are basically junk ads designed to get you to sign up for stuff.  You can probably find equal or better offers by searching your email's spam folder.  But at the bottom of the list of rewards you'll find a $1 Amazon.com Gift Card.  That's not much, but hey, this is a free app!  If the Amazon gift card is always an option (I don't know yet if it is), then you could earn up to $52 per year just by exercising regularly.  I realize that's a paltry reward, but its not nothing and I think it has the potential to make a difference for someone who needs just a tiny nudge of encouragement to get out and work out.
My Experience with the App
Last year, as time was ticking away for me to use up the Dell credits that come with the Amex Business Platinum card, I bought a Fitbit Luxe watch on a whim.  And for the next few months, it sat around waiting for someone to wear it.  Finally, once I learned about the Paceline credit card and the Paceline watch, the Fitbit got its chance.  My thinking went like this: 1) The credit card sounds awesome if people can easily meet the exercise goal each week; 2) I can test out how easy it is to meet the weekly exercise goal by using the app even without applying for the card; and 3) I need a fitness tracker to make all that happen.  Boom.  I installed the app and put on the Fitbit.
Interested in trying out the app yourself? Use a friend's referral link to get the app (or enter their referral code after installing the app) and you'll get a $5 gift card (and your friend with get a $20 gift card).  Here is our referral link to get you started:
I installed the app last week, and learned the following from my experience so far:
The app automatically counted minutes when I went for walks.  On two days, I completed the maximum daily 50 eHR minutes simply by walking 50 minutes or more.
The app did not count minutes vigorously exercising at Pure Barre.  Last Saturday was one of my most intense exercise days ever and yet the app didn't think I completed more than a few eHR minutes that day.  The problem was that I didn't tell the watch that I was doing a workout and there's no way to manually correct the error afterwards.
This morning, the app did count Pure Barre minutes when I clicked a button on the watch to tell it I was exercising.  Today's Pure Barre class easily exceeded the max 50 eHR minutes allowed in one day.
The App's week ends on Sunday.  I didn't earn a reward last week because I fell a little short of 150 eHR minutes.  That said, it should be very easy for me earn a reward this week since the app week starts on Monday and I already have one 50 minute eHR day for the week (I'm writing this on Monday afternoon by the way).
I do exercise regularly and so I think it will be very easy for me to earn rewards every week with the Paceline app.  As a result, I think it would be easy for me to earn the maximum rewards available with the Paceline credit card if I were to sign up for it.  Note that I'm still playing with my X1 card and so it may be quite a while before I add something like the Paceline card to my wallet.
The Paceline Credit Card
Card Offer and Details

This card is no longer available
$60 Annual Fee
Earning rate: 2.5% for groceries, drugstores, sporting goods, fitness, and athletic apparel ✦ 1.5% everywhere else. Earn double (5% or 3%) each week when you meet fitness goals.
<!–– qBaseq -->Base: 1.5%
<!–– qGroceryq -->Grocery: 2.5%
<!–– qShopq -->Shop: 2.5%
<!–– qOtherq -->Other: 2.5%
Card Type: Visa Signature
Noteworthy perks: Earn double rewards when you complete fitness goals (150 minutes elevated heartrate per week). Requires a fitness tracker: Apple Watch, Fitbit, or Garmin. Currently only available for iPhone users.
The $60 per year Paceline credit card, by default, offers ho-hum rewards, but those rewards double each week in which you complete 150+ eHR minutes.  For those interested in cash back, I don't believe there is any other card with as much uncapped cash back potential, but you really do have to work out for it!
5% Categories
As you can see in the image above, with enough exercise, you can earn 5% for purchases at grocery stores, drug stores, sporting good stores, fitness stores, gyms, and athletic apparel stores.  If you don't meet the goal of 150+ eHR minutes in a week, you'll earn only 2.5% back in the above categories.  That's not terrible, but if you don't exercise often enough, it's not good enough in my opinion to make this card a keeper.
While the display above lists specific stores (such as Whole Foods and Trader Joe's for grocery stores; and CVS, Walgreens, and Rite Aid for drugstores), the online details about the card specify that qualifying purchases are based on merchant category codes (MCC).  That tells me that any store that is coded as a grocery store or drugstore (or gym, or fitness store, or sporting goods store, etc.) will work
3% Everywhere Else
It's interesting to compare this card to the Discover It Miles card which offers 3% back only for the first year.  With the Paceline card, you can get 3% back every week forever (or until they realize they need to cap this benefit) as long as you exercise three days per week!  That's pretty incredible.
The Welcome Bonus
The Paceline card doesn't have a normal welcome bonus.  Instead, it offers to pay you back when you use the card to purchase an Apple Watch.  Buy the watch with your card and then each week in which you complete 150+ eHR minutes, they'll refund 1/52 of the purchase price.  So, over the course of a year, it's possible to get your full purchase price back, up to $429.
Bottom Line
The Paceline credit card offers amazing cash back rewards for those who exercise at least three times per week.  If cash back is your thing and/or you could use a nudge to keep on-task with your exercise, this could be a great option for you.  If you already have a compatible fitness tracker (Apple Watch, Fitbit, Garmin), then I recommend starting with just the app to make sure that you can complete your circles each week before signing up for the card.  If you fly past that hurdle, and if the card's 5% categories and 3% everywhere else earnings appeal to you, then go for the card.
If you don't have a compatible fitness tracker, you might consider rolling the dice on your future exercisey-self: sign up for the card, use it to buy an Apple Watch, and work out enough to earn 150+ eHR minutes per week for the next 52 weeks to get your money back.  Who's in?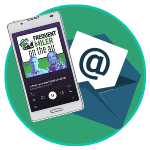 Want to learn more about miles and points?
Subscribe to email updates
 or check out 
our podcast
 on your favorite podcast platform.