On this week's Frequent Miler on the Air, Greg and I discuss a number of key topics, highlighted by a trip down manufactured spending's memory lane, reviewing the many amazing opportunities that have come and gone over the past decade as we discuss whether or not MS is dead for good. I make a case as to why Greg's newly-increased IHG value may be flawed, we talk Greg's pandemic vacation and whether he'd do it again and more. Watch, listen, or read this week's Frequent Miler week in review.
FM on the Air Podcast
For those who would rather listen than watch, the audio of our weekly broadcast is available on all popular podcast platforms, including:
You can even listen right here in this browser:
If you can't find the podcast on your favorite podcast platform, send us a message and let us know what you'd like us to add.
This week at Frequent Miler:
In hotel points:
Our Reasonable Redemption Values would suggest that 12x Hilton points are worth more than 6x Marriott points, but is that the entire story? Who should consider putting grocery spend on the Marriott cards while the return is increased? See this post for my full take.
Greg re-evaluates IHG points to give us a new Reasonable Redemption Value in this era of dynamic award pricing. Surprisingly, Greg found IHG points to be worth even more than before. However, I took issue with his methodology in Frequent Miler on the Air — I think in iteration 2.0, we'll have to consider some resorts and other non-city-center-type properties to get a more balanced view of a reasonable redemption floor. Still, it's encouraging to see points can be worth quite a bit more than the selling price.
This is pretty cool: Stephen Pepper found that IHG credit card free night certificates, which work at properties charging up to 40K points per night, will work at most InterContinental Properties in the US (not necessarily every night of the week, but at least on some nights) thanks to the new dynamic pricing model. Stephen shows you the easy way to find qualifying nights and a couple of great values in this post.
A reader reached out because he hadn't received grocery bonus points in his Marriott account based on spend he had done on his Ritz-Carlton credit card. That led me down a spiral of trying to uncover the mystery of my own points. I do think that the points will post correctly, but there may be a month-long delay on Ritz grocery bonus points – at least those earned from early in the bonus period.
In tools for your belt:
SeatSpy is a pretty awesome tool for the included airlines. When Greg originally wrote about this tool, it only worked with British Airways and Virgin Atlantic. Now that the tool has functionality for Air France and KLM, Greg has updated this post accordingly.
There are a handful of "hidden" credit cards out there that are available — and worth having — but you have to know how to get them. Unlike cards available for new applicants, these cards require a product change. In this post, Greg shows you the path to take to get to cards that are no longer marketed but may have benefits worth keeping.
In pandemic response:
Last week, Greg took his first vacation since COVID-19 hit. He had a great time and his pictures will give even the most cautious among us some wanderlust. That said, this post (and the ones from One Mile at a Time to which he links) solidified for me that I have no interest in a trip to a hotel or eating in a restaurant any time soon. I told Greg during FM on the Air this week that I'm just not in a rush. I've had the chance to enjoy travel to many places and I know there is plenty of travel in my long-term future, so I'm OK with sitting it out for a year if need be. Walking around trying to avoid some of the guests in the hotel or wondering what rules have or haven't been enforced here or there just doesn't sound enjoyable to me. Like I said in the broadcast, I'm more inclined to consider buying a camper and to look for a slice of nature, so maybe there will be some guides to national parks to come down the road. In the meantime, I imagine Greg will venture out again and report back as to how his next trip compares.
Working at Frequent Miler is a pretty terrific job. I get to write about stuff I enjoy and help people stretch imaginary currencies into real trips that they might have once thought they would only imagine. But beyond the fact that I get to do something I enjoy and do it from where I want and when I want, there is something more important: I work for a great person here at Frequent Miler. I've often told people that as good a guy as Greg seems when you're a reader, he's an even better person to know and work for. His commitment to his blog, his readers, and his employees is genuine and that's just not something you see every day. I really appreciated the supportive comments from so many of you on this post and I'm glad that others get to see a side of Greg that we see every day, including both his belief in this site and his generosity with his people. Here's to weathering turbulent times and coming out stronger in the long run.
---
That's it for this week at Frequent Miler. Check back for this week around the web and our month-ending last chance deals.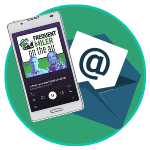 Want to learn more about miles and points?
Subscribe to email updates
 or check out 
our podcast
 on your favorite podcast platform.