Should you plan now for future travel? See where Greg and I land differently depending on whether we're discussing earning points or burning points and what type of points they are in this week's Frequent Miler on the Air episode. We also discuss the temporary Chase benefit enhancements, whether or not you should mattress run that Radisson promotion, and a double feature of Citi craziness. Watch, listen, or read for our Frequent Miler week in review.
FM on the Air Podcast
For those who would rather listen than watch, the audio of our weekly broadcast is available on all popular podcast platforms, including:
You can even listen right here in this browser:
If you can't find the podcast on your favorite podcast platform, send us a message and let us know what you'd like us to add.
This week at Frequent Miler:
In easy money:
Even if right now is not the ideal time for you to go after new credit cards, it can be a great time to pick up easy bank bonuses. While some bonuses require tying up a substantial deposit for a while, many others have low thresholds and/or simply require direct deposits (which can sometimes be very easy to satisfy). Later the same day I published this post, my wife and I each received our first payments on our HSBC accounts, which will add up to $1400 between us by the end of 2020 for that one account each. With new bonuses out over the past few days, I think we'll likely shoot for $4K in new bank account bonuses this year — which is not bad for a few clicks and a little organization.
In credit cards:
Say it louder for the people in the back: Hilton offers great value for those manufacturing free nights. No, they don't necessarily beat the combination of Hyatt and 5x at office supply stores on an Ink Cash card, but as Greg points out in the section about problems with the methodology, Hilton can be even better than they look on paper if you go from Chase/Amex to cash to Hilton (see the post for more detail). I won't cut Hyatt out of the playbook any time soon, but nor will I feel ashamed to continue enjoying Hilton.
Recent temporary bonuses have had Greg's wallet up in the air. Mine has been all over the map as well, though for almost a month I had misplaced my physical wallet and had instead been relying on my Samsung Gear S3 for in-person purchases anyway. Because of the watch, my version of this post would cheat a bit as I carry a bunch of cards virtually (which can of course also be done on the phone for many of us, but the watch ensures greater acceptance thanks to the technology used by that specific watch — it's still fun every time someone starts to tell me that they don't take mobile payments just before the register beeps to say that the charge went through!). The related post I want to see: What's in Greg's wife's wallet? My better half is very good at knowing what card to use for bonused spend, but every time I see an unbonused purchase post on her Amex Gold card, I feel the burn of having paid 2.5c per point (since we could have had 2.5% cash back on her Alliant card instead).
We're debuting a new regular bi-weekly series that kicked off this week: Card Talk. Some of you may remember a pilot episode we ran of this series a while back. We're now getting it set on our schedules: each week, we are alternating between an Ask Us Anything on Tuesday at noon (this coming Tuesday July 7th, we'll be live on Youtube at 12pm Eastern) and a Card Talk (we'll record the next one the week of July 14th). Whereas Ask Us Anything is broadcast live, our Card Talk episodes will be recorded and as such may or may not be published as Youtube videos / posts on Frequent Miler. Check out this week's episode, where we helped Jen slash some annual fees she doesn't need to be paying and plot out a strategy for a family of six to open the right cards to meet her travel goals.
As we discussed on Frequent Miler on the Air, Chase has added some nice summertime bonuses on the Sapphire Reserve and Preferred, including 5x on Instacart and at gas stations on the Reserve (subject to caps). Additionally, we reported yesterday that many people have suddenly started getting 5x at restaurants on the Sapphire Reserve; it's unclear whether this is an unadvertised bonus or some sort of glitch in the system, but it's great to see Chase continue to add value to their premium travel cards in the current environment.
If you're looking for help in organizing your wallet thanks to the many COVID-related credit card enhancements, see this post for up-to-date information about cards offering temporary benefits.
It's time for the procrastinators among us to finally file 2019 taxes and along with that hurdle comes the burden of paying them. Let some credit card rewards lighten that load by getting you something in return. This post has all the details you need about ways to pay with a credit card and which ones to use to beat the fees.
In award booking
For those new to the process, Stephen goes over the mechanics of booking a free room with your Chase IHG free night certificates. Keep in mind that sometimes Chase certificates show availability even when rooms aren't available on points, so it's worth logging in to check if you need a specific date and place to be certain of availability.
Continuing a series demonstrating how to get a trip to a far-off place with just 2 new credit card welcome bonuses, this post shows a plethora of options for getting to Europe and staying for a few nights — even for two passengers — using the welcome bonuses from just two credit cards.
---
That's it for this week at Frequent Miler. Check back soon for our week in review around the web and this week's last chance deals.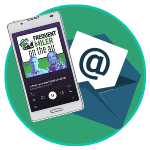 Want to learn more about miles and points?
Subscribe to email updates
 or check out 
our podcast
 on your favorite podcast platform.