Early this year I opened the kimono to show off the cards I keep in my wallet.  I was proud that I had a solid performing mix of cards in my wallet for every possible scenario.  For full details about what was in my wallet and why, please see: What's in Greg's wallet?  A short summary, though, is that I carried the following cards:
Then the pandemic
About a month after my wallet post, COVID-19 locked us up at home.  But the lack of travel didn't change my wallet.  I already had a habit of keeping my travel related cards in a separate travel wallet (see: How my travel wallet reduces travel stress).
The key driver of changes to my wallet was the credit card pandemic wallet-share war.  Mostly Amex and Chase, but a few other issuers too, started adding temporary perks to their cards in an overt play to get a bigger piece of our dwindling spend.  Each card issuer obviously hoped that by giving us spend bonuses at grocery stores, food delivery, or other services that remained open during the pandemic, we would get used to using those cards for all spend.  That's great for the card issuers if it works, but it's not how I'm wired.  Sure, you can convince me to use a different card for grocery spend, but I'm not going to then use it for other types of purchases if it's sub-optimal.  I'd rather carry several cards in order to get the best bonuses for each type of spend.
Beginning in May, and thanks to the ever changing credit card promotions, each month of the pandemic has led me to rethink my wallet…
May: Sapphire Reserve takes over grocery
Added: Sapphire Reserve 5X Grocery
Removed: Amex Gold 4X Grocery
In May, Chase announced that they were offering grocery spend bonuses on many of their cards.  I was pretty happy with the idea of getting 5X for groceries with my Chase Sapphire Reserve card, so Amex Gold was out, Sapphire Reserve was in.
June: Rakuten Visa takes over grocery, dining, and Apple Pay
Added: Rakuten Visa 6X grocery, restaurants, and Apple Pay
Removed: Sapphire Reserve 5X grocery, Citi Prestige 5X restaurants, Altitude Reserve 3X Apple Pay
I was one of the lucky ones who received this targeted offer for my Rakuten Visa card.  Since I earn Membership Rewards with my Rakuten account, for the month of June I was able to earn 6X Membership Rewards for all spend at grocery stores, restaurants, and mobile wallet purchases (Apple Pay, in my case).
This meant that my Sapphire Reserve card made its way back to my travel wallet, my Amex Gold card continued to sit things out, my Citi Prestige card took a break, and I added the Rakuten card to Apple Pay and made it my default card.
July (so far): Bonvoy Brilliant for restaurants & Sapphire Reserve for gas
Added: Bonvoy Brilliant for grocery (6X) and restaurants (travel credit), Sapphire Reserve 5X gas, Altitude Reserve 3X Apple Pay (restored as default for Apple Pay)
Removed: Rakuten Visa (the 6X promo is over)
With the Rakuten Visa 6X promo over, it was time to put it away.  This meant reviving other cards for grocery, restaurants, and Apple Pay.  At first I expected to bring back the Amex Gold for grocery (4X) and Citi Prestige for restaurants (5X), but then I remembered that Amex had made a couple of temporary enhancements to the Marriott Bonvoy Brilliant card:
6X points at U.S. supermarkets (up to $7,500 spend)
Dining, takeout, and delivery qualify toward $300 Statement Credit benefit
Since I haven't yet used up the annual $300 in Marriott spend credits that the Bonvoy Brilliant card offers, I decided to use the card at restaurants until that credit is maxed out (then I'll revert to the Prestige card).  Also, even though I value 4X Membership Rewards more than 6X Marriott points, I decided to temporarily use the Brilliant card at grocery stores since I might max out the Gold card's 4X option this year anyway (the Gold card offers 4X on the first $25K of US grocery spend per year, then 1X).  Since I'm not particularly wedded to this approach for groceries, my plan is to remove the Brilliant card from my wallet and return the Gold card once I max out the $300 travel credit at restaurants.  I tend to spend a lot at restaurants so this may have already happened by the time you read this :).
In June, my Sapphire Reserve card enjoyed a month long vacation in my travel wallet thanks to the Rakuten Visa deal.  And I didn't think it would come back in July because Chase's grocery bonuses ended in June.  But Chase couldn't stand the idea of me keeping the card on the sidelines and so they introduced a few new awesome enhancements:
5x on Instacart on up to $3,000 in purchases from July 1 to September 30, 2020
Up to $50 in statement credits toward Instacart Express annual ($99/yr) or monthly ($9.99/mo) membership
5x at gas stations on up to $1500 in spend from July 1 to September 30th, 2020
10x on select streaming like Netflix and Spotify on up to $1500 between July 1 and September 30th
5X at gas stations was enough to cause me to restore the Sapphire Reserve card to my primary wallet.  I love too that this will work with Chase's Pay Yourself Back feature.  We'll be able to earn 5X on gas and redeem points at 1.5 cents each to reimburse our gas charges!  My mistake. Chase's Pay Yourself Back feature is for groceries, restaurants, and Home Improvement (not gas) through September 30th 2020.
I'm pretty enthused by the Instacart benefits too.  The $50 credit was enough to convince me to sign up for the $99/year plan.  If you haven't yet signed up for Instacart, here's our Instacart referral link.  We'll each get $10 when you place your first order (the referrer can only earn up to $50 max so we will swap in other Frequent Miler team member's links once each is maximized).
What's Next?
Credit card companies are fighting tooth and nail to capture our pandemic wallet share.  It wouldn't surprise me one bit if something new pops up in the next few days that causes me to change my wallet mid-month.  In the unlikely case that nothing changes, I expect my August wallet to look much like my pre-pandemic wallet:
Dining: Citi Prestige 5X
Grocery: Amex Gold 4X & Chase Sapphire Reserve 5X for Instacart
Gas: Citi Premier 3X Chase Sapphire Reserve 5X (through September)

Apple Pay: Altitude Reserve 3X
Everywhere Else: Bank of America Premium Rewards 2.62%
What's in your wallet… at the moment?
Comment below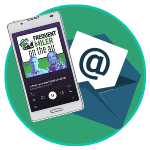 Want to learn more about miles and points?
Subscribe to email updates
 or check out 
our podcast
 on your favorite podcast platform.