A few weeks ago, I flew through Charlotte airport en route to New York City. Before I started the trip, I pulled up the Priority Pass app to see if there were any lounges at Charlotte (CLT) airport. Sure enough, Charlotte has a Minute Suites location (other Minutes suites locations are at Atlanta, Philadelphia, and Dallas-Fort Worth airports). Unfortunately, the Minute Suites were full when I arrived. However, that led me to learn a valuable tip: you can book a time slot for Minute Suites online in advance, without entering any credit card or Priority Pass information. If I'm ever passing through an airport with a Minute Suites location again, I'll take a few minutes to book a spot as I've got nothing to lose and an hour of private relaxation to gain. Here's now.
The concept
This was my first time visiting a Minute Suites location, though I'd previously read reviews. The basic concept is that you get a mini private room rather than a traditional lounge. Each room has a couch/daybed, a TV, and a desk. Some are larger than others. You don't get free refreshments, and you only get an hour for free on your Priority Pass (then they charge you by the hour, billed to a credit card you provide at check-in). Still, it's a quiet, private place to work, sleep, or relax while you wait for your flight.
Limited space
Because of the concept of each customer getting his/her own room, space is very limited — they only have a few rooms. When I arrived around 2:20pm on a Friday afternoon, they asked if I had a reservation. As I didn't, they told me that the next available room was at 3pm. I declined and asked how one would make a reservation — they told me online at their website, via the Minute Suites app, or by calling.
Making a reservation
After declining, I regretted it realizing that I'd like to at least check the Minute Suites out even if I couldn't spend a whole hour before my flight. I walked back a few minutes later to see if I could get that 3pm reservation, but someone else had already taken it. I was told the next available was now 3:30, at which point I'd have to be walking to my gate, so I said no thanks yet again.
I sat down to a bite to eat with the time now just past 2:30pm. Out of curiosity, I pulled up the Minute Suites website to see how the reservation process worked. It was really easy to register for an account and look at available times (I only needed to enter my name, email address, and phone number). I was surprised when I got to the point of reserving a time slot and saw not only a room showing availability at 3:15pm, but one of the rooms showed availability at 3pm. Out of pure curiosity about the process (and what would happen if I booked a time when they were full), I went through with making a reservation. It was simple — all I needed to enter was my name, phone number, and email address. They didn't ask for a credit card or my Priority Pass. One key tip: when selecting the length of time for your stay, scroll past "1 hour" to section #3 near the bottom of the drop-down — the section that says "Priority Pass" — and then select "1 hour Priority Pass".
About ten minutes after making the reservation, I got an email notification that my time had been changed to 3:15pm. I don't know whether or not that happens regularly, but I certainly wasn't shocked since I'd been told they didn't have anything until 3:30pm.
At about 3:10pm, I went to the desk to check in. My room was available and ready. The attendant took my Priority Pass and then a credit card (they start charging as soon as your hour is up). He then showed me to my room, which was quite small. He saw I was there with my wife and son and said he wished I'd have made the reservation directly with him as there had been a double-sized room he'd have given us, but he gave it to someone else because I specifically reserved the small room. I hadn't noticed a description of the room types, but later realized that when choosing a date, it gives you the option to look at all suites or specific ones:
If you select all suites, the next page shows the available time slots for each of those suites. On that schedule page, if you click on a suite name, it gives you a description. I had selected the "Speedway Suite".
The suite looked exactly how I'd expected based on pictures I had seen elsewhere, though it really was too small for 2.5 people (certainly too small for 2 adults and a stroller). I'd choose one of the suites that says it is a "standard" suite next time unless I were traveling alone.
Bottom line
I had read several reviews of Minute Suites before, but I had either missed or forgotten the fact that you could make a reservation. I initially thought this would be hard to do as I wouldn't want to be penalized for missing a reservation because of a flight delay, but as it turns out you only need to provide basic contact info like a phone number and email address, so you won't need to enter your Priority Pass or credit card info before you arrive. If you're planning to pass through an airport with a Minute Suites location, book a slot in advance so you're not at the mercy of what's left when you arrive.
Again, here's the link where you can book online.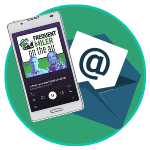 Want to learn more about miles and points?
Subscribe to email updates
 or check out 
our podcast
 on your favorite podcast platform.