We just returned from a two week vacation in Germany and the United Kingdom, which was capped at the end with a 3 night stay at the Newton Manor House in Swanage Dorset England (pictured above).  We traveled with a total of 9 people for most of the trip, but a few others joined us in Swanage to fill the 8 bedroom, 9 bath "cottage".
We paid only 15,000 points per night for this incredible property.  In February 2017, we reported an absurd Wyndham deal: Book any Cottages.com property for only 15,000 points per night.  The deal was only available for a few days, and was limited to 50 bookings, but it seemed that relatively few people jumped on the deal because I had no problem booking my cottage the day after the deal was announced.
We loved the house, and we loved the area around the house even more (see photos of both at the end of this post).  If it wasn't for this incredible deal, I doubt I'd have ever visited this area, but now I can't wait to go back.
We had an amazing time at this historic home in this wonderful area.  If we had paid cash, the same three nights would have cost us $4,500.  I doubt that Wyndham will ever offer this deal again, but if they do, I have my eye on another property with 17 bedrooms:
Are there any great opportunities without this deal?
Wyndham normally charges 15,000 points per bedroom per night.  So, the 8 bedroom Manor House normally costs 120,000 points per night for a grand total of 360,000 points for 3 nights.  And this 17 bedroom property pictured above would cost 765,000 points for 3 nights.  I don't know about you, but I don't see myself ever having that many Wyndham points even if they do continue to throw points at us via lucrative deals (like this one).
On the other hand, it occurred to me that there may be some incredible properties with very few bedrooms.  Maybe there's an amazing two bedroom penthouse in Paris, or a one bedroom cottage overlooking the ocean on the Amalfi coast of Italy?
Ideally I'd be able to filter Cottages.com down to 1 to 2 bedrooms and sort by price high to low.  But the website doesn't allow for that.  The best I could find to do was to filter to a minimum price and then sort by "Sleeps low to high" (if you click through, don't forget the sorting part).  The first one shown below is perhaps the best deal from a cost per point view.  The cost for 3 nights is £1646.00, which is equivalent to $2,146 with today's exchange rate.  And since the property has only 1 bedroom, it would cost only 15,000 Wyndham points per night, for a total of 45,000 points.  That's a per point value of $2,146 / 45,000 = 4.8 cents per point.
Should you chase the deal?
In the example shown above, I searched for expensive properties available in mid-July of next year.  I didn't otherwise filter the desired location at all.  If you know when you'll be available, but you're not sure where you want to go, I think this is a reasonable way to have a terrific adventure.  The top result above would land you on the island of Jersey, near the coast of Normandy, France.
Is the Bailiwick of Jersey a great place to visit?  I have no idea.  But, that was true of Swanage Dorset as well.  We booked the house with very little idea of what the area would be like.  And yet, it was awesome.  And some of it's awesomeness was undoubtedly due to the fact that most foreigners don't know about it. A couple who live in the area told us that most vacationers head further west to Cornwall, and they love that fact.
I know this approach isn't for everyone, but I'd love to blindly pick a holiday destination again.  What better way to explore holiday destinations that you'd otherwise never find?
How to find the deals
Here's how to find the best available deals based on the going price of each property…
1: Search by region, date, and number of guests:
Start with the Wyndham version of the Cottages.com website since it offers additional filtering options over browsing to cottages.com directly.  Here's the link: www.chooseacottage.co.uk/WR2/.
Enter the region you're interested in (the website is a bit buggy if you leave it at "All Regions", but you can do All England or All France, for example)
Enter the date you'd like to go, the number of nights you'd like to stay, and enable the plus/minus 7 nights option if you have some flexibility
Enter the number of adults, children, and pets in your party and select "Search"
2: Filter to higher priced properties:
On the search results page, set a min price to filter out the cheap properties.  I'd recommend filtering to minimum 150 GBP per night if you're hoping to find a 1 bedroom cottage, or 300 GBP per night for a 2 bedroom cottage.  So, for a 3 night stay, you'd be looking for a minimum of 450 GBP for a 1 bedroom or 900 GBP for a 2 bedroom cottage.
3: Sort by "sleeps low to high"
This will bring the houses with fewer bedrooms to the top.  I really wish they offered a bedroom sort instead!
Unfortunately, the website is buggy.  Several times after sorting I found that the min price filter was gone, but this only happened when I included "All Regions".
Photo Time
Here are a few highlights from our stay in Swanage…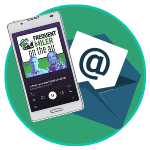 Want to learn more about miles and points?
Subscribe to email updates
 or check out 
our podcast
 on your favorite podcast platform.