Over the years, I've used many shopping portals to great success. I've certainly used most of the major airline and hotel shopping portals (my first Southwest Companion Pass was earned entirely via their portal), but I've also successfully used plenty of cash back portals like Rakuten, TopCashBack, BeFrugal, MrRebates, and more. On the "cash back" side, Rakuten had become my favorite in recent years thanks to the ability to earn Membership Rewards points instead of "cash". I've earned a lot of points through Rakuten over the years and Rakuten had become my most-preferred portal thanks to the chance to earn good payouts in the form of a transferable currency. But my perspective is changing and I find myself using Rakuten less and less — and it's not Rakuten's fault. Rakuten is as good as ever — but competition is heating up.
The opportunity cost of using Rakuten
Don't worry, I'm not looking to deprive anyone of more Joy of Free by making a long-winded argument about how, when you choose to earn Membership Rewards points rather than cash back, you're turning down 1 penny for every 1 Membership Rewards point you receive. Greg will tell you that the Membership Rewards point isn't costing you 1 cent, but I'll tell you that it feels to me effectively the same as being given one cent and told that I can buy a Membership Rewards point with it or keep the money. I won't belabor that argument.
But that argument is relevant to the reason I have been pivoting away from Rakuten and other points portals. Rakuten is a bit of a special use case because of the fact that you can earn Membership Rewards points, which are almost like the best of both worlds (cash back and points). We have a Schwab Platinum card, so we can redeem points for 1.1c per point. That makes it worth earning 10 Membership Rewards points over 10% cash back since we can easily redeem the 10 Membership Rewards points for 11 cents via Schwab if we ultimately wanted cash, though of course many people value Membership Rewards points even more highly than that.
Part of the reason that earning more Membership Rewards points has become (somewhat) less appealing is that Amex has kept the Points Parade marching on over these past couple of years and my family has been able to keep a healthy enough number of Membership Rewards points on hand or incoming so as to be able to book plenty of 2023 travel and still be fairly well set up for trips next year as well.
But more importantly, I've been able to earn "cash back" at a rate that has made Membership Rewards points unappealing by comparison.
Our Reasonable Redemption Value for Membership Rewards points is 1.55c per point. For argument's sake, imagine that I subscribed to that value (more in a moment on why you may use that number or may use a number that is higher or lower). Let's further imagine that my shopping portal options for a purchase look like this:
Rakuten: 10x Membership Rewards points per dollar spent
Alternative portal: 17% cash back
If those were my options, and I valued Membership Rewards points at 1.55c per point, then the Rakuten return would be akin to getting 15.5% back in the form of Membership Rewards points. In that scenario, I should choose the cash back portal.
On the other hand, imagine it looked like this:
Rakuten: 10x Membership Rewards points per dollar spent
Alternate portal: 14% cash back
In that case, if I value Membership Rewards points at 1.55c per point, by the same logic used above, I should choose the Membership Rewards points since I can reasonably expect to redeem those points for a little more value than the cash back.
Those are the simple types of comparisons that many of us do each day when selecting a shopping portal for a purchase.
In reality though, things aren't quite as black-and-white. Our Reasonable Redemption values are meant as a benchmark of how much value you can reasonably expect to receive without much effort at maximization, though it is obviously possible to get more value or less value out of your points depending on how you redeem them. Experienced award bookers know that you can do much better than the Reasonable Redemption Value when you redeem for an international premium cabin ticket. On the other hand, I've argued before that you should consider the fact that those Membership Rewards points can redeemed for 1.1c per point to a Schwab brokerage account if you have the Schwab Platinum card and think of that opportunity cost. When I redeem for a fancy premium cabin ticket, I have to also think about the cash that could have been in my pocket.
Let's pivot for a moment to a related concept.
When it comes to valuing credit card perks like Uber credits, we often say that you shouldn't value those credits at face value sine you wouldn't pay full price for a credit that you may or may not use. For instance, if I were selling a $100 Uber credit, you wouldn't want to pay me $100 for it, otherwise what's the point in buying the Uber credit and locking your dollars into Uber money? Therefore, when valuing credit card perks, we decide that something like a $100 Uber credit should be valued at less than face value. The amount by which we reduce the value of benefits like that varies based on how restrictive they are, but generally speaking we tend to discount them by 10-20%.
So then I'll argue that if you're going to accept points (which are less flexible and can be devalued at any time) instead of cash back, you should be getting a premium over the cash back alternative.
In other words, let's imagine this scenario:
Rakuten: 10x Membership Rewards points per dollar spent
Alternative portal: 15.5% cash back
Which should I choose if I value Membership Rewards points at a value of 1.55c per point? You may at first be tempted to think both options are equal, with 10x Membership Rewards points being worth 15.5% back — but is that not akin to paying $100 for the $100 Uber credit?
In truth, it is not exactly "akin" to the Uber credit example first because the Uber credit has a finite maximum value of $100, whereas the Membership Rewards points have no measurable maximum upside. Amex points could be worth far more than 1.55c per point, which is what makes earning 10x Membership Rewards points an appealing portal payout. By contrast, the 15.5% cash back rate is worth 1.55c per dollar spent, no more and no less. But when you earn that cash back, there is no risk of getting less than face value out of the payout. In other words, if I spent $1,000 and I earned 15.5% cash back, I'd have $155 with no chance of only getting any less than $155 in value from it. By contrast, if I earned 10x Membership Rewards points (10,000 points), I might ultimately redeem them for a Schwab deposit and get only $110 or transfer them to Hilton where I may only get about 1.3c per point in value even with the current point transfer bonus ($130).
I would therefore argue that I should want a significant amount of greater upside from the points to make it worth accepting (far less flexible and prone to devaluation) points over cash back.
Backing up to reiterate, if I were making a $1,000 purchase with the figures above, I would earn:
$1,000 x 10x Membership Rewards points = 10,000 Membership Rewards points
$1,000 x 15.5% cash back = $155 cash back
If I could have a sure $155 in the bank, it would only make sense to take the points if I knew I would get significantly more value from the points. If I were only going to redeem the points for 1.55c per point at some unknown time in the future, it wouldn't have been worth giving up the cash back in the first place (and certainly if there's a chance that I might only redeem them for 1.3c per point, it would be like gambling away my $155 to only end up with $130).
Again, if I'm going to lock up my rewards in the form of points rather than cash, I want to do that because I know I'll get significantly more value out of the points. Let's say that I'm willing to give up the opportunity for cash in exchange for earning Membership Rewards points if I'm very confident that I'll get 10% more value with points than I would with cash. In that case, if I had the chance for 15.5% cash back, I'd want the number of Membership Rewards points I'm earning to be worth 17.05% back (that's 10% more than the 15.5% portal payout).
That means that if I value Membership Rewards points at 1.55c per point, I'd want to be earning 11 Membership Rewards points per dollar spent in order for the points to be worth more than 15.5% cash back.
However, if you value Membership Rewards points higher or lower than 1.55c per point, you'll have to adjust up or down. I might argue that if you really think you'll redeem right around 1.55c that you'd want even more upside over cash in order to choose points over cash back, but that will vary with your circumstances. For instance, if you don't yet have enough points for the next premium cabin redemption you're envisioning, those points you're earning now probably have a higher chance of being used for high value (better than 1.55c per point) than if you already have hundreds of thousands more points than you anticipate using this year (and the points would therefore sit unused for an unknown amount of time)
Personally, I've earned enough Membership Rewards points over the past couple of years that I've redeemed some points for brokerage deposits with Schwab. In other words, I've accepted just 1.1c per point for some quantity of points in order to put more cash away for the long-term (last year I wrote about how doing that would enable me to put more into I-bonds while rates have been high). If there is a chance that I would continue to do that, then I need to be a bit more conservative in terms of choosing between cash back and Membership Rewards points. I like that the Schwab Platinum card offers a floor value. That is to say that if I accept 10 Membership Rewards points per dollar spent, I know I'll get at least 1.1c per point. That's enough of a bump for me to be happy earning Membership Rewards points instead of cash back through Rakuten, but it means that my comparisons against cash back portals mean that if the cash back portal is paying much more than the rate Rakuten is showing, I should probably accept the cash back.
My new favorite portal keeps knocking it out of the park
In reality, I haven't been doing nearly as much comparative analysis as the above would suggest because the most poorly-branded shopping portal on Earth has been blowing Rakuten out of the water this year. I'm talking of course about the no-you-don't-need-a-Capital-One-card-or-account Capital One Shopping portal. I say it's the most poorly-branded portal in existence because we frequently hear from readers or listeners who have just realized that you don't need a Capital One card to use the Capital One Shopping portal. It's confusing because Capital One has a number of different shopping options, one of which does require having a card, but the actual Capital One Shopping portal, app, and browser extension — which often feature targeted offers that are the best cash back rates of any portal — does not require having a Capital One card. See: C is for confusion: Capital One Shopping vs offers vs travel offers for more disambiguation.
The downside of this portal is that the payouts only come in the form of gift cards. So while we often refer to it as "cash back", it doesn't actually offer cash. The Capital One Shopping portal only offers the ability to redeem rewards earned for gift cards (if you're tempted to say "I've gotten it as a statement credit", please read this post to understand the difference between what you're talking about and the Capital One Shopping Portal). Recently, Capital One has been shuffling the gift card redemption options and Walmart and Safeway have disappeared. That stinks, but now that Hotels.com, DoorDash, and GrubHub are gift card redemption options (among many other popular options), I'm happy enough to collect rewards through the portal. Still, it means that I don't quite value the returns through Capital One Shopping at face value, but rather I think of them being perhaps 10% less than what is shown (you can sometimes buy some of the gift card brands at a greater discount, but the variety of choice means that I'll probably usually be able to choose a gift card redemption that is valuable to me in the moment).
Greg and I have both written about the insane targeted offers we've received from Capital One Shopping. I keep using those offers….and I keep getting more. Check out these cash back offers I received in a single email just yesterday (I'm noting these here because I saw a section on the Capital One Shopping website yesterday mentioning limited-time travel offers, so other readers may want to check for targeted offers as explained in this post, though I should note that I don't see most of these on the Capital One site but would rather need to click through my email to activate them).
Choice Hotels: 30% back
TripAdvisor: 30% back
Keep in mind that TripAdvisor offers activity bookings. They also offer hotel reservations. It would instinctively seem unlikely to me that you could earn thirty percent back on hotel bookings, but when I went to the Capital One Shopping website, they certainly seemed to suggest that in my targeted offers section.
I also had 24% back at IHG and 30% back at Extended Stay America.
And if that wasn't enough in terms of travel offers, I also had 24% back at RVshare and 15% back at Avis.
I was really hoping for a Hotels.com offer since I intend to redeem Capital One cash for Hotels.com gift cards for a specific booking that I'm looking to make. Unfortunately, I haven't seen an offer for Hotels.com. I did receive 10% back at Booking.com though, which might be intriguing for some.
It's worth a reminder though that you never know which Capital One Shopping avenue will have the highest rate of cash back. Though you can see above that the email offer I received was good for 15% back at Viator, when I went to the Capital One Shopping website and scrolled down to my targeted offer area (again, read this post to see where to find these targeted offers), I had an offer for 30% back at Viator. I'm not a big fan of Viator, but with 30% back I'd probably give them a try for something like driving a race car in Abu Dhabi (they even price-matched and it didn't disturb my Capital One Shopping rewards).
I have had an offer for 30% back at Hertz for at least a month. I also have 30% back at Dollar Rental Car.
I've got targeted offers for so many stores at 24% back that I could hardly count them, but a couple of examples include StubHub and Macy's.
While I haven't gotten an offer quite as good as Greg has for GiftCards.com, I've had an offer for 18% back at GiftCards.com for a month already.
I have not used every offer above, but I've been pleasantly surprised at how well many of them have tracked over multiple purchases. I have also been very happy that you do not need to buy the specifically-advertised product (shown in the email or in those buttons above) in order to earn the advertised cash back percentage. In almost all cases (with some limited exceptions noted in the next section), buying any product from the associated site has triggered the advertised payout. I continue to earn far more in money that can be redeemed for gift cards as I need them than the value of comparable Membership Rewards payouts for the same merchants if I had gone through Rakuten (which would generally be my alternative preference, though I also use TopCashBack when they have a great payout). That's true even if I discount the value of Capital One Shopping rewards by 10-20% (viewing, for example, a 30% payout as "only" being worth 24% in "money" still puts it comfortable ahead of comparable payouts via Rakuten in most cases).
Capital One Shopping portal shortcomings
Capital One's shopping portal hasn't been all rainbows and sunshine for everyone. Some readers have reported multiple problems with orders failing to track.
In my own experience, I've had quite a few orders track perfectly as expected where I've earned north of $300 in "cash back" from a single order. However, I did have one large order that initially tracked as expected (I earned about $400 back from a laptop purchase that was about $1400), but then the cash back was later reduced to just a few dollars. I followed up by submitting an inquiry with Capital One Shopping and much to my pleasant surprise, they credited me with the hundreds of dollars I was due without any hassle. Others have reported mixed experience contacting customer service. I don't know why some have trouble with orders tracking and some have poor luck with customer service. By and large, Greg and I have both had positive experiences with orders tracking as expected. I do keep screen shots of everything — from the purchase flow to the tracking cooking number in the shopping history when the purchase tracks and goes pending in the portal.
Truth be told, we frequently hear complaints about every shopping portal, with some readers swearing off this portal or that one for a deal gone wrong. It's hard to know what has caused the disconnect in those situations, but in my experiences almost all portals I've used have tracked and paid out as expected the vast majority of the time. I'm careful to use one browser for "shopping" (browsing / trying coupons / etc) and another browser for "buying" (going directly from the portal to the retailer and loading my cart and checking out in one smooth motion) and things just generally work. Now with Capital One Shopping, I buy in the browser where I have the extension installed and the extension usually pops up to activate the advertised rate. I always take a screen shot of that popping up in my shopping cart and again when it says "activated" after I click it just in case I need to follow up.
The one big area of frustration with Capital One Shopping is that their IT seems to randomly display example products that don't always make sense. I've seen times where the display is completely wonky — like in my targeted offers section it will show 30% back at Hertz and the example product will be a luggage set from Walmart (clearly just a computer glitch). But more frustrating is that they sometimes show products that I know won't work to trigger cash back. For instance, I've had offers for 15% back at Office Depot and Capital One Shopping has shown a Visa Gift Card as the example product. Because of years of experience with portals, I know that Office Depot doesn't directly process gift card purchases made through its website, so clicking through from a portal and buying a gift card from Office Depot will not trigger cash back from any portal.
That's annoying because most people don't know nuances like that and if I made a purchase of the example product Capital One Shopping displays (a Visa Gift Card from Office Depot in that case) and customer service later told me that the example product they showed doesn't qualify for rewards, I would be unhappy (and indeed we've heard from a reader or two in a situation like that). Those situations are fairly limited, but highly annoying if you run into them. In the vast majority of cases, we've found that clicking through an offer banner from Capital One Shopping tracks with any purchase from the associated site (for instance, I clicked through a banner advertising a luggage set with 10.5% cash back from Walmart and I ultimately purchased an oven hood and I got the 10.5% cash back rate as expected).
But for those who are experienced enough in shopping portals to recognize those random exceptions like a website that doesn't process gift card purchases, the wins can be quite large. We have had readers report success in earning the big portal payouts on purchases like Macbooks and iPads, which are often otherwise excluded from earning cash back.
The biggest issue with Capital One Shopping at this point (aside from poor branding!) is the inconsistency in gift card offerings. While Walmart and Safeway had long been options for redemptions, both were removed without warning or announcement. Safeway later came back and disappeared again and I have noticed small changes in the gift card offerings multiple times over the past couple of weeks. On the whole, there are far more options now than before — but if Hotels.com, DoorDash, and GrubHub got removed, I'd be far less excited (though I'd still be able to make use of eBay and Lowe's, so all would not be lost).
Bottom line
I have long loved shopping portals — I resold products for years before becoming a blogger, so shopping portals have thus long been on my radar and in my rotation. Over the past few years, Rakuten had become my favorite portal by far thanks to the ability to earn Membership Rewards points. However, as I've amassed more Membership Rewards points, I've thought more about the opportunity cost of earning more of those points over "cash back". More importantly, Capital One Shopping has been knocking it out of the park with targeted offers. I have consistently been targeted with rates far above what I could earn through other portals. Note that it should be that way since I'm limited to redeeming Capital One Shopping rewards for gift cards — the rewards earned through Capital One Shopping are not as flexible as cash. Still, with the consistent targeted offers of 20-30% back at retailers that commonly offer far less back through other portals, I have a hard time getting excited about 10-15x Membership Rewards points these days. I don't imagine that these ridiculous Capital One Shopping payouts will last forever, but for now I'm striking while the iron is hot — and it certainly has been hot with the targeted offers of late.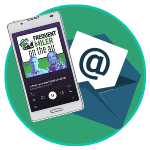 Want to learn more about miles and points?
Subscribe to email updates
 or check out 
our podcast
 on your favorite podcast platform.