We have written extensively about Capital One Shopping, the shopping portal that does not require a Capital One card (and I include that in bold in sentence #1 because somebody misses that bit every time we write about it! See "C" is for confusion: Capital One Shopping vs Offers vs Travel offers). Capital One Shopping doesn't really have much to do with Capital One beyond the name — it is a shopping portal and app that offers some incredible targeted cash back rates (as high as 30% cash back at popular retailers). While Greg and I have mostly had great success with the Capital One Shopping portal, I recently had an issue that required follow-up. Interestingly, I was encouraged to follow up in part because of a very similar data point I saw from a reader in our Facebook group. The bottom line is that I'm pretty impressed with the customer service response to my missing cash back claim.
A reader's success report inspires my follow up
I'm sure that some readers will assume that I had a positive outcome in this case "because you're a blogger!". However, I want to point out two things:
I was encouraged to file a claim because a reader in our Frequent Miler Insiders group first reported the exact same customer service outcome that I'll detail below (and I'll share that story as well).
Greg has been shut down by Capital One without explanation and completely stonewalled by their customer service about it — pretty much the polar opposite of special treatment
I would have eventually followed up since I the missing cash back amount was so large in this case, but I definitely didn't expect any special treatment (I don't think I have given Capital One Shopping has info beyond my name and email address, and I don't use an email address that I've used with Capital One before). I had expected a long slog of a battle to get the cash back returned, but the reader's success report definitely lit a fire under me to get a claim submitted — and I'm thankful for that.
My experience with a missing cash back claim with Capital One Shopping
Over the holiday shopping period, I purchased a Lenovo laptop. I had received an email from Capital One Shopping indicating that I could earn "$386 in rewards" when buying a specific model laptop, which worked out to be 30% cash back on the purchase price (which matched the offer I saw in the targeted offers section of the Capital One Shopping portal).
We have previously noted (and proven through experience) that you don't need to purchase the exact item advertised in the email (or the banner on the portal page) in order to earn the advertised cash back rate. However, in this case, I did want that model laptop.
I clicked through the Capital One email in the same web browser where I have the Capital One Shopping extension installed and went to Lenovo. I put two items in my cart:
The laptop (I chose to get a bit more memory, so the laptop came to $1375)
A numeric keypad (which was about $25)
During the checkout process, the Capital One Shopping extension popped up with a button to "activate" my 30% cash back. I clicked it.
My total cart was almost exactly $1400 before tax. I therefore expected to earn $420 in cash back.
A few days after purchase, I received an email from Capital One confirming that my order had tracked and that I would be getting $420 in cash back.
Almost exactly a month after placing my order, the cash back became payable. I had that $420 available to redeem in Capital One Shopping (as a reminder, Capital One Shopping cash back can only be redeemed for gift cards, but there are a number of popular retailers included like Walmart, eBay, Lowe's, etc). I didn't immediately need a gift card, so I didn't redeem the cash back.
A week or two later, I looked at my account and noticed that my available cash back had decreased by about $400. I went through my transactions and found that my laptop purchase had been "adjusted".
As you can see above, the order total was adjusted down to about $23 — the cost of the numeric keypad after whatever discounts were applied in the cart. As such, I only earned 30% back on that total. They completely clawed back $400+ in cash back from the laptop.
My stomach turned a bit because I purchased this laptop expecting $400+ in cash back (otherwise I'd have bought something cheaper). But on the other hand, I figured that I had the screen shots to follow up. Still, I dragged my feet for a couple of weeks knowing that I would eventually need to follow up but setting it aside with other stuff to do.
I should note that we've had a handful of reports in our Facebook group about trouble with Capital One Shopping purchases tracking. Until this cash back got clawed back, I had earned over $1,000 in cash back over just the past few months with no issues at all apart from Saks tracking lower than expected (which has definitely been a problem for multiple people), but both Greg and I had plenty of large purchases track (Greg even got 24% cash back at GiftCards.com!).
Then, I saw a report in our Frequent Miler Insiders group from a reader in a similar boat on a Macbook purchase from Adorama where the cash back didn't post properly. That reader submitted screen shots of the cash back offer and their order information (we always recommend taking screen shots of everything!). Here's what the reader wrote:
***UPDATE*** Success story!

So a ways back I had posted about purchase through the C1 shopping APP that I got an amazing 30% offer at Adorama on a MacBook Pro, thanks to all in this group and the @freqientmiler team. BUT…from everything on my C1 shopping account it seemed like the purchase wasn't going to track, and with all the recent post about purchases not tracking I was figuring I was going to have to return this laptop. Well, I have emailed back and for with customer service many times, 10 or so, and was getting nowhere. They kept saying wait 30-60 days. So after the 30 days I tried again. This time I included screenshots of when I made the purchase. Well today I got an email back saying they were as "a courtesy" crediting my account the $500+ dollars and offered some suggestions the next on how to use the portal effectively. Those screenshots no doubt saved my butt!!! Great to see C1 come to their senses and issue the credit allbeit after a bit of prodding, but so glad they did.

Pro tip – TAKE SCREENSHOTS!!
Typically, when you submit a missing cash back claim with a shopping portal, it takes weeks or even months to get a result because the portal has to follow up with the retailer and the retailer has to consult their records, etc. I once had a missing cash back claim drag on for almost a year.
However, much to the reader's pleasant surprise, after 30 days had passed, Capital One Shopping responded by offering a courtesy credit of the cash back they were due! At $500, it was no small potatoes.
I was as surprised as the reader was with that success report. In this case, rather than the long process of following up with the retailer, it looked like Capital One was just issuing the cash back as a "courtesy". That's fantastic service.
That was obviously a great outcome. Encouraged by that, I found the email address to reach out to Capital One Shopping if you have an issue (found on this page) and I sent them an email about my missing cash back. In the email:
I explained that I had made a purchase by clicking through their offer for 30% cash back.
I included a screen shot of the email they had sent advertising the cash back.
I explained that I had received an email confirming that the purchase tracked with $400+ in cash back and I included a screen shot of that email
I included a screen shot of my order confirmation
I explained that they had posted the cash back to my account correctly but then had adjusted it.
I highlighted how the adjusted cash back total was only for the numeric keypad.
I asked them politely to fix this and issue the proper cash back.
A couple of days passed and then I got the following email:
Wow! As you can see, they issued me a courtesy credit of $413, the total I was due. Ultimately, that was the outcome I was seeking, but I was very pleasantly surprised that it only took about two days to resolve and get the cash back returned to my account. This was obviously a significant amount of cash back, so I was thrilled that it didn't turn into a long, drawn-out process. I should note that it may have helped that more than 60 days had passed since the date of my purchase. I assume some retailers may have required minimums like 30 days / 60 days / 90 days waiting periods.
While you might be tempted to look at the numbers and think that Capital One was trying some shady trick of clawing back big cash back amounts and then acquiescing when they get called out on it, I assure you that I've earned several other generous cash back totals and cashed out some of those rewards without issue or claw back. I wrote in our Facebook group about buying tires over the holiday period and the $282 in cash back from that purchase posted to my account as expected.
Greg has also had plenty of large cash back amounts post correctly as expected.
In hindsight, here's what I now think might have happened: I ordered a laptop and a numeric keypad. The numeric keypad shipped almost immediately, but the laptop itself took a week or two to ship. If you've ever ordered online from places like Dell or Saks, you probably know that your credit card typically gets charged only when items in your order ship. While your card gets authorized at the time of purchase, many retailers don't finalize a charge until the item(s) ships, and in cases where you buy multiple items this sometimes results in multiple charges on your credit card. My guess here is that when the first item shipped, something in the automated tracking closed that transaction out as "finalized" even though it was only the keypad that was being finalized. My guess is that the system only recognized the finalized purchase as being that first item that shipped.
Assuming that's the case, I certainly do still feel entitled to the full $420 in cash back that I should have earned based on my order total, but if my assumption about how it went down is correct, I imagine I'd have been in for a slow uphill battle with most shopping portals. Instead, Capital One Shopping just made it right. And again, it's not just me for whom they did that — the reader success report above was for a $500 payout. That kind of customer service is impressive and shows the kind of investment they seem to have in the portal's success.
Takeaways from my Capital One Shopping portal missing cash back claim success
A few key takeaways from this post:
Always take screen shots of everything. On a windows computer, you can do this with the windows key and "PrtSc". I also use a free Windows program called ShareX that enables me to select part of the screen to capture. I screen shot plenty of things I won't ever need, but I could always make it a new year to-do to delete old screen shots if I were concerned about the wasted storage space.
If you run into a customer service issue, it's worth following up rather than just assuming that the shopping portal / card issuer / company hates you and designed the deal to cheat you out of their offer. If I hadn't emailed, I probably never would have received the money. Three and a half minutes of effort got me back that $413.
Capital One Shopping continues to knock it out of the park. Cash back rates have been stellar. Now that I know that I can probably count on customer service if things go wrong, I'll be much more likely to continue using them in the future.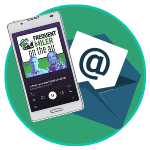 Want to learn more about miles and points?
Subscribe to email updates
 or check out 
our podcast
 on your favorite podcast platform.