Citibank ThankYou Rewards points can be earned from several credit cards, and from some bank accounts. By default, each credit card or bank account has its own ThankYou Rewards account.  Citi does provide a way to combine accounts, but should you?  In the past, I said no (see this post for details), but now things have changed and the question is once again relevant.
Advantages of combining ThankYou accounts
There are a few advantages to combining accounts:
Simplicity: View all of your points at once.  If you have any expiring points, the soonest to expire points will be used first when you redeem points.
Quantity: If you don't have enough points in one account for the award you need, but you do have enough via separate accounts, combining accounts is one way to solve that problem.
Value: Some accounts make your points more valuable.  For example, the Premier card offers a 20% discount when purchasing travel (flights, hotels, car rentals, etc.) with points.  And both the Premier and Prestige card allow transferring points to airline programs.  By combining your points from other accounts with a Premier or Prestige account, you automatically get access to these higher value rewards even if the system uses your points from an inferior account.  One exception: points earned from a bank account cannot be transferred to airline programs even if those points are combined with a Prestige or Premier account.
Disadvantages of combining ThankYou accounts
Combining accounts won't keep points alive. If you have an account with expiring points, or you close an account that has points associated with it, those points will expire regardless of whether or not they have been combined with other accounts.  For more, please see: How to know if or when your ThankYou points expire.  As a result of this, combining has a few serious disadvantages:
Loss of info: Once you combine accounts, there is no easy way to see how many points you have in each account.
Loss of control: Once you combine accounts, you can't choose which account to use for redeeming points for an award.  The system will automatically use points that expire the soonest (if you do not have any points with expiration dates, then it will use the oldest acquired points).  But, what if you're planning to close one of your accounts and would like to use those points first to avoid losing them when you cancel?  Once your accounts are combined, you're out of luck – you can't control the order in which combined points are used.
No way out: Once you combine your accounts, it appears that you cannot undo that action.  The ThankYou Rewards website states "Please review your accounts carefully before combining, as this process cannot be undone once you have confirmed it."
What has changed?
When I last covered this topic in 2016, I recommended against combining points.  I argued that you were better off keeping accounts separate and simply moving points from one account to another as needed.  Two changes have led me to revise that conclusion:
Prestige 4th Night Free bookable with ThankYou points
The Citi Prestige card has a great benefit: get the 4th night free on hotel stays of 4 nights or longer (see: Complete Guide to Citi Prestige 4th Night Free).  When the feature first rolled out, it could only be booked through the Citi Concierge and not through the ThankYou portal.  Later, Citi added the option to book through the portal.  And, starting in September 1 2019, booking through the ThankYou portal (or by calling ThankYou) will be required.
The reason this changing the answer to whether or not to combine accounts has to do with the Citi Premier card.  If you have both the Prestige and Premier card, you can do well by combining those accounts.  Once the accounts are combined, you can book a four night hotel stay with ThankYou points and you'll automatically get a 25% discount for the 4th Night Free benefit AND a 20% discount from the Premier card for booking travel.  The two perks combine to a total discount of 40% off.
Unfortunately, hotel prices found on the ThankYou portal are often inflated over prices found elsewhere, so make sure you're getting a good deal before jumping in.
Citi Rewards+ card introduced
The no-fee Rewards+ card has a great benefit for a no-fee card: get 10% points back when redeeming ThankYou points, up to 10K points back per year.  When you combine your Rewards+ account with other cards, you get this 10% rebate on top of any discounts offered by premium cards.  For example, the Citi Premier card offers 20% off all travel redemptions, so with this card you would get 10% off the 80% price, for a total point discount of 28%.  Even better, if you have the Prestige, Premier, and Rewards+ you could book a four night hotel stay and get 25% off from the Prestige 4th Night free, 20% off from the Premier travel benefit, and 10% back from Rewards+.  Altogether you could get up to a 46% discount on 4 night stays!  See: Citi Rewards+ is a great companion to Premier or Prestige.
Recommendation
If you have a Rewards+ card and/or either the Premier or Prestige card or both, you should combine those cards together to maximize value.  This does mean that you'll need to be strategic when you want to close an account.  Lets say, for example, that you want to cancel your Prestige card to avoid the annual fee, but you're worried that you may have points associated with the account that would then be lost.  A better solution is to product change the Prestige card to either the no-fee Preferred card or the no-fee Rewards+ card.  That way, you'll keep your points.
Caution: When you change to a Preferred card you will most likely keep the same credit card number and therefore you will not reset the clock on when you can sign up for a new ThankYou card.  However, when you change to a Rewards+ card you will probably get a new card number and so Citi will count this as having closed the old account.  This matters because the signup bonuses for ThankYou cards have the following language (I've underlined part of this for emphasis):
Bonus ThankYou® Points are not available if you received a new cardmember bonus for Citi Rewards+℠, Citi ThankYou® Preferred, Citi ThankYou® Premier/Citi Premier℠ or Citi Prestige®, or if you have closed any of these cards, in the past 24 months.
How to combine accounts
Log into your Citi account and click through to Rewards.  If you haven't combined accounts, you may get a message asking if you'd like to.  If so, follow the prompts to combine accounts.  If you get an error, it may be due to having different info (such as a different phone number) associated with the different accounts.  It may be possible to fix this by navigating to your profile in the ThankYou portal and editing your profile information.  If this doesn't work, you'll have to call Citi to combine accounts.
See also
Please see: Citi ThankYou Rewards Complete Guide.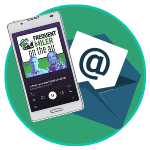 Want to learn more about miles and points?
Subscribe to email updates
 or check out 
our podcast
 on your favorite podcast platform.