Did you know that Amex partners with United and that your favorite UR card might be the one that indirectly offers Grubhub+? On this week's Frequent Miler on the Air podcast, Greg and I discuss some of the strange secret partnerships you can find in your wallet and why they may be of interest.
Elsewhere on the blog this week, we give thanks, track the big shopping deals of the weekend, and show you how you could become 90,000 points richer with less effort than you imagine. All that and more in this week in review. Watch, listen, or read on for more from Frequent Miler.
1:26 Giant Mailbag
3:25 What crazy thing…did Wyndham do this week?
8:15 Mattress running the numbers: Bilt offers 100% transfer bonus to IHG
12:35 Awards we booked this week
15:45 Strange bedfellows and secret alliances
16:25 Amex Platinum Declared partnership: Disney+, Hulu, ESPN through Digital Entertainment Credit Secret relationship: HBO and Showtime (through Hulu) Secret relationship: Paramount+ (through Walmart+)
19:12 CSR Declared relationship: DoorDash Secret relationship: GrubHub+ (via Lyft Pink)
22:56 Amex Declared relationship: Marriott. Easiest path to Marriott Titanium status Secret relationship: United MileagePlus (for elite status)
28:10 United Declared relationship: Marriott Weird relationship: IHG
31:34 Question of the Week: Can I stack Rakuten and the Capital One Shopping extension? Where do I find my Capital One Shipping money?
Subscribe to our podcast
We publish Frequent Miler on the Air each week in both video form (above) and as an audio podcast. People love listening to the podcast while driving, working-out, etc. Please check it out and subscribe. Our podcast is available on all popular podcast platforms, including Apple Podcasts, Spotify, and many more.
Alternatively, you can listen to the podcast online here.
This week on the Frequent Miler blog…
There are many things for which I'm thankful, but this post outlines a few things I'm thankful for in miles and points. This hobby has provided so much in terms of quality, quantity, and frequency when it comes to travel and rewards that I had to stop and say thanks for the things I appreciate most in this hobby.
Black Friday / Cyber Monday Deals
If you appreciate a good deal for Black Friday / Cyber Monday, hopefully this post has a little something for you. Some of the Black Friday Deals have now expired and will soon be removed from this list, but we'll be adding more weekend deals during the day on Saturday and will add more yet as Cyber Monday rolls around on Monday.
One deal that should get some amount of your attention if you have a Bilt Mastercard is the chance to get double points on everything other than rent over these next few days — including on dining and travel, which turn the Bilt card into a 6x and 4x card for those categories (respectively) for a few days. If you're a cardholder, you want to get this deal while you can.
Greg recently had a very short stay at the Ritz-Carltons in Charlotte. I rarely ever even consider Ritz for very short stays, but this post shows how well it can work out when you find the right property. Of course, Greg probably benefitted some from his Marriott Titanium status here.
Speaking of Marriott Titanium status, those who have earned 50 or 75 elite nights this year need to select choice benefits. I think the choice at 75 elite nights is pretty clear (I'd take the sure thing with a 40K free night certificate). At 50 nights, it just depends on your shot at making it to 75 as to whether you'd prefer suite night awards or extra elite nights as your 50-night choice benefit is going to be situational — this post can help you find the situation that fits.
Getting approved for Chase Ink cards is certainly possible even with a very small business and no employees. In this guide, Greg explains how small businesses can get started with Ink cards — and given the incredible bonuses being offered on those cards at the time of writing, it can certainly be worth figuring this out.
---
That's it for this week at Frequent Miler. Keep an eye on this week's month-ending last chance deals so you finish up everything that needs to be done before November is in the books.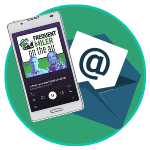 Want to learn more about miles and points?
Subscribe to email updates
 or check out 
our podcast
 on your favorite podcast platform.