As many of us in the United States pause today to give thanks, and as I sit in the lobby of a nice hotel where I've been enjoying a week with my family without spending anything on the room, parking, resort fee, or breakfast each day, I can't help but stop and be thankful for the games we play. While there are many more important things for which to be thankful today, here are a few things I'm very thankful for in miles & points.
Rich credit card rewards
There is no doubt that the United States has an incredibly generous system of credit card rewards. Banks offer incredible bonuses to people opening new accounts and the ongoing rewards for spend appear to be unmatched in other countries.
Thanks to that very generous system of credit card rewards and learning how to leverage my miles and points, my family enjoys far more travel in far more comfort than we otherwise would.
Chase Ink 5x Office Supply Stores
Who in this game doesn't love a good Office Supply store sale? That is no doubt in large part due to the generous rewards of the Chase Ink Cash card, which bonuses office supply store purchases at 5x. Whatever kind of business you're in, you probably need office supplies — and the occasional gift card sale doesn't hurt.
Goodness knows that I have put my Chase Ultimate Rewards to use over the years to stay in many incredible Hyatt hotels. In some cases, I'd rather not think about how much it cost me to make those redemptions, but on the other hand I have thoroughly enjoyed using my Hyatt points to be an imposter in a world where I don't belong.
Hyatt's award chart
Speaking of Hyatt, one has to be thankful for the fact that, unlike their major competitors, Hyatt actually maintains an award chart, setting expectations as to how many points you will need to stay at a particular hotel. I think it's an important promise of value to customers that deserves credit.
I am additionally thankful for the fact that Hyatt has an established award chart for club rooms and suites — even premium suites. Suites went from something I didn't care about at all to a fun luxury now and then to something that feels nearly essential now that I travel with young kids. Being able to book a great suite using a predictable number of points (and at good value for my points) is hugely valuable to me and will likely keep me highly invested in Hyatt's ecosystem for the foreseeable future. I'm thankful to not need to rely on elite benefits but rather to be able to lock in a suite with points at times when it really matters to me.
Stackery
I've always enjoyed getting a good deal (don't we all?), but the ability to stack a deal multiple ways is something for which I have to stop and be thankful because it has enabled me to afford a "better" lifestyle. I put the word "better" in quotation marks because I didn't have the right adjective there (better than what?). In some cases, the ability to stack deals like discount codes and shopping portals and card-linked offers and credit card rewards or benefits has meant that I could buy a higher quality (or higher luxury) item than I would have with my budget, in other cases it has meant being able to earn outsized rewards for purchases I'd have to make anyway, and it has undoubtedly meant more money in my savings and investments thanks to having spent less.
While not exactly the type of deal I was thinking about when writing the previous paragraph, a recent example that comes to mind is my flight on JetBlue this past weekend. I flew JetBlue with six other family members using points I earned entirely from JetBlue's card-linked program. Those points were almost entirely earned from purchases made at Lowe's that I'd have made with or without those rewards which stacked on top of a good sale and credit card rewards. In that case, stacking deals made it possible to treat the whole family to a getaway for the Thanksgiving holiday. Unfortunately, Lowe's is no longer in the JetBlue card-linked program — but I'm happy for the stackery while it was possible.
The Amex Points Parade
There is no doubt that the past couple of years have been an absolute goldmine in terms of credit card welcome bonuses and no issuer has been more generous than Amex. We have seen an absolute points parade march onward and upward this way and that for the past couple of years. Amex is making it rain points and if you aren't filling a bucket or two now I wonder why not?
For me, the highlight of the parade of course was earning more than half a million points when I purchased a minivan earlier this year. But that's not been half the story in terms of Membership Rewards points earned this year in my household. We have continued to see incredible welcome bonuses, referral bonuses, and the chance to expand your membership with additional cards.  I have to stop and give thanks to Amex for the generous rewards they have been doling out these past couple of years. We flew to Europe a couple of times this year in business class thanks in part to Amex points.
Let the band play on.
Friendships I've made
This crazy hobby of miles & points is something that just doesn't appeal to everyone. I'm sure few people reading this will be discussing miles & points over turkey this afternoon — and if you're tempted to do so, consider sparing your family and friends who don't care about loyalty programs and credit card rewards. There are plenty of other worthy pursuits in life to discuss that won't gloss over everyone's eyes.
But I'm thankful for a community of people for whom this stuff doesn't gloss over the eyes but who rather get excited about this stuff. It's fun having people with whom to share the excitement of a great redemption or an unexpected stack or from whom to learn about what works here or how something else works there and so on.
I've further really enjoyed learning from the people I've met. If you spend much time attending conferences and meetups in this space, you'll quickly find that the people who really get into this stuff tend to be the maximizers of the world – people who find ways to extract maximum benefit for minimal cost in so many arenas of life. There are a lot of smart, successful people who play this game and I've learned valuable lessons from the connections I've made along the way and discussions that expanded beyond credit card rewards. That includes plenty of readers — both those who I've met at conferences and those who have simply commented on posts. And on that note….
You, the reader of this blog
I couldn't possibly consider things I'm thankful about in miles and points and not mention the people who read this blog and others like it and who listen to our podcast and watch our videos and leave comments and participate in our Facebook group and follow us on Instagram and give us tips and who ultimately keep us in business. Thank you to those of you who have indulged my long-winded posts to the end and come back for more. I have been incredibly fortunate to write for a readership that is so engaged in this hobby and tireless in their interest in hearing more about it. I can't adequately express my appreciation, but thank you.
Greg, the Frequent Miler
Finally, I have to express my thanks to the man, the myth, the legend: Greg, the Frequent Miler. Long before I worked for this site, I read it. I woke up in the morning excited to read about whatever was on the Frequent Miler's mind. When I first saw Greg speak at an FTU years ago, my mind was blown. I thought I had known everything I needed to know about earning miles and points and in the space of 45 minutes he made me realize that I was only scratching the surface — and that inspired me to dig deeper. Years later, it led to my wife encouraging me to apply when Greg posted a full time job opening and I have told anyone willing to listen that I hit the employment lottery. I'm thankful to Greg for so much, but for today join me in thanking him for having built an incredible resource and community and a great place to work in this blog and the things that accompany it.
Thanks Greg, readers, and miles and points for helping me get far more for far less in so many ways. There is no doubt that this hobby has continued to provide an incredible ride.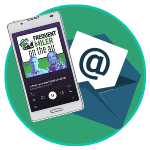 Want to learn more about miles and points?
Subscribe to email updates
 or check out 
our podcast
 on your favorite podcast platform.