Usually, the best credit card offers come from the big banks: Chase, American Express, Citibank, etc.  Now, however, Ahcom Bank, headquartered in Dauphin County, PA has announced a new product that might just be the best offer yet.
Don't judge a card by its wrapper
At first glance, the Sweet Rewards Signature Visa doesn't look interesting at all.  It offers a meager 10,000 point signup bonus (after first purchase), and only 1 point per dollar for most purchases.  If you look under the wrapper, though, things get interesting…
Just Desserts bonus points
Playing on the theme of "Sweet Rewards," Ahcom Bank offers cardholders extra points when buying sweets, confections, and pastries.  They call the extra points your "Just Desserts".  Cardholders earn 2 bonus points for every purchase in this category, meaning total earnings amount to 3X.  Where it gets really interesting are the details of which purchases qualify (bolding is mine):
Qualifying purchases include all purchases made at ice cream parlors, bakeries, chocolate and candy stores, coffee shops, restaurants, drug stores, and stand-alone grocery stores.
With restaurants, drug stores, and grocery stores included, this means that one can earn 3X on a huge percentage of everyday purchases (not to mention that one could earn 3X when purchasing reload cards as well….)
Cash or Kisses
Someone at Ahcom Bank really likes playing up this "Sweet Rewards" theme.  When setting up your account, you are given the option to earn "Cash or Kisses".  If you choose cash, then each point you earn can be redeemed for exactly one cent.  If you choose Kisses, then every thousand points earned becomes a "Kiss".  Kisses can be redeemed for various merchandise, gift cards, and travel.  You are allowed to change your selection between Cash or Kisses only once a year.
Redeeming Kisses
In order to redeem Kisses, you need to click through the bank's rewards page to the "Kissing Booth" (Ugh, I know!).  There, you can get what you want in exchange for a Kiss (or two, or three…).  I spot checked some of the redemptions to see if any were worth much.  A coffee grinder that normally sells for about $35, requires 3 Kisses (just over 1 cent per point value).  A GPS watch that usually sells for about $95, requires 10 Kisses (just under 1 cent per point value).  Gift cards were fixed at 1 cent per point value (e.g. a $100 gift card costs 10 Kisses).  Where things get interesting is with their "Sweet Escapes"…
The most interesting Kiss redemption has to be the Hotel Getaways.  Hotel Getaways are advertised on this site as "Sweet Escapes" and you can select either 1 night, 2 nights, 3 nights, or 1 week.  When I dug into the fine print, I discovered that you don't actually get a room reservation for your Kisses.  Instead, they give hotel points!  I checked each option individually and constructed this rememption chart:
| | | |
| --- | --- | --- |
| Award | Cost in Kisses | Hotel Points Awarded |
| 1 night | 10 | 10,000 |
| 2 nights | 20 | 20,000 |
| 3 nights | 30 | 30,000 |
| 1 week | 50 | 100,000 |
I know this is complicated, but remember that 10 Kisses equals 10,000 Sweet Rewards points, so the individual "night" redemptions are an even swap of Sweet Rewards for hotel points.  The 1 week redemption, though, effectively doubles your points.  50,000 Sweet Rewards points become 100,000 hotel points!
Now, it get's even more amazing.  Take a look at the Hotels you can choose from (bolding is mine): Hilton, Marriott, and Starwood.  While Hilton and Marriott points are generally worth less than a penny each, Starwood points are usually worth 2 cents each or more!
Putting it altogether
If you use this card exclusively within the very broad "Just Desserts" category, you can earn 3X points on all purchases.  Then, by selecting to earn "Kisses" instead of Cash, you can redeem those points for twice as many Starwood points (if you redeem 50 Kisses at a time).  This means that this card effectively earns 6X Starwood points within the bonus category and 2X Starwood points everywhere else!  That is a fantastic rate of return!
Also, remember that Starwood allows you to convert Starpoints to airline miles at a favorable rate: 20,000 Starpoints becomes 25,000 miles (with most programs).  So, if you prefer earning miles, 50 Kisses can become 125,000 miles!  In other words, this card earns 7.5X miles within the bonus category and 2.5X miles everywhere else.
Eligibility
Given that this card is from a regional bank, I wasn't sure whether it was available to everyone in the US or just those who live in areas serviced by the bank.  It took several phone calls to find the answer, but ultimately I learned that anyone with a US address may apply.
Analysis
This seems to me to be one of those "too good to be true" deals.  Once Ahcom Bank figures this out, I'm sure they'll change their redemption options or limit rewards.  As things stand right now, though, it would be foolish not to get this card.
Sign Up Link
Ahcom Bank doesn't advertise this card outside of the regions they serve.  In fact, I had a hard time finding a way to apply online.  After searching and searching, I found a link connected to the card's online Members Agreement: https://ahcombank.com/consumer/credit/sr_app_1AprilF.
Good luck!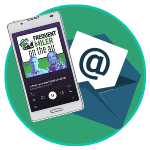 Want to learn more about miles and points?
Subscribe to email updates
 or check out 
our podcast
 on your favorite podcast platform.