The weekly offers from T-Mobile Tuesdays can be hit or miss, but this week's offers could be a hit, particularly if you're staying at home right now as they're offering the opportunity for learning and ad-free entertainment for several weeks.
The Deal
T-Mobile Tuesdays is offering the following deals:

Get 2 months of ad-free YouTube Premium
Get free 4 week course from Shaw Academy
Get 10c off per gallon at Shell
Key Terms
YouTube Premium

With YouTube Premium, you can watch videos ad-free, download your favorites to view them offline, and play videos in the background while using other apps. You also get access to their music streaming service, YouTube Music Premium. After the 2-month free trial, the membership automatically renews for $11.99/mo unless you cancel in advance. Exclusive for T‑Mobile customers.
Save in the T‑Mobile Tuesdays app by April 21, 2020, at 4:59 a.m. ET and redeem in the T‑Mobile Tuesdays app by May 1, 2020, at 2:59 a.m. ET to receive a code valid for a YouTube Premium 2-month free trial. Offer requires a Google account. Code must be redeemed at YouTube by May 1, 2020, at 2:59 a.m. ET. Offer valid for new subscribers. If you are currently subscribed to YouTube Premium, you will need to cancel your subscription to take advantage of this offer. Limit 1 offer/Google account. Offer is not valid in combination with any other offer or discount. Valid form of payment card required at sign-up, but card will not be charged until the trial period expires. At the end of the 2-month trial period, card will be automatically charged the individual subscription price, currently $11.99/monthly on a monthly recurring basis until canceled. You can cancel your trial at no charge at any time before the trial is over to avoid monthly charges. No refunds for partial billing period are available.

Shaw Academy

Enter spring learning a new skill with a free four-week online course at Shaw Academy! Join interactive webinars and gain invaluable tips to build your resume and expertise. You can dig into tons of subjects—from social media marketing to personal nutrition! Offer valid for new and existing customers. Exclusive for T‑Mobile customers.
Save and redeem in the T‑Mobile Tuesdays app by April 13, 2020, at 11:59 p.m. ET to receive a code for one free 4-week online course. Register at http://www.shawacademy.com/tmobiletuesdays. Requires a Shaw Academy account, a computer or web-enabled mobile device and Internet/WiFi connection. Offer available to new and existing customers. Course must be selected and downloaded by April 13, 2020, at 11:59 p.m. ET. No special software required. Upon completion of the course, user will receive a certificate of completion. Limit 1 code/person.
Quick Thoughts
If you're a first time user of YouTube Premium, you normally get the first month free. That means this T-Mobile Tuesdays deal is effectively getting you an extra month free. It's nice that this is available for existing users, albeit with the slight inconvenience of having to cancel your existing subscription. Still, if you're happily paying $11.99 per month for YouTube Premium already, it's likely worth the effort of cancelling and resubscribing to save $23.98 for the next couple of months. If you don't want to keep YouTube Premium beyond the two months, remember to set a reminder to cancel so that you're not subsequently charged $11.99 per month.
As for Shaw Academy, a free four week course is a great way to pass some time if you're currently stuck at home and could help with professional development or in setting up a side hustle for extra income. I've just checked out their website and they offered me a free four week course even without using a code from T-Mobile Tuesdays. Seeing as the T-Mobile Tuesdays offer is valid for both new and existing customers, it'd be best to take advantage of that initial offer, then use your code from T-Mobile Tuesdays to get a second free course – just be sure to claim it in the app before April 13.
Shaw Academy is listed on a handful of shopping portals, so click through to one of those before registering. The terms of the cashback sites state that you'll only earn it after your first payment. With the course being free, that means you're not eligible, but it's worth clicking through anyway just in case it did happen to track.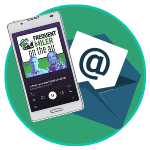 Want to learn more about miles and points?
Subscribe to email updates
 or check out 
our podcast
 on your favorite podcast platform.