Lately, whenever I post anything about earning 5 points per dollar with Citibank ThankYou cards, commenters point out that there are risks of being shut down. Some have pointed me to this FlyerTalk thread: "Citi cards closed for Perk Abuse." In that thread, people have reported having their Citibank accounts abruptly shut down. Some account closures seem to have been triggered by excessive spend. Some may have been triggered when customers called to redeem points for mortgage payments.
I would like to be able to write-up a definitive guide to what has happened, but it is unclear. As is usually the case with such things, Citibank hasn't offered any useful explanations for closing accounts. And, there's no telling whether all of the self-reports on FlyerTalk are even true. Sometimes people purposely spread fear to try to keep the best deals to themselves. Is that happening here? I don't know.
How to keep your points safe
Nobody wants to earn points and have them abruptly taken away. Nor does anyone want to have Citibank close all of their accounts and potentially blacklist them from new offers. At the same time, the allure of 5 points per dollar is tough to resist. Here are my best guesses of how to stay safe:
Limit total spend: Frugal Travel Guy suggests limiting spend to half of your credit limit each month. That sounds like a good rule of thumb to me. If you have a very high limit, I'd further argue that you'd be wise to stick with less than $5K per month.
Mix in regular spend: If all of your spend is at a drugstore (where you've been buying reload cards or gift cards) that would probably look suspicious. There's nothing illegal with doing that, but you still don't want to raise any warning flags. I recommend using the card for your day to day groceries and gas purchases as well to help mix things up.
Be wary of mortgage & student loan redemptions: Other than redeeming for flights at 1.33 cents per point (see "ThankYou!"), the next most valuable options are to redeem for mortgage payments or student loan payments at 1 cent per point. Unfortunately, there have been some reports of people being shut down when they called for these redemptions (which are not available online). If you're nervous, go with flights or gift cards instead.
Redeem often: The best way to protect yourself from losing your points is to use them as soon as they're available. Some people have taken to cashing out their balance each month by ordering gift cards. This is the one piece of advice listed here that I probably won't follow myself. I like getting 1.33 cents per point value when redeeming for flights, and so I'll wait for those opportunities to use my points.
I need to reiterate that the above guidelines are just guesses. If you follow these guidelines, there is no guarantee that your points will be safe. Similarly, if you go outside the bounds of these suggestions, there is no proof that you will be in danger. We simply do not know for sure.
Reader Experiences
If any readers here have had their accounts shut down by Citibank, please let us know the circumstances. Did you go outside of the guidelines suggested above? If so, in what way? Or, have you successfully exceeded these guidelines without getting shut down (yet)? How far have you taken things? Please comment below!
Related Posts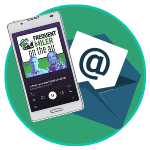 Want to learn more about miles and points?
Subscribe to email updates
 or check out 
our podcast
 on your favorite podcast platform.