Following many airline program devaluations and rule changes, Alaska Airlines' Mileage Plan miles may be the most valuable airline miles remaining.  Here are a few reasons that Alaska miles kick butt:
Ability to book flights on partner airlines including domestic carriers American Airlines and Delta as well as a number of great foreign airlines including Air France, Cathay Pacific, Emirates, and Qantas
Reasonable award prices, even for first class international travel
No fuel surcharges on awards (except with British Airways and Icelandair)
Free stop-overs are allowed, even on one-way awards
Low change and cancellation fees compared to other US airline programs: Free change or cancellation up until 60 days before departure, or $125 per person after that.
Details about Alaska's award booking rules can be found on Travel Codex, here.
Now that you know you want Alaska Airlines' Mileage Plan miles, here are the best ways to get them…
#1 Sign up for great credit card bonuses
It's no surprise that credit card signup bonuses are the best way to get miles, but you may be surprised by some of the options…
#2 Redeem points for a Marriott Travel Package
If you have a large stash of Marriott Rewards points, or plan to get them through credit card signup bonuses, this may be for you…
Marriott offers travel packages in which you can redeem a large number of Marriott points for a combination of hotel nights plus airline miles.  For full coverage of the Marriott 5 night and 7 night travel packages, please see: Analysis of Marriott Travel Packages: 5 Night vs. 7 Night.
If your primary goal is to convert Marriott points to Alaska Airlines miles, then you'll want to get the packages that offer the most miles at the lowest cost in points.  In other words, you want the packages that are limited to category 1-5 hotels and offer 120,000 airline miles.  The point costs are as follows:
5 Nights + 120,000 Mileage Plan miles: 235,000 Marriott Rewards points
7 Nights + 120,000 Mileage Plan miles: 270,000 Marriott Rewards points
Unfortunately, the 5 Night packages are technically limited to Marriott Timeshare holders.  Reader experiences have varied widely in whether or not Marriott will allow an exception to this rule.  Many readers with Marriott elite status have reported success, while other readers said that they called many times and were told each time that an exception could not be made.  In short, booking a 5 Night Travel Package might not be possible unless you're a Marriott Timeshare holder.  Still, the 7 night packages are a good deal…
Even starting from zero Marriott points, a couple could theoretically sign up for two personal Marriott credit cards (one each) and one business card.  After meeting minimum spend requirements, the couple would have about 263,000 Marriott Rewards points.  That's more than enough for a 5 night package, and within only 7,000 Marriott points of a 7 night package.  Worst case, those 7,000 extra points could be transferred from Chase Ultimate Rewards or purchased from Marriott for 1.25 cents each.
In other words, 3 credit card signup bonuses can get you 120,000 Alaska Mileage Plan miles (40K miles per credit card!) plus a 5 to 7 night stay.
#3 Fly
With Alaska Airlines, you can earn miles flying Alaska's own flights or partner flights.  Unlike Delta, United, and soon AA, Alaska credits miles based on how far you fly not how much you pay.  Extra miles can be earned by booking more expensive fare classes or first class.
You can also earn bonus miles with elite status.  And, when you achieve MVP Gold 75K status, Alaska will give you 50,000 bonus miles.
#4 Spend (with a credit card)
Obviously you can earn Alaska Mileage Plan miles by putting spend on an Alaska Airlines branded card, but then you would only earn 1 mile per dollar for most spend (3X for spend on Alaska Airlines).  Here are two better choices for non-bonused spend:
Discover It Miles (first year): ~1.43 Mileage Plan miles per dollar.  You didn't see this one coming, did you?  Discover It Miles is really a 1.5% cash back card disguised as a miles earning card.  The great thing about the card is that after the first year of card membership, Discover will double all rewards that had been earned during that year.  So, effectively, this card earns 3% cash back for all spend during your first year of card membership.  Now consider that Alaska Airlines regularly offers a 40% bonus for purchased miles (in fact, there is a current 40% bonus promo running until March 31).  With the 40% bonus, miles cost 2.1 cents each.  So, if you save up all of your Discover It Miles cash back and use it to buy Alaska miles with a 40% bonus, you'll have effectively earned 3 / 2.1 = 1.43 miles per dollar.
Starwood Preferred Guest (SPG): 1.25 Mileage Plan miles per dollar.  The SPG cards earn 1 point per dollar for all regular spend (2X at Starwood properties).  By transferring 20,000 points at a time to miles, you get a 5,000 point bonus.  This means that SPG cards effectively earn 1.25 miles per dollar as long as transfers are always made 20K points at a time.
Diners Club: Up to 3X Mileage Plan miles per dollar.  Diners Club cards are no longer available for new applicants.  However, Diners Club is the only transferable points program other than SPG that supports 1 to 1 transfers to Alaska Airlines Mileage Plan.  Some Diners Club cards offer attractive category bonuses, though.  For example, the Diners Club Elite card offers 3X points at grocery stores, drug stores, and gas stations!  So, if you're lucky enough to have one of these cards, this may be your best way to earn Alaska miles through spend.
#5 Order flowers or gifts (Use 1-800-Flowers Buy miles for 1.7 cents each or less)
Through Extreme Stacking of gift card discounts, promo codes, and more, it is sometimes possible to use 1-800-Flowers promotions to effectively buy Alaska Airline miles cheaply.  Details can be found here: 1800Flowers Extreme Stacking promo codes, portals, gift cards, and more.
Here's a quick example:
Assume the following:
A promo code is available to earn 30 Alaska miles per dollar (the usual rate is 20 miles per dollar, but 30 mile per dollar promotions appear now and then)
You have previously signed up for Celebrations Passport in order to get free shipping
You plan to ship items to a state that does not charge sales tax for flower or food deliveries
You have the ability to buy 1-800-Flowers gift cards at half price (note: beware buying from gift card resellers as they often sell 1-800-Flowers gift credits that do not stack with promo codes)
Again, details of the above assumptions can be found here: 1800Flowers Extreme Stacking promo codes, portals, gift cards, and more.
If all of the above was true, and you spend $1,000, then:
$1,000 = $2,000 in gift cards
$2,000 in 1-800-Flowers purchases at 30 miles per dollar = 60,000 miles earned.
Out of pocket cost per mile, not counting tax savings = $1,000 / 60,000 miles = 1.7 cents per mile
1.7 cents per mile is a great price to pay even if you don't care at all about the flowers or gifts.
Caution: All of the above takes a lot of planning and involves a lot of assumptions that may not be easily met.
#6 Shop online via Mileage Plan Shopping
When shopping online, start at MileagePlanShopping.com to earn extra bonus miles. You do not have to pay with an Alaska Airlines credit card in order to earn bonus miles.
#7 Eat out at Mileage Plan Dining participating restaurants
Sign up for Mileage Plan dining and then link any credit cards you regularly use for dining purchases.  Then, when you spend money at a participating restaurant, you'll earn bonus miles automatically.  At the moment there is also a 1,000 bonus mile sign up and dine bonus: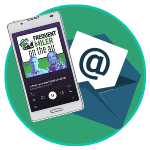 Want to learn more about miles and points?
Subscribe to email updates
 or check out 
our podcast
 on your favorite podcast platform.