At some point in the last couple of years both my wife and I stopped being able to generate referral links from our Amex Gold and Platinum cards. My cards were affected first, then more recently my wife's Gold and vanilla Platinum cards stopped appearing on the referrals page.
I recently saw someone give some advice on Facebook about how to resolve this issue and sure enough it worked for me. You just have to lose it.
No, you don't need to lose it at an Amex rep. You need to "lose" your card. Doing that results in your account having a new card number which seems to reset whatever block Amex had on your card and lets you generate referrals again.
I decided to try this out a few days ago on my Amex Gold card in the hope that not only would it let me generate referrals again but that I'd be able to refer to the increased 90k + $200 offer. It was simple to do this online and I was even able to arrange for the new card to be delivered to the hotel we're staying at next week.
I'm not sure if it happened as soon as I marked the card as "lost", but when checking my account a day or two later I noticed that I was indeed able to generate referral links from that card.
That was the good news. The disappointing news was that I'd only earn 10,000 bonus points for each referral on that card which means I'm not targeted for referring to the latest 90k + $200 offer. Still, at least I've regained the ability to refer from it.
I'm not sure what causes American Express to axe people's ability to refer from certain cards. I think both my wife and I have earned several referrals on our Gold and Platinum cards over the last few years, so it makes me wonder if Amex places some kind of unpublished limit on how many points you're allowed to earn from referrals on any given card. Interestingly, both our vanilla Platinum cards which we've referred from before lost their ability to refer, while my wife's Schwab Platinum card remains unaffected. That Schwab Platinum card has never earned any referrals seeing as it comes in the form of $100 statement credits rather than Membership Rewards which would be more valuable.
I can't remember where I saw this tip on Facebook. I think it was in our Frequent Miler Insiders group, so if it was you – thanks and a tip of the hat! Update: Thanks to Hov in the comments for confirming that it was Brett Holmes who shared this in Frequent Miler Insiders – thanks Brett!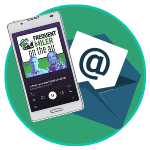 Want to learn more about miles and points?
Subscribe to email updates
 or check out 
our podcast
 on your favorite podcast platform.