Frequent Miler on the Air goes podcast-only this week thanks to a slight technical snafu from our video engineering department (*cough* Greg *cough*), but this week's discussion is worth a listen nonetheless: our reader feedback segment made Greg completely reconsider his valuation of the Sapphire Reserve, and for good reason. We also reviewed how we predicted HotelSlash like a week before it launched and how we hope they put us in position to earn rewards while rewarding them with our business. Then we talked SeatSpy and why it might be exciting, how Turkish Miles & Smiles is making Citi great again, and more. Catch us in audio-only this week.
FM on the Air Podcast
For those who would like to listen during the morning commute or while you're working, the audio of our weekly broadcast is available for download as a podcast on all of your favorite services, including:
You can even listen right here in this browser:
You'll also find us on Spotify and hopefully your other favorite platforms. If you're not finding the podcast via your favorite source of good podcasts, send us a message and let us know what you'd like us to add.
This week at Frequent Miler:
In award booking:
I know, I know — we've talked a lot about Turkish Miles and Smiles and that whole get-to-Hawaii-for-7500-miles thing a bunch. But lest you think that's the only trick in the bag, I've got to say that Turkish is single-handedly making Citi great again. That is especially true now that they also mixing partners on a one-way award, meaning you can book flights to Europe from 45K + $5.60.

SeatSpy looks awesome: it searches an entire year of award availability in, like, a second. But I'm not going to lie, I read this post and thought, "Why on Earth would I ever use that?". I love how it works, I just don't love that it only works with the two airlines with the most outrageous fuel surcharges. Hopefully SeatSpy is going to rock our world by making this available with other programs, in which case I doubt it will still be free. But if and when it works with more useful programs, I'll be willing to pay.
At first, this didn't seem appealing to me at all: you're essentially paying a cancellation fee without being sure you'll cancel. However, the advantage here is that you don't need to have the miles yet — meaning that you can lock in an itinerary without having to commit the miles to Avianca. If plans change, you've still got Membership Rewards or Thank You points and all of their associated flexibility. Is that worth $50 per passenger? It likely depends on the size of your points stash.
In the the thrill of the hunt…for deals:
I have high hopes for HotelSlash. My hope, as we discussed in the podcast, is that they find a way to earn revenue while allowing us to book in ways that earn elite credit and hotel points. I am highly interested in taking advantage of this tool and want to support them in this endeavor — I just hope we don't need to book through an OTA to do it.
Uuuh, high there JetBlue. I have a major construction project going on. I'm working on building a mountain of points. I appreciate your help in sourcing material for said mountain. See this post for how you can stock up on supplies, too.
In the resources you need to win the game:
Greg has updated this bookmark-worthy resource page that outlines the tools we use to earn big rewards and leverage them for even bigger outcomes. This is a good one to share with friends and family when they ask, "How do you travel so much?".
Now that Chase has increased the annual fee on the CSR, is it still a better card to have and to hold than the CSP? The answer isn't as straightforward as it seems. Greg provides a worksheet to help you through it, but as we discussed during the feedback segment of Frequent Miler on the Air, even Greg's analysis wasn't perfect. A reader made an excellent point about why he was overvlauing the ability to redeem points at 1.5c each, and it quickly became difficult to find the right value. Try your hand and see if you can answer this one for yourself.
---
That's it for this week at Frequent Miler. Check back soon for our week in review around the web and this week's last chance deals.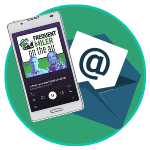 Want to learn more about miles and points?
Subscribe to email updates
 or check out 
our podcast
 on your favorite podcast platform.