In the spring, Greg sat down with our friend Maisie to help her search for an award ticket for a business class flight to Europe. Her award booking makes an interesting case study because Greg had to use a number of tricks and insights to work within her particular constraints: she essentially only had American Express Membership Rewards to use for this flight, and had very little flexibility in terms of flight times and destination.
He and Maisie filmed the process. These kinds of real-life award booking videos are so helpful for someone like myself who is still learning how award booking works. I've participated in a lot of travel-hacking activities such as signing up for credit cards, racking up "manufactured spend", and a whole lot of award travel, but I've done this as a cooperating spouse, not as the primary driver. (In other words, a "player 2"). 
Watch the award booking case study below and read what I learned about award booking along the way, below.
Here's what I learned from watching a real life award booking with American Express Membership Rewards:
An easy way to get started is to search your route on tools like Point.me, Award Logic, Roame.travel, Seats.aero, Seat Spy and PointsYeah (or even all of them, as is nearly the case in this video.) All of these tools are useful reward-flight search tools with their own nuances. You can read our comparison of these tools here. In this case, Greg and Maisie had to check almost all of them.
When these tools show high mileage prices on United, it likely indicates that the award is only available with United itself (and not any partners.) In this example, a United price of 155,000 comes up, which leads Greg to the conclusion that it's one of these exclusively-United flights. This is relevant for Maisie because she only has American Membership Rewards points. United is not a transfer partner of American Express, so a United-only flight would not be bookable for her.
United and Air Canada are in the same partner alliance (called "Star Alliance"). That's relevant because while United is not a transfer partner of American Express Membership Rewards, Air Canada is. So if you can see a flight that's available with United miles, and it isn't one of those high-priced exceptions that's United-only, then it's likely also available with Air Canada's miles.
Like the point above, American Airlines is not a transfer partner of American Express, but is worth paying attention to because it is in the same partner alliance as British Airways – the One World alliance. While American Airlines is not a transfer partner of American Express, British Airways is.
The last two points mean that when you're using these tools to help you find award tickets, you want to not only pay attention to the transfer partners available to you (in this case the transfer partners of American Express Membership Rewards), but also any partners of those transfer partners. That means it's a complicated search process, but also means there are more options available to you than you might think.
Not all airlines hare all of their flights with their partners though. So once you find a flight option with one of these tools, you want to make sure it's visible to (and therefore bookable by) the mileage program you're actually going to use. So for example if the tool shows a United flight is available, but you will be using Air Canada Aeroplan points, do a search within Air Canada to make sure the flight is indeed available with that program.
If you're having a hard time finding something, you can try searching for a specific leg within the full itinerary. In this video for example, Greg and Maisie see if they can find the JFK > Vienna portion of the itinerary they saw on Award Logic.
If one of these tools shows that there is a mixed cabin, (for instance not entirely in business class) you can usually identify which segment is in business and which is not.
Flexibility makes award searches much easier, but it doesn't necessarily have to be flexibility of dates. Searching a variety of airports can help too. One of the things that makes a tool like Seats.aero useful is that it allows you to search many airports in a region at once. In Greg and Maisie's case for instance, Greg was able to search from New York to all of Europe.
When Virgin Atlantic comes up in your search results, yet again, the magic of airline alliances can help you save on fees. Virgin Atlantic and Air France are in the same alliance (Sky Team), and using your Air France miles to book a Virgin flight to London can save you on fees. Virgin Atlantic and Air France are both transfer partners of American Express, but again, this time the benefit is saving fees (rather than allowing you to access an airline outside of the transfer partner list.)
Once you have your flight picked out, you can use Google Flights to find out which product you'll be flying. Different flights use different planes obviously, and that means that not all flights of a certain class on a certain airline are equal.  (For example in this video, Greg uses Google Flights to see if the Virgin Atlantic flight from JFK to London has its own individual suite or not. (It does!)
This note is specific to Air France's website, but keep in mind that when you search for your flight on their website, the calendar shows a preview of the flight prices, but it sets this display price based on the prices for their own flights (not partner flights). So in this case, Maisie had to click the actual date to see the full list of flight options that day, including the much cheaper partner flight she was looking for on Virgin Atlantic.
If you're an award booking beginner, hopefully you'll find this award booking case study video just as enlightening as I did.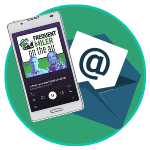 Want to learn more about miles and points?
Subscribe to email updates
 or check out 
our podcast
 on your favorite podcast platform.