Since Samuel L. Jackson and Jennifer Garner won't stop asking, this week we discuss what's in OUR wallets (and why). Will the answer make Mr. Jackson proud? (Spoiler alert: Neither of us carries a Quicksilver card :-D).
Elsewhere on the blog this week, we share easy ways to use up "coupon book" benefits and we look at the rumored changes to the "coupons" on one of the most valuable cards on the market. See also posts about the easy way to Star Alliance Gold status and a super-simple $200 bonus that just requires paying a business bill. Watch, listen, or read on for more from this week at Frequent Miler.

00:40 Giant Mailbag
03:02 Card Talk: Hilton Aspire
12:55 Award Talk
13:04 Alaska Devalues JAL awards
17:00 Southwest Wanna Get Away Plus for the win
20:05 Nick's quick hit Award Talk triple header
20:15 LifeMiles Manual Booking success
22:41 Hotel Nyack
23:38 MGM "Free" stay
25:22 Main Event: What's in our wallets?
27:38 Greg's Travel spend card
28:40 Greg's dinning card
29:50 Greg's grocery card
31:06 Greg's gas card
32:10 Greg's Office Supply card
32:50 Greg's Apple Pay card
34:52 Greg's Everywhere Else card
40:33 Nick's Travel card
43:07 Nick's dining card
44:04 Nick's gas card
45:15 Nick's Office Supply card
46:21 Nick's Google Pay card
47:08 Nick's Pharmacy card
48:20 Nick's Everywhere else card
49:48 Greg's Debit card
53:14 Question of the Week: What's the best program for suite upgrades — and what can you do to increase your chances of an upgrade?
Subscribe to our podcast
We publish Frequent Miler on the Air each week in both video form (above) and as an audio podcast. People love listening to the podcast while driving, working-out, etc. Please check it out and subscribe. Our podcast is available on all popular podcast platforms, including Apple Podcasts, Spotify, and many more.
Alternatively, you can listen to the podcast online here.
This week on the Frequent Miler blog…
A recent survey has us thinking that changes are likely coming the Hilton Honors Aspire card, which is arguably the best long-term value card on the market in its current form. We don't know for sure that these changes will happen or when they may happen, but they seem very, very plausible. When they do hit, they will certainly represent a decrease in value for the card, though these changes might make the benefits more appealing to some. The Aspire card might stay in my (spare) wallet (full of cards I rarely use), but it still won't move to the daily use wallet any time soon.
A common joke about many of the premium credit cards on the market is that they have slowly turned into "coupon books", with many different monthly, quarterly, semi-annual, or annual benefits that may not seem intuitive to use. This post covers the most valuable of these "coupons" and explains how to best leverage the benefits — sometimes for things beyond the scope you might otherwise imagine.
If you're after Star Alliance Gold status, Avianca LifeMiles could be the ticket. That said, it won't be a cheap ticket, just an easier path than most other airlines given the fact that you can earn half the points necessary for elite status by transferring from a credit card program or buying miles (like in the current sale). The hard part is that you do still need to fly on Avianca, but in this post I demonstrate how you could reach status with just one paid flight and miles transferred in.
CLEAR finally got me around the holidays this year when we had plans to fly on the Saturday after Thanksgiving and we were staying at the Hyatt Regency Orlando Airport, so the enrollment line was literally at the bottom of the escalator from the hotel. And since it costs me nothing thanks to my Amex Platinum card, how can I complain? The good news is that even if you don't have a Platinum card, this post covers ways you can get CLEAR for less.
Stephen covers a tip for how to get your referral link back if you've lost it. For some reason, some cardholders get locked out of Amex referrals. It isn't always clear why this happens, but apparently you can get your link back…temporarily. According to Miles Earn and Burn, the links only come back for a month or two.
Melio is a service that has been around for a while to pay business bills with a credit card. I hadn't ever thought hard about using it because I've used Plastiq for years. However, with a $200 bonus to be had, taxes to be paid, and Business Platinum pre-approval mailers continuing to come in, I think it's time that Melio and I got acquainted.
Just a quick update here, but it made sense to include this in our week in review following Melio: Plastiq payments are back up and running.
This guide has seen a number of updates this week and serves as a total reference guide for all of the key aspects of the Marriott Bonvoy program.
---
That's it for this week at Frequent Miler. Keep your eye on this week's last chance deals to be sure you grab them before they're gone.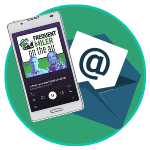 Want to learn more about miles and points?
Subscribe to email updates
 or check out 
our podcast
 on your favorite podcast platform.