Card Details and Application Link
Capital One Venture Rewards Credit Card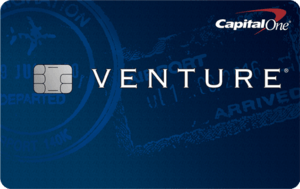 60K miles
Earn a one-time bonus of 60K Capital One miles after $3K spend in the first 3 months
Click Here to Apply
$95 Annual Fee
Recent better offer: 100K: 50K after $3K in the first 3 months + 20K after $20K in the first 6 months [Expired 7/19/21]
FM Mini Review: This card earns 2 "miles" per dollar, which are worth exactly 1 cent each toward travel. This makes the return on spend similar to a 2% cash back card (though in this case you must redeem your miles to offset travel in order to get 1 cent per mile). One big advantage over cash back: Capital One allows transfering their "miles" to airline miles & hotel points.

---
Card Type: Visa Signature
<!–– qBaseq -->
<!–– qOtherq -->
Earning rate: 2X everywhere.
Noteworthy perks: Receive up to $100 application fee credit for Global Entry or TSA Pre✓® ⚬ Redeem miles for travel at value of 1 cent per mile ⚬ Convert "miles" to airline miles & hotel points ⚬ No foreign transaction fees
The Capital One Venture Rewards Credit Card makes for a unique one-card solution in that it offers the best of both worlds: earn 2x "miles" on all purchases and then redeem those "miles" for paid travel at a reasonable rate of return or transfer those "miles" to airline partners. While there are credit card combinations from other issuers that can offer greater returns, the Capital One Venture card likely appeals the most to those looking for one card to keep on hand for all purchases. In fact, the simplicity of being able to use one card to earn rewards and travel any time is why this card (along with its business twin: Spark Miles for Business) topped the list in our post answering the question: What is the best credit card?. This guide contains everything you need to know about the Capital One Venture Rewards credit card.
Capital One Venture Application Tips
Capital One Application Tips


6 month rule: Must wait 6 months after applying for a Capital One card before applying for another one.


2 card limit: Conventional wisdom and user experience has been that you can have at most 2 Capital One consumer cards, but according to application terms it may be possible to have up to 5. You may be limited to 2 of their rewards cards. Note that this limit does not apply to Capital One co-branded cards like the Kohl's charge card.


Get Same Card Again: There is no known rule against getting the same card and bonus again even if you still have the card open.


Hard inquiries usually get issued through all 3 credit bureaus



To check application status, call (800) 903-9177 or (877) 277-5901
If denied, call reconsideration here: (800) 625-7866
Should you apply?
This is a decent travel rewards credit card with good "everywhere" rewards. Earn 2 miles per dollar for all spend. Miles are worth 1 cent each when redeemed for travel. Simply use the card to pay for any travel expenses, and then log onto your account and apply miles to offset your statement charges.
Things get more interesting now that Capital One Miles are transferable to airline miles. Since the transfer ratio is 2 to 1.5, you can think of this card as earning your choice of 2% everywhere OR 1.5 airline miles everywhere.
It is worth noting that Capital One is known to pull from all three bureaus for new applications, resulting in hard inquiries on all of them. Anecdotally, some have reported being approved with a single report frozen.
Are you eligible?
Capital One allows at most 2 Capital One consumer cards and you must wait six months before applying for another card.
However, beyond those rules, Capital One also tends to be less likely to approve those who have opened many credit cards with other issuers. There is no known rule as to how many is too many, but those who regularly open rewards credit cards are likely to have difficulty being approved.
How to apply
You can find the current best welcome bonus offer and application link at the top of this page: Capital One® Venture® Rewards Credit Card.
Application status
After you apply, call (800) 903-9177 or (877) 277-5901 to check your application status.
Reconsideration
If your application is denied, we recommend calling for reconsideration (800) 625-7866. It's surprising how often denials can be changed to approvals just by asking, though note that Capital One is unlikely to approve those with many open credit cards.
Capital One Venture Rewards Credit Card Perks
Capital One "Miles"
Capital One calls its rewards currency "miles", though really it is like other transferable currencies in that it offers the ability to redeem towards travel or to transfer to airline miles as follows:
Redeem Points $0.01 each toward travel: Points are worth 1 cent each toward travel and can be used to "erase" a broad range of travel purchases (including flights, lodging, ride shares, cruises, and more) within 90 days of purchase.
Transfer Points to Partners: Points can be transferred one to one to a number of airline loyalty programs. Capital One "miles" transfer to most airline partners at a rate of 2 Capital One "miles" to 1.5 airline miles, though some offer a worse ratio of 2:1. Transfer bonuses sometimes improve these ratios.
Travel Protections
Auto Rental Coverage: Capital One offers secondary auto rental CDW (collision damage waiver), which means that it acts as supplemental insurance to your personal car insurance if you have any (if you do not have car insurance, it acts as primary CDW). Here's the description directly from Capital One: "Rent an eligible vehicle with your credit card and you can be covered for damage due to collision or theft."
Travel Accident Insurance: When you charge the entire cost of the passenger fare(s) to your card, you, your spouse and unmarried dependent children will be automatically insured up to $250,000 against accidental loss of life, limb, sight, speech or hearing while riding as a passenger in, entering or exiting any licensed common carrier.
Global Entry or TSA Pre-Check credit
Receive up to $100 credit for Global Entry or TSA Pre® when you use your Venture card. Get one statement credit every four years.
Purchase Protection
Extended Warranty: "Doubles the time period of the original manufacturer's written U.S. repair warranty up to one (1) additional year on eligible warranties of three (3) years or less for items purchased entirely with your eligible Visa Signature card."
Capital One® Venture® Rewards Credit Card Earn Points
Welcome Bonus
This card earns Capital One "miles". Here's the current welcome offer:
Refer Friends
Capital One occasionally sends out targeted email offers to refer friends and receive a bonus for each referral.
Bonus Spend
Card Info Name and Earning Rate (no offer)
Capital One® Venture® Rewards Credit Card offers 2X everywhere with no permanent bonus categories.
Capital One® Venture® Rewards Credit Card Redeem Points
Cash Back
Cash back is the poorest use of Capital One "miles". This is because if you redeem for cash back, whether as a statement credit or via check, you'll only receive half the value of travel redemptions: just 0.5 cents per "mile". If you are looking for cash back rewards, there are much better options on the market.
Travel
Redeem points for paid travel: 1 cent per "mile"
Capital One "miles" can be redeemed for paid travel at a rate of 1 cent per "mile". Travel purchases can be "erased" by redeeming miles within 90 days of purchase. Note that Capital One keeps a fairly broad definition of travel, with things like flights, hotels, Airbnb, ride shares, cruises, and more qualifying. There is no minimum redemption if you are covering the charge completely with your "miles". If you are redeeming for a partial credit toward a travel purchase, the minimum is 2,500 miles. Also keep in mind that Capital One allows you to combine miles earned on each of their miles-earning cards as well as transfer to other cardholders with eligible miles-earning cards.
---
Some customers get "special hotel offers"
Capital One "miles" can be redeemed for gift cards for many popular merchants. Some cardholders with older Capital One miles-earning cards may additionally have the ability "Get Special Hotel Offers". If you happen to have a card with this option, you can redeem 64,250 Capital One "miles" for a $900 gift card with select hotel chains.
See this post for more detail
.
---
Transfer points
Capital One miles are transferable to a number of airline partners. Most miles transfer at a ratio of 2 to 1.5 (1,000 Capital One miles transfers to 750 airline miles), but some transfer 2 to 1 (1,000 Capital One miles to 500 airline miles).  Capital One plans to add more transfers partners on an ongoing basis.
---
Transfer to another Capital One miles-earning card
Capital One allows you to combine miles earned from all of your Capital One miles-earning credit cards. Additionally, Capital One allows transfers to any other cardholder who has a miles-earning Capital One card. This makes it very easy to combine miles to redeem for a valuable award.
---
Transfer Partners
| Rewards Program | Capital One Transfer Ratio | Best Uses |
| --- | --- | --- |
| Accor Live Limitless | 1000 to 500 | Use to pay hotel bill with value of 2 Euro cents per point. In some cases (such as hotel to airline transfer bonuses) it may make sense to convert Accor points to the following airline miles at a 1 to 1 ratio: Finnair, Iberia, Qantas, or Virgin Australia |
| AeroMexico ClubPremier | 1 to 1 | AeroMexico is a SkyTeam partner. Club Premier points can be used to book flights on AeroMexico, SkyTeam alliance members (such as Delta or Korean Air), or on select partner airlines. Unfortunately many have reported that awards are extremely difficult to book through AeroMexico so we do not recommend transferring points to this program. If you want to fly AeroMexico, look to transfer points to another SkyTeam partner (such as Air France) and then book AeroMexico with that program. |
| Air Canada Aeroplan | 1 to 1 | Redeem for Star Alliance flights and/or flights with Air Canada partners (such as Etihad). No fuel surcharges; $39 CAD award booking fee; 5,000 points to add stopover on one-way award. See: Air Canada Aeroplan: Everything you need to know. |
| Air France KLM Flying Blue | 1 to 1 | Monthly Air France Promo Awards often represent very good value. Air France miles can be used to book Sky Team awards, including Delta awards. |
| Avianca LifeMiles | 1 to 1 | Avianca LifeMiles can be great for Star Alliance awards. They offer reasonable award prices and no fuel surcharges on awards. They also offer shorthaul awards within the US (for flying United, for example) for as few as 7,500 miles one-way. Best of all, their mixed-cabin pricing can lead to fantastic first-class award prices. See this post for details. |
| British Airways Avios | 1 to 1 | While flights on British Airways itself often incur outrageously high fuel surcharges, many BA partners charge low or no fuel surcharges. Excellent value can be had in redeeming BA points for short distance flights. It's possible to move points (Avios) between Iberia, British Airways, and Aer Lingus. See also: Complete guide to Avios - British Airways, Iberia, and Aer Lingus. |
| Cathay Pacific Asia Miles | 1 to 1 | Cathay Pacific has a decent distance based award chart, but they no longer allow stopovers longer than 24 hours. Cathay Pacific Asia Miles can be a good option for booking American Airlines flights with a distance based award chart, especially if other OneWorld Alliance miles aren't available. For long distance flights, it is possible to reduce the cost of first class by adding on a business class flight. See this post for details. |
| Choice | 1 to 1 | Choice Privileges points seem to be randomly valuable within the US, but dependably valuable internationally in expensive locations such as Scandinavia and Japan |
| Emirates Skywards | 1 to 1 | The best use of Emirates miles is to fly Emirates itself. See: Emirates Sweet Spot Awards - First class from 30K miles round trip. |
| Etihad Guest | 1 to 1 | Etihad has a very competitive award chart for American Airlines flights, among others.  For example, they charge only 50,000 miles one-way for business class flights from North America to Europe. Partner awards must be booked over the phone. |
| EVA Air Infinity MileageLands | 1000 to 750 | If you want to fly one of the best business class products in the sky, the best way to snag EVA flights is with their own miles since they release more award space to their own members. One-way business class flights from the US to Taipei cost 75K to 80K miles. Fuel surcharges are very low on these routes. |
| Finnair Plus+ | 1 to 1 | Award prices are quite high compared to competing programs. Interestingly, miles can be exchanged for tier points (towards elite status). |
| Qantas Frequent Flyer | 1 to 1 | Best use is probably for flights on El Al with no fuel surcharges. Also useful for short AA flights. Qantas offers distance based award charts similar to Cathay Pacific. Both are OneWorld Alliance members. I recommend comparing award prices across both programs before transferring to either. Qantas offers round the world business class awards for only 280,000 points (but with many restrictions) |
| Singapore Airlines KrisFlyer | 1 to 1 | Use to book Singapore Airlines First Class awards (generally reserved for their own members), Alaska Airlines economy awards, or for Star Alliance awards (including United Airlines). |
| TAP Air Portugal | 1 to 1 | |
| Turkish Airlines Miles & Smiles | 1 to 1 | Miles & Smiles offers a number of awesome sweet-spot awards including 7.5K one-way anywhere within the US, even to Hawaii. Many awards cannot be booked online but can be booked via email. See: Turkish Miles & Smiles Complete Guide and Turkish business class sweet spots from the US. |
| Wyndham | 1 to 1 | Wyndham often allows booking multi-room suites for the same price as a standard room. It's sometimes possible to get great value from points in that way. Additionally, you can book vacation rentals for only 15K points per room per night. |
Other ways to redeem points
Capital One "miles" can be redeemed to erase travel purchases or transferred to airline partners. Additionally, they can be redeemed for gift cards or travel booked through the Capital One travel portal.  You'll usually get 1 cent per point value when redeeming for gift cards or travel booked through Capital One, but you'll only get half a cent per point in value when redeeming for cash back as a statement credit or via check.
---
You can also use points to pay some merchants directly (for example: Amazon.com).  Don't do this.  These options offer poor value. Further, they may compromise the security of your account (i.e. if someone hacks into your Amazon account, they might spend your Capital One "miles" - causing you a headache in getting your points reinstated).
---
Capital One® Venture® Rewards Credit Card Manage Points
Combine Points Across Cards
If you have multiple cards that earn Capital One "miles", you can freely combine those miles via your online account. This can be useful when you want to put together the miles for a valuable redemption in a single account.
---
Share Points Across Cardholders
Capital One allows cardholders to share points with any other customer who has a credit card that earns Capital One miles. There are no annual caps or limitations. To share points with another cardholder, you will need that person's credit card number. Simply call the number on the back of your card to initiate the transfer. Capital One miles transfer to other customers instantly.
---
How to Keep Points Alive
Thankfully, it is very easy to keep Capital One "miles" alive: simply keep the miles in an open Capital One miles-earning account and they will not expire. Note that if you close a Capital One miles-earning card, you will lose any miles associated with that card. You should either redeem your miles or move them to another card that will remain open as per the sharing section above before canceling.
---
Capital One® Venture® Rewards Credit Card Lifecycle
How to meet minimum spend requirements
Keep, cancel, or product change?
Is this card worth keeping in the long run? If you are looking for a simple one-card solution that offers a reasonable return on everyday purchases, it might be. With a baseline redemption of 2 cents per dollar spent and the ability to also transfer to airline partners, this card offers just enough flexibility to make it worth considering as a lone card solution. However, keep in mind that there are long-term options on the market to earn 2% cash back with no annual fee and several cards that are even better in the first year. There are alternatively cards that offer bonus categories for more miles per dollar. The Venture card's strength is in offering a combination that is less common in a single card.
Related Cards
Capital One miles Consumer Cards
Capital One miles Business Cards