The first day of my 3 Cards, 3 Continents trip was fun, but day 2 – yesterday – was where things kicked into gear.
What is 3 Cards, 3 Continents?
Frequent Miler loves creating fun and competitive team challenges. This year Greg, Nick, and Stephen are competing to
book the most amazing 3-continent dream-trip using 3 credit card welcome bonuses.
In my post yesterday, I mentioned that world records would be a theme of my trip and a key part of that was taking the world's shortest scheduled flight which only lasted 90 seconds.
That isn't the only fun activity I did though, so here's a recap from day 2 of my trip.
Northern Lights Executive Lounge
Yesterday was both the first time I'd ever flown with Loganair and my first time flying out of Aberdeen airport, so I wasn't sure what to expect in terms of how long check-in and security would take.
Even though I suspected that I was leaving the hotel far earlier than necessary, I walked from the Moxy Aberdeen Airport I'd stayed at overnight to the airport just under two hours before my flight. Sure enough, getting there that early was unnecessary. Check-in only took a couple of minutes and security was just as quick, so I still had 1.5 hours to kill at the airport.
Despite being a relatively small airport, Aberdeen has a lounge that participates in Priority Pass – the Northern Lights Executive Lounge. Although it's not a massive lounge, it was a good size considering a) the size of the airport and b) how few people were in the lounge.
The lounge had a bar area with a comprehensive selection of Scotch whisky, but I didn't order any and so I'm not sure if that's complimentary or not. Rather than having a buffet breakfast set up, there was a menu from which you could order up to three items.
I had a hard time choosing between the bacon roll and sausage roll, but settled on the sausage roll and a pot of tea – there's no finer start to the day.
Loganair Flight – Aberdeen To Kirkwall
In order to take my sub-two minute flight from Papa Westray to Westray, I first had to get to Papa Westray. The first leg of that journey was flying Loganair from Aberdeen to Kirkwall, the airport that serves the largest of the Orkney Islands. It was operated by a Saab 340 (twin-turboprop) which was a similar kind of size to some puddle-jumpers in the US and had a 2-1 cabin configuration.
The headrests were all a different kind of tartan which was a cute touch.
Despite only lasting 30-40 minutes, the flight attendant came through the cabin with a snack and beverage service. Drinks were a choice of tea, coffee or water and the snack was shortbread or a Tunnock's chocolate/caramel wafer. I don't know if they've changed the recipe in the two decaes since I last had one of these Tunnock's bars, but it was tastier than I remembered it being.
Kirkwall Airport
The flight was uneventful and we soon landed at Kirkwall airport which, up to that point, had the smallest airport building I've ever been in.
I didn't investigate too closely, but I think the airport only has three gates. Gates one and two are for flights to the Scottish mainland (Aberdeen, Edinburgh, Glasgow and Inverness), while Gate 3 is for inter-island flights. The airport has a café with a good-sized menu, a bar, a gift shop, etc., as well as free Wi-Fi.
Highland Park Distillery is in Kirkwall, so I'd hoped to be able to take a tour during my four hour layover, but they were sold out. I have another lengthy layover at Kirkwall on my way back through today, but the only space they had on a tour was at 10am and I wouldn't be able to get to the distillery until 10:30am.
All was not lost though. The bar had Highland Park 12 Year Scotch, so I got a shot of that to go with my unexpectedly large sandwich for lunch as my flight to Papa Westray wasn't until 1:45pm.
Loganair Flight – Kirkwall To Papa Westray
After finishing lunch, it was time to board my flight to Papa Westray which was on a Britten-Norman BN2B-26 Islander plane which only has 8 passenger seats.
After leaving Kirkwall airport, the plane headed first to North Ronaldsay which is the northernmost of the Orkney Islands. After dropping off a couple of passengers there, we continued on to Papa Westray, landing at about 2:10pm.
I mentioned earlier that Kirkwall had the smallest airport I'd seen up to that point. Well, Papa Westray airport surpassed (or underpassed?!) that with an even smaller building.
Exploring Papa Westray
I think the flight I arrived on continued on to Westray immediately. If so, I could've taken the world's shortest scheduled flight even earlier than I did. However, I wanted to have a chance to explore Papa Westray and so booked a later flight in the afternoon on to Westray.
That gave me about 2.5 hours to walk around Papa Westray which was just the right amount of time. At only four miles long and one mile wide, it's about a quarter of the size of Ocracoke Island in the Outer Banks, NC.
Knap of Howar
My first stop was Knap of Howar. These are Neolithic homes dating back to 3500-2900 BC which means they were constructed before the Pyramids.
The homes had quite literally been lost to the sands of time until they were uncovered in 1929 and excavated in the 1930s. Excavations also turned up pottery, bones of great auks (now extinct), tools, grinding stones and more.
Knap of Howar is free to visit at any time and you can go inside the buildings. At first I thought the people who'd built the home on the edge of the cliff were nuts considering how windy it gets on the North Sea. However, when standing inside the home, it was remarkably less windy, so their homes back then that would've had roofs presumably would've been far more cozy and comfortable than I'd been anticipating.
Mind your head though – the doorways are very low. There's a doorway/tunnel between the two homes that's even lower than the main doors and I managed to hit my head on its stone roof while walking through.
It was also fascinating being inside homes that old that are still standing today. Last year my wife and I spent a couple of months in New Mexico and visited Chaco Culture National Historical Park with its great houses and Bandelier National Monument with its cliff dwellings. Those date back to 900-1150AD and 1150-1600AD respectively which felt historic, but this remote island off the coast of Scotland has homes still standing that date back ~4,500 years earlier – incredible.
World War I & II Memorial
Knap of Howar is on the south side of the island, with the other places I wanted to see further north. When walking back up the road I saw a memorial which turned out to be dedicated to the people of Papa Westray who lost their lives in World War I and World War II. The fact that the lives ended in those wars included people from places as remote as this was testament to how devastating the wars were.
St Boniface Kirk
About halfway up the western side of Papa Westray is St Boniface Kirk.
St Boniface as a site dates back to the 6th century BC, but the current church building dates back to the 1200s although it was altered a lot in the 1700s.
The building is open 24/7 and is also free to visit. The interior has been restored and renovated over the years and is still used as a place of worship.
RSPB North Hill Reserve
RSPB is an organization in the UK whose acronym stands for Royal Society for the Protection of Birds. The Orkney Islands are apparently an amazing place for bird watchers to visit due to the diverse range of birds that can be found there.
I got unlucky with the timing of my visit though. I'd really hoped to see puffins, but they tend to leave by mid-August. There was a bird watching cabin at the top of the hill overlooking the sea and so I walked up there in the hope I might see something, but alas – it wasn't to be.
For any ornithologist readers, here are the stats from the 2022 breeding season which were on a board in the cabin.
Loganair Flight – Papa Westray To Westray
My flight on to Westray was at 4:52pm, so I walked back down to the airport and got there a few minutes before the airport worker arrived to unlock the building.
The Papa Westray to Westray flight is the world's shortest scheduled flight. It's blocked for two minutes, but in reality you spend closer to 90 seconds in the air. I wrote all about my experience taking the world's shortest flight here, so check out that post for more. For now though, here's a video of the flight:
Westray Accommodation
With a limited budget for flights and hotels and not many accommodation options on Westray, I had slim pickings for somewhere to stay. I settled on The Barn at Chalmersquoy which stated that it's a hostel but looked more hotel-like on their website as there weren't shared dorms.
I booked a private room for £35 (~$40) which was a good price point for what they offer. There's a shared bathroom (my room had its own sink though) but be aware that toiletries other than handsoap aren't provided if you book a stay there.
More Fish & Chips
When driving around near Aberdeen the day before, I'd stopped for dinner at a waterside restaurant that served locally caught fish and ordered fish and chips.
When doing that I'd forgotten that I'd planned to get fish and chips the following night from JACKS Chippy on Westray island. JACKS Chippy at Pierowall Fish is only open Wednesdays and Saturdays and I lucked out that I stayed there on a Friday night.
I ordered cod and chips and got a small tub of toffee swirl ice cream made by an Orkney dairy. I also bought a can of Lilt. Coke Zero is the only soda I'll normally buy, but when I'm back in the UK I love drinking Lilt which is a pineapple and grapefruit soda that's delicious.
Talisker
Back in 2015, Shae and I flew to the UK with some friends for a week and spent a few days of that in Scotland. We stayed on the Isle of Arran for a night or two and I remember our friend Mark buying a small bottle of Talisker (a Scotch whisky) for us to share in the evening.
I'd sworn off whiskey up until that point of my life after a night to forget when drinking Jack Daniels as a teen. To my surprise, I enjoyed the Talisker and have become a whiskey drinker since then, so much so that during our recent trip to Dublin, a fair bit of it was spent checking out distilleries in The Liberties. Even my wife has discovered an enjoyment of Irish whiskey now.
When visiting Aberdeen, I'd looked into visiting a whisky distillery rather than driving down to Dunnottar Castle. However, the distilleries were all a bit of a drive from Aberdeen airport and so it would've been borderline as to whether I'd have been able to get to them before they closed. I also wouldn't have wanted to do a tasting given that I'd be driving immediately, so I ixnayed that idea and went with Dunnottar Castle and the coastal road instead.
Knowing that I'd be visiting another Scottish island yesterday, I was interested in getting some Scotch whisky in honor of that fun evening on the Isle of Arran. I didn't think that would be possible though because I didn't want to buy a large bottle from Duty Free as it would mean having to check a bag throughout the rest of my trip.
I was in luck though. The Duty Free store had a number of miniatures for sale that would be fine as a liquid going through security. Seeing as it was Talisker that got me into whiskey, I got a three-pack gift set to start enjoying last night, along with a miniature from Glenlivet which was one of the distilleries somewhat close to Aberdeen that I didn't have a chance to visit.
Next Plans
By the time you read this I'll have left Westray and will be slowly making my way on to my next continent.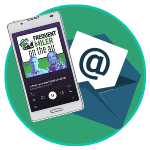 Want to learn more about miles and points?
Subscribe to email updates
 or check out 
our podcast
 on your favorite podcast platform.