Update 9/3/22: The 5% off promotion has continued into the new month (which means that you should be eligible to earn portal rewards again on up to $2,000 in purchases for September even if you previously purchased in August. Note that code ENDOFSUMMER still shows up as active on the American Airlines eShopping portal, so that 5% off should stack with the chance to earn miles. Unfortunately, many of us who ordered last month with that code haven't received indication that our orders have tracked successfully. Personally, I'm not yet concerned (I expect that my order will track and I'll get the miles), but the wait has seemed a bit long this time and I think some folks have probably filed missing points claims.
Stephen at GC Galore notes that there are several codes working for 5% off:
LD22
B2S5
SUMMERVISA
EOS5
ENDOFSUMMER
Note that if you use a code that is not listed by your chosen shopping portal, there is a chance that the purchase won't track properly.
The original post follows.
The American Airlines eShopping portal has been offering 3x miles (and therefore 3x Loyalty Points) at GiftCards.com (GCC) throughout much of this year. Separately, we have seen numerous deals for 5% off of Virtual Visa Gift Cards at GiftCards.com via a series of coupon codes released over the last several months. The problem is that those 5% off coupon codes don't always show up on the AA portal as being a valid code to stack for 3x earnings (or as Nick recently posted, the 3x AA portal bonus disappeared once a 5% code was added to the portal).
However, the code ENDOFSUMMER is now on the portal at 3x and is good for 5% off on virtual Visa Gift Cards through 9/11/22, so this should be an easy way to pick up some Loyalty Points up to the monthly GCC cap of $2,000, which reset on 9/1/22. If you haven't yet maxed out portal bonus for September yet, this may be a good chance to do so.
The Deal
Get 5% off Virtual Visa cards at Giftcards.com and stack with the AA Shopping Portal for 3x AAdvantage Miles/Loyalty Points by clicking through the portal and using the code ENDOFSUMMER at checkout.
Expires 9/11/22
Other codes that may work for 5% off *YMMV as to which work in conjunction with portals:

LD22
B2S5
SUMMERVISA
EOS5
Direct Link to deal on AA Shopping Portal (must log-in)
Quick Thoughts
Using the code ENDOFSUMMER, you can buy Virtual Visa Gift Cards loaded with $250 each for $243.45 after the $5.95 activation fee and the 5% discount. You should end up earning 3x on $237.50 for a total of 713 American Airlines miles / Loyalty Points and a $6.55 profit on each card. Some codes have a limit on the number of cards that you can buy per transaction, but this one allows at least 8 cards.
Keep in mind that you can earn portal rewards on up to $2,000 in orders per month at GiftCards.com. Some codes have a limit on the number of cards that you can buy per transaction, but this one allows for at least 8 cards, meaning that you can max out the monthly portal bonus with one purchase, earning $52.40 and 5,700 AA Loyalty Points/Miles in the process.
These Virtual Gift Cards aren't the easiest to liquidate. I use them for online payments such as utilities, insurance, Amazon, etc. Some folks have also been able to liquidate via payment apps like Plastiq and Bravo, but the costs are relatively high and it can take some doing to set up a target account that works with virtual Visas. If you can make use of the cards, this is an easy $49 savings and a chance to pick up quicky Loyalty Points in the quest to reach Platinum Pro status without flying.
As per usual, doublecheck Cashbackmonitor to verify that the AA Portal is the one that you want to use.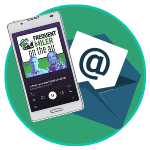 Want to learn more about miles and points?
Subscribe to email updates
 or check out 
our podcast
 on your favorite podcast platform.