Elite status? Free airport restaurant meals? Guaranteed lounge access? Those things and more can be yours with the right cards. Ultra-premium cards carry ultra-premium perks, but those cards aren't cheap. Thankfully, those ultra-premium cards often come with annual credits to help offset the annual fees. This week on Frequent Miler on the Air, we discuss how to utilize those credits to get your ultra-premium perks for a bargain-basement price.
Elsewhere on the blog this week, Amex has lost their minds and released a dozen simultaneous transfer bonuses, learn how to leverage one of those to book Delta One flights at great prices, how to best book your positioning flights for those trips, and a lot more. Watch, listen, or read on for more from this week at Frequent Miler.

1:21 GIant Mailbag
5:47 3 Cards, 3 Continents, 3 Updates
19:45 What crazy thing….did Amex do this week?
30:00 Mattress Running the Numbers: Craftsy through SimplyMiles
37:34 Luxury Perks for Free (After Rebate)
38:46 Capital One Venture X card
46:50 Amex Platinum Card
1:24:22 Amex Business Platinum
1:38:55 Amex Hilton Aspire card
1:46:44 Question of the Week: Is it worth transferring speculatively (given the transfer bonuses available) if you know which programs you often use?
Subscribe to our podcast
We publish Frequent Miler on the Air each week in both video form (above) and as an audio podcast. People love listening to the podcast while driving, working-out, etc. Please check it out and subscribe. Our podcast is available on all popular podcast platforms, including Apple Podcasts, Spotify, and many more.
Alternatively, you can listen to the podcast online here.
This week at Frequent Miler
As we discuss on this week's show, many ultra-premium credit cards have excellent perks. If you play the game right, you can get those perks for free (or nearly free). Even more fun is that in some cases you can then share those ultra-premium perks with others (possibly without additional cost). This post covers which perks can be shared and how to do it.
We don't usually include transfer bonus posts in our week in review, but this was easily the big news of the week: Amex is offering transfer bonuses to a dozen different partner programs. Given all of these bonuses, September 2022 is looking like a great time to plan your vacations for spring and summer of 2023.
If you are planning a trip or two thanks to those current point transfer bonuses, you may be on the hunt for Delta availability via Virgin Atlantic given that the transfer bonus means you can transfer just 39,000 Amex Membership Rewards points to get the 50,000 Virgin Atlantic points you need to fly Delta One from the US to Europe (paying just $5.60 in taxes departing the US!). Greg has republished this updated guide to help you figure out how to take a bite out of this sweet spot.
What if you want to take advantage of one of those Delta One options but you don't happen to live at one of Delta's international hubs? You'll need a positioning flight. These days, when I need a positioning flight, I almost always book a backup flight just in case of a canceled or severely delayed trip on my intended positioning flight. However, not all programs make for good positioning flight options. See this post for some of your best options when you need to have a Plan B.
I hate making nonrefundable hotel bookings. Plans can change for so many reasons — sickness, scheduling conflicts, and a lot more. If a much better deal pops up on a better hotel or we find a crazy mistake fare to another destination altogether, I want to be flexible enough to jump on another deal. Of course, I don't want to pay more than the cost of a nonrefundable booking, either. Thankfully, there are often easily accessible rates that are both flexible and about as cheap (or cheaper) than advance purchase rates.
Greg spotlights a Marriott property in Portugal that looks pretty unique — and a couple of readers who have visited in the recent past add their two cents each in the comments. Marriott actually has (or at least had?) quite a few unique-looking properties in Portugal. I have only visited Lisbon and Porto, but my experiences have been that Portugal is underpriced compared to neighboring countries, so Greg has been smart to look here for the 3 Cards 3 Continents trip — I wonder whether he found something even better to highlight when he takes his trip.
I was very curious to read Stephen's review of this property since I have never stayed at a Mr & Mrs Smith property. While Stephen's photos looked cute and the little private theater sounded awesome, the truth is that he lost me at "$300+ per night hotel with no air conditioning". And while, like Stephen, I am not bothered by street noise, neither do I expect to worry about it at this price point. Of course, Stephen said that neither of those things would prevent him from going back again, so don't let my hang-ups stop you if those are non-issues for you.
I love reading Carrie's off-beat and off-the-beaten path trip reports and this one does not disappoint. A leaning clocktower next to a puppet theater that was constructed by a renowned pupeteer out of pieces of abandoned buildings sounds quirky indeed. I don't know when I'll get to the coutnry of Georgia, but if I did then Tbilisi would certainly be on my list.
---
That's it for this week at Fequent Miler. Keep an eye on this week's last chance deals for deals set to expire soon.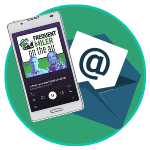 Want to learn more about miles and points?
Subscribe to email updates
 or check out 
our podcast
 on your favorite podcast platform.