The Dosh app is currently offering some users as much as 40% cash back on hotel bookings. While that sounded to me like it would just mean inflated rates and non-chain hotels, it looks like there are chain options and there are some very good deals possible. As with anything like this, YMMV — there are surely bad deals to be found as well (and furthermore, the beta is only available to select users for now — no idea how to get targeted or if it would be open to new users). But if you've got to make a hotel booking, it might be worth checking Dosh to see if you can score something big.
The Deal
Get 40% cash back on some hotel bookings via the Dosh app
If you're new to Dosh, feel free to sign up using one of our referral links. I'm not sure if there is still a bonus when you sign up, but in the past there has been a $5 bonus for each of us. YMMV.
Key Terms
Note: If you do not see the Hotels tab in your app, you may need to manually update your Dosh app in the Android or iOS app store. The beta is not open to all users, so YMMV.
Quick Thoughts
The email from Dosh that is going out to targeted users indicates that you may need to update the app to get the tab for hotel bookings. However, this is a YMMV deal — I updated the app and I still don't see the hotels tab.
However, Stephen Pepper did have the hotels tab in his app. He looked up the Courtyard Farmington next week. Dosh had a rate of $198 per night:
That compared decently well to direct rates via Marriott.com.
However, the Dosh deal comes with $480.96 in cash back. That's  $68.71 per night in cash back — more than enough to make up for the $6 up-charge for booking through Dosh. In this case, that's only about 35% cash back based on the $198 rate being shown by Dosh, so it's possible that there are larger cash back deals.
Keep in mind that booking through Dosh will likely count as any other 3rd party booking, so you likely will not get elite benefits / hotel  points / etc.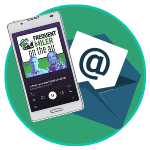 Want to learn more about miles and points?
Subscribe to email updates
 or check out 
our podcast
 on your favorite podcast platform.