This is it… We're off and away! This morning Nick, Stephen, and I set off on our 40K to Far Away adventures. Any guesses as to where we'll end up? As I write this, all we know for certain, so far, is the first leg of each journey:
Greg flies United Airlines this morning from Washington Dulles to Lewisburg, West Virginia.  Yes, you're right, that's not far at all.  What in the world am I planning?
Stephen will board a Greyhound bus later this afternoon to go from Union Station to Newark airport.  Obviously, it seems to me, Stephen has plans to fly far from Newark.  I have absolutely no idea to where.
Nick flies United Airlines this morning from Washington Dulles to Honolulu, Hawaii (with a brief layover in Chicago).  We all saw this one coming, but it's an extremely impressive start especially considering that he will have completed this journey to Hawaii for only 7,500 Citi points!
Posting as we go
We plan to post photos and videos as we go, so the trips will unfold in near real time on Instagram and Facebook. We'll also publish blog posts about our adventures and once a day one of us will publish a summary: Who's gone where? What wen't wrong? How hungry are we? Who slept on a park bench?
Destination Hints
We're each planning to publish hints to our final destinations. These will be found in our Instagram and Facebook stories. Stories are those circles that appear at the top of the app or web page when viewing Facebook or Instagram.  In Instagram or Facebook mobile, look for this:
In Facebook, via desktop web, look for something like this:
Business Not As Usual
Over the next 10 days or so, this blog will not run "as usual". Usually, we try to publish one major article every morning. That's not going to happen. Usually we publish many Quick Deals throughout the day. That's also not going to happen. Yes, if we notice a smoking deal we'll publish it if we can, but we can't promise anything. Each of us will be without internet for extended periods of time while we hop around the globe with only 40,000 points and $400.
Instead of business as usual, most posts will cover our 40K adventures, and new sweet spots or travel tricks that we've uncovered along the way.
Stay tuned!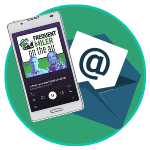 Want to learn more about miles and points?
Subscribe to email updates
 or check out 
our podcast
 on your favorite podcast platform.