Update 7/23/20: When we initially posted this, we weren't sure whether it was targeted. However, when my new Premium Rewards card arrived this week, there was an insert in the envelope with the card advertising this deal. I thus assume it is available to all Premium Rewards cardholders and can confirm that even those newly opening accounts are eligible.
We received reports this morning of an email going out to at least some Bank of America Premium Rewards cardholders good for a $50 statement credit for grocery store, dining, and takeout purchases through December 31, 2020. Greg received this email and several other cardholders have, but some others have not. My best guess is that this is not targeted but rather available to everyone and the emails are likely getting staggered.
The Deal
Bank of America is sending out a (possibly targeted) email alerting Premium Rewards cardholders of up to a $50 statement credit on any combination of qualifying purchases in the following categories through December 31, 2020:

Grocery Store
Dining
Takeout
Key Terms
You will receive a statement credit for the amount you spend, up to $50, in the included categories
Wholesale clubs, superstores, and some smaller stores are excluded (depending on how they code)
The following MCCs are included: Grocery Stores/Supermarkets (MCC 5411), Freezer/Meat Lockers (MCC 5422), Candy/Nut/Confection Stores (MCC 5441), Dairy Product Stores (MCC 5451), Bakeries (MCC 5462), Misc. Food Stores (MCC 5499), Eating Places and Restaurants (MCC 5812), Drinking Places (Alcoholic Beverages), Bars, Taverns, Cocktail lounges, Nightclubs and Discotheques (MCC 5813), and Fast Food Restaurants (MCC 5814)
Statement credit will post within 14 weeks after the promotional period ends
Quick Thoughts
This is a great offer. The Bank of America Premium Rewards card is already pretty awesome if you have Platinum Honors (See: Bank of America cards: Awesome if you've got $100K lying around). Given the wording of the email, I strongly suspect that this is not targeted, though we'll see whether or not emails eventually go out to all cardholders.
Note that the terms indicate that the statement credit will post within 14 weeks of the end of the promotional period. That means this $50 credit may not post until Thursday, April 8, 2021. That's darn near a year from now, which seems a little odd. I'd hope that the credit will actually post along with qualifying purchases and that the terms are just written that way to give them time if something goes wrong, but time will tell. Still, this seems like a good way to get people to renew, and given that the card offers a $100 travel credit and $100 credit toward Global Entry or TSA Precheck with a $95 annual fee, this statement credit makes a good deal even better.
For more info on the card, see our dedicated Bank of America Premium Rewards card page.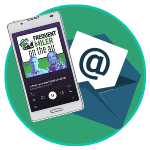 Want to learn more about miles and points?
Subscribe to email updates
 or check out 
our podcast
 on your favorite podcast platform.