Given the current times, many readers have expressed an increased interest in vacation rentals. Greg recently wrote about Marriott's Homes & Villas as a way to earn points while booking a vacation rental stay. However, we receive a lot of questions about using points to book a vacation rental stay. The truth is that there aren't a lot of amazing options if you're looking to use points to book a home or condo — but that doesn't mean there are zero options. In this post, I've taken a look at a number of options that stood out to me — and I'm looking forward to reader feedback about your other hidden gem vacation rental tips.
First: The obvious (reimburse travel)
The most obvious way to handle vacation rentals using points would be using a card that offers the ability to reimburse travel purchases. For example, the Capital One® Venture® Rewards Credit Card offers the chance to offset travel purchases at a rate of 1 cent per Capital One "mile". That means the card earns an effective 2% back toward travel purchases. Such a return is not terribly exciting given that you can get 2% back with no annual fee on a number of other cards (or even better on cards with an annual fee and/or within the first year). However, if you have a big points balance, whether from a welcome bonus or two (remember that Capital One lets you combine your own Capital One miles easily online and you can transfer to anyone else with Capital One miles over the phone with no annual caps) or from spending on the miles-earning cards, they would be easy to use for a vacation rental.
The Bank of America Travel Rewards card is cut from a similar thread as was the Barclays Arrival Plus (though that card has been unavailable for new applicants for quite some time).
Second obvious option: Using hotel points for condo properties
Many hotel chains operate condo / timeshare / apartment-style properties. For example, last year Greg reviewed a 2-bedroom option at the Waterline Marina by Marriott.
A couple of years ago, I stayed at the Conrad Fort Lauderdale, where (at the time) I was able to book a 1-bedroom unit as a standard room reward.
The bottom line is that many chains have vacation rental-like properties. However, I sense that many readers are looking for different vacation rental options than what they may see via a hotel search (and to avoid being stuck in elevators with a crowd, etc), so I'll focus on other options in this post.
A likely best option for many: Cash out Chase points at 1.5c each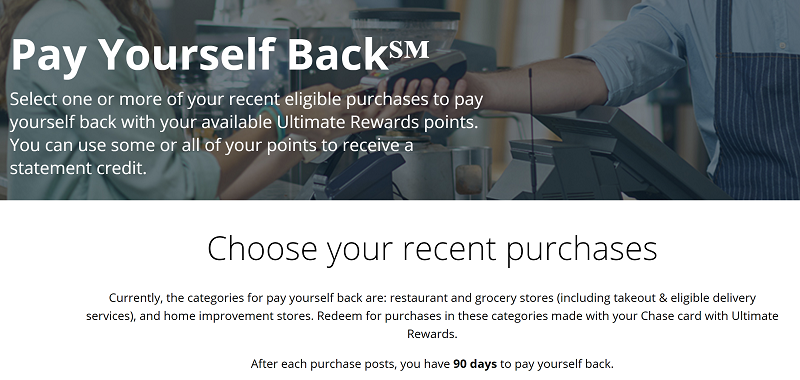 In many cases, I think the best option at the current moment will be redeeming Chase Ultimate Rewards points to "pay yourself back" for groceries. Given that Chase is currently offering members with the Chase Sapphire Reserve card the chance to redeem points to pay for grocery purchases at a value of 1.5c each, you will likely get your best value for vacation rentals via this avenue.
You could probably buy Airbnb gift cards at your grocery store and then use Chase points to pay yourself back. Alternatively, do your regular grocery shopping and put the money you would have used to pay for the groceries into a travel fund after you've used points to reimburse the purchase. Book your vacation rental with the money you would have spent on groceries. Another option is that you could likely buy Visa Gift Cards at the grocery store (particularly attractive if there is a current Visa or Mastercard gift card deal at your preferred grocery store chain) and then use the gift cards to pay and/or manufacture spend.
This is likely to yield one of the best values for vacation rentals. Let's say you were going to spend $2,000 on a vacation rental for a week: that comes out to 133,333 Ultimate Rewards points at 1.5c per point — just over 19,000 points per night to pay for a rental at about $285 per night. You can obviously adjust up or down from there as fits your needs, but it's worth repeating that it will probably be hard to beat this value toward vacation rentals.
Chase Travel Portal has some for 1.5c each
Since the Chase Ultimate Rewards travel booking portal is run by Expedia, they do have some vacation rentals available for booking straight through the portal. This saves you the step of going to the grocery store since, with the Chase Sapphire Reserve card, you can still get 1.5c per point. Just shop around and make sure that you can't find a better deal on the same rental elsewhere (if you can, see the section above about cashing out via the grocery store).
To find these, log in to the Chase travel portal and choose "Vacation Rentals" from the travel menu at the top.
Cash out Membership Rewards at 1.25c each
I am less excited about cashing out transferable points at 1.25c each than at one and a half cents each, but neither am I excited about spending cash on a vacation rental in an environment where points are otherwise collecting dust. With that in mind, another option to consider is cashing out Membership Rewards points at a value of 1.25c each. Stephen did that last year and put together a pretty epic vacation (albeit during a time before social distancing and closing of borders).
This option is only available to those with the Schwab Platinum card — so if you don't have that card, you'd have to be willing to spend $550 on it in order to get the ability to cash out Membership Rewards points to your Schwab account at a value of 1.25c per point. That price of admission may not make this avenue worthwhile to those who don't already have the card.
Choice points for Bluegreen Vacations?
Link to Bluegreen Vacations search tool
I'm not sure that these are possible to book right now, but an option that has flown mostly under the radar for quite some time is using Choice Privileges points to book Bluegreen Vacations properties. These timeshare-esque options are included in the "Ascend Collection" (Choice's semi-high-end brand). In the past, these properties have been standout values in part because in many cases they offer condo-style accommodations for hotel award stay-style prices and in part because of a strange quirk of the Choice program: at many Choice properties, you can book any room type for the same number of points. In some cases, that means you can book a multi-room suite/condo for the same number of points as a regular hotel room.
Jen at Deals We Like wrote about such a property last year where she saw the opportunity to book a 2-bedroom unit for 16,000 Choice points per night. Remember that you can buy Choice points for around three quarters of a cent per point so long as you have a few Choice points (as you'll see in that post, even if you have no Choice points you could transfer 6K from Membership Rewards and then buy the rest of what you need for $0.0075 per point). That brings the net cost of a property like the one Jen noted to about $120 per night.
Another option to keep in mind is that if you have elite status with Amtrak or have spent $20K in a year on their credit cards, you can transfer points from Amtrak to Choice at a rate of 1:3.
Unfortunately, all this talk may be for naught: As noted above, I'm not sure it is possible to make this conversion right now. I tried a bunch of searches and couldn't find a single day available on points at any of the Bluegreen Vacation properties I searched. I'm not sure if Choice has temporarily suspended this as a result of the COVID crisis or what, but I'm not seeing this available right now.
Wyndham Vacation rentals
Link to Wyndham Rewards Vacation Rentals search tool
During our live broadcast on Youtube on Tuesday, Greg and I tackled a question about vacation rentals and Greg mentioned the Wyndham partnership with Cottages.com and that it is unfortunate that Cottages.com only has properties in Europe. While that is true, it is worth noting that Wyndham Rewards members can also book vacation rentals in the United States using a different program.
Like with the Cottages.com partnership, Wyndham vacation rentals cost 15K points per bedroom per night. Alternatively, you can use 3K points per bedroom per night to get 20% off the nightly rate (which can be worth it if you're short on points for the whole thing — if the nightly rate is $150 or more, you're getting 1 cent per Wyndham point or better assuming you don't have access to a better rate).
Unfortunately, the utility of this option may be limited. From the terms:
Go Free Home and Go Free Condo awards are subject to blackout dates and rates. (A "blackout rate" means a room rate above which a particular home, cottage or condo will not offer a Go Free Home award or Go Free Condo award.)
I don't see a maximum rate listed, so it may vary by property.
That said, I did see some pretty cool looking properties listed. See as an example this place, which as a 1-bedroom rental should cost 15,000 points when it is available:
Southwest Rapid Rewards "More Rewards"
Here's an option you probably haven't considered (and probably shouldn't, but keep in mind that I led with the fact that your best option is probably Chase points): Southwest allows you to book hotels, including what appear to be some vacation rentals, using Southwest Rapid Rewards points via the "More Rewards" feature. I think this option is only available to Rapid Rewards credit card holders as per the screen shot above.
Would you have believed me if I'd told you that you can book the Park Hyatt Beaver Creek using almost the same number of Southwest points as you would Hyatt points?
I actually found some dates where that property cost fewer than 30K points. But don't get too excited: the Southwest price is based on low cash rates during the period in each case. Still, you can book any suite you want with Southwest points.
But I digress: the point with which I should have led this section is that you can use Southwest points to book a variety of vacation rentals. You'll have to start here, then click "Explore More Rewards". From there, you'll likely have to log in and look for the rental car option — that will bring you to a booking portal where you can instead choose hotels. From there, you can narrow down to "cabins" or "condos" or "chalets", etc.
I did not extensively search different areas, but I'd bet that there are likely some other vacation rental options to be had. For example, in Pigeon Forge, TN, I found 9 different cabins listed via Southwest:
However, I couldn't find an available room at any of them (though I did find one listed with ten bedrooms and six bathrooms). Note that the options above were almost all available via Chase. You may note with specific interest the Sugar Plum above — which was more than 30K Southwest points per night — or about 9K Ultimate Rewards points per night during the same period as shown in the Chase section above. Southwest was a terrible deal.
I did find some condos and chalets available, including this one with 3 bedrooms that include 3 king beds and 1 twin bunk bed for 54K Southwest points per night:
I personally wouldn't be excited about paying that many Southwest points per night (that could buy you around $800 worth of airfare), but if you're not planning on flying anywhere for a while maybe you feel differently.
Bottom line
I was not particularly surprised to find that the best use of points for vacation rentals is in most cases going to be using Chase points — whether through the Ultimate Rewards travel portal or via the pay yourself back feature. That said, it isn't the only option. If you're flush with some other type of points without a more valuable use of those points in mind — whether they be Wyndham Rewards, Choice, or Southwest — you can indeed find some other vacation rental options using points. On the flip side, you may rather collect points when paying for your vacation rental this year and bank those points for a future trip.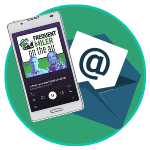 Want to learn more about miles and points?
Subscribe to email updates
 or check out 
our podcast
 on your favorite podcast platform.