Just a little while ago, we reported the huge new 75,000-point introductory bonus offers that have debuted on two popular business cards (See: Big new 75K offers: Pick 5x office supply or 1.5x everywhere). There may be good news for those who recently applied under the previous 50K-point offer: we had a reader who reported having recently opened one of these cards under that lesser offer a couple of months ago. Having already spent more than $7,500 in purchases on his card, he contacted Chase to request a match and they credited him with the additional 25,000 Ultimate Rewards points. That's awesome and is well worth a shot if you've recently opened either card.
Jon in our Frequent Miler Insiders group reports that he applied for the Chase Ink Cash card in September and not only met the spending spending requirement of the previous offer but had already spent more than the $7,500 in purchases that would be required to trigger the new bonus offer for a new cardholder that applies today.
While Chase used to be good about matching the new offer in situations like this, they have recently been declining match requests on personal credit cards (indeed, Jon was recently denied a new offer match on a personal card after the offer changed). However, he sent a secure message asking to be matched to the new 75K offer on the Chase Ink Cash and to his pleasant surprise was quickly credited with the additional 25,000 Ultimate Rewards points.
I always tell readers that you hit 0% of the balls at which you do not swing. Jon took a swing and came up 25,000 points richer than when he woke up this morning. That's not a guarantee that you'll hit the same home run, but if you recently opened the Chase Ink Cash or Chase Ink Business Unlimited under the previous 50K offers, I would think it would definitely be worth the few minutes it takes to send a message asking nicely if they would match you to the new offer. Historically, Chase has been good about matching if you have applied within the previous 90 days before an offer increases (though YMMV here).
H/T: Jon in Frequent Miler Insiders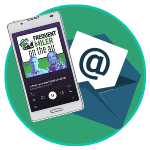 Want to learn more about miles and points?
Subscribe to email updates
 or check out 
our podcast
 on your favorite podcast platform.