Here's a solution to a problem that I expect relatively few readers will encounter or care about.  But those who have run into it have no doubt been extremely frustrated.  When using Virgin Atlantic's website to search for partner awards (e.g. you want to use Virgin Atlantic miles to fly Delta, Air France, or KLM), it seems impossible to search certain routes.  The option to search for "Points" is grayed out and unclickable.  Fortunately, I found an easy work-around…
If the website only lets you choose to show the price in "Money" and not "Points," the workaround is to temporarily change to a multi-city search, pick "Points" and then return to a one-way or round-trip search.
1) Enter your desired origin and destination
Go to VirginAtlantic.com, Click "Book".  Enter the route you want to search and click "Advanced Search".  If the option to show price in points is grayed out, then proceed to step 2.
2) Switch to Multi-City & Select "Points"
Once you switch from "One way" or "Round trip" to "Multi city" the option to select Points should now be available.  Select it.
3) Return to "One way" or "Round trip" and search
After selecting "Points" in the Multi-City view, you can return to your intended search and "Points" should still be selected.
Related Posts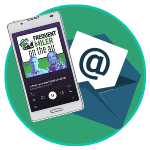 Want to learn more about miles and points?
Subscribe to email updates
 or check out 
our podcast
 on your favorite podcast platform.