Flights crossing either the Atlantic or Pacific ocean usually cost in the neighborhood of 60K miles one-way in business class with most award programs. What if you could cross both oceans — and connect the dots to also fly around the rest of the world for 115K total miles? If that piques your interest, you need to check out the ANA around the world award chart. We had a reader who recently reached out in the midst of his ANA around the world trip and he gave us a few good tips we'll include in this sweet spot spotlight (see the "reader tips" section at the bottom).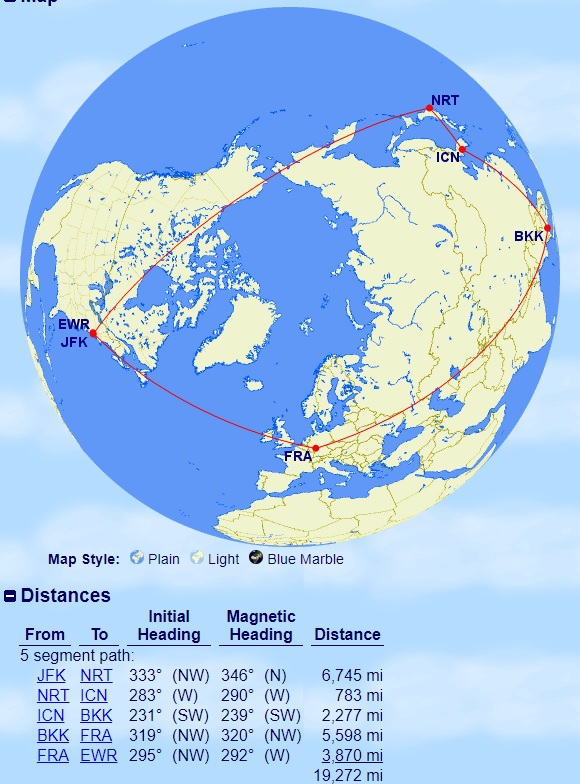 Sweet spot spotlight:
The short story: ANA (a Star Alliance airline) offers an incredible around-the-world award chart that offers some amazing value to those who have the time for a big multi-stop trip.
Miles required: Varies based on cabin and distance. Business class is probably the sweet spot, with some amazing redemptions possible for 115K, 125K, or 145K miles (see the chart below for all distance bands and prices).
Transfer points from: American Express Membership Rewards (1:1) or Marriott Bonvoy (3:1, but get a 5K bonus when you convert 60K Marriott points — so 60K Marriott = 25K ANA).
Award availability: Star Alliance award space is often plentiful for flights outside of the US, making it relatively easy to put together an itinerary if you've locked down your flights to and from the US.
How to find awards: Search united.com segment by segment to find availability.
How to book awards: Book over the phone with ANA Mileage Club.
No fuel surcharges on: Air Canada, Scandinavian Airlines, Air China, Air New Zealand, Avianca, Copa Airlines, United
Low fuel surcharges on: ANA, Asiana, LOT Polish, Turkish (higher than the others but low by comparison to some)
What you need to know
This award chart sweet spot mostly flies under the radar in the blogosphere, and I think it's because it's a somewhat complicated redemption from the standpoint of connecting all of the dots at once so you're ready to book a big around-the-world trip.
However, with a little planning, the possibilities in this chart are amazing. Here is the ANA chart for around the world trips.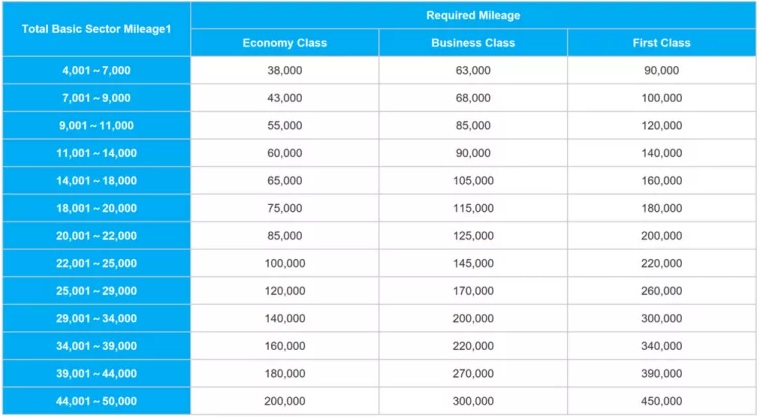 Keep in mind that you'll have to fly Star Alliance carriers (Etihad is also an ANA partner, but not a Star Alliance airline, so you won't be flying the apartments).
But that's not really a big limitation as the Star Alliance gives you huge reach. For example, considering only routes served by carriers that do not impose fuel surcharges, look at what you could do with 115K miles all in business class:
That's New York to Honolulu (on United, no fuel surcharges…no, it's not easy to find this in business class, but it's a hypothetical example), Honolulu to to Guam on United (no fuel surcharges), Guam to Tokyo on United (no fuel surcharges), Tokyo to Seoul on either ANA or Asiana (low fuel surcharges on either), Seoul to Beijing on Air China (no fuel surcharges), Beijing to Copenhagen on either Air China or SAS (no fuel surcharges), Copenhagen to Boston on SAS (no fuel surcharges). Ok, so I fibbed a little: in the example above, I did include one segment to Seoul that would incur some small amount of fuel surcharges. If you're really averse to the small amount you'd pay in surcharges there, just cut out the stop in Seoul. I didn't return to EWR in that example because it is literally 1 mile too long to fit in the 115K band (20,001 miles) based on GCMap.com. Maybe ANA calculates a distance differently by a mile or two and you actually can book all the way back to EWR for the same price.
Get rid of the stop in Seoul and add a stop in Madrid and one in Bogota (flying SAS to Madrid and Avianca to Bogota and New York) and you're at just under 25,000 miles flown — so this trip would cost 145K miles in business class and have no fuel surcharges.
Note that you will of course still owe whatever taxes are due on the ticket in terms of the departure taxes that different countries levy for flights leaving, airport fees, etc. Those amounts are generally fairly small.
Routing rules
There are a few key rules to keep in mind:
You must fly in one direction (either east to west or west to east). Backtracking is not allowed — though see the "Reader Tips" section below as there may be some flexibility here)
You must cross both the Atlantic and Pacific oceans
You can have a max of 12 segments and a max of 4 "ground transfer" segments (like "open jaws" — for example, fly to Copenhagen and then take a train to Madrid to catch your next flight instead of flying)
A maximum of 8 stopovers are allowed. A stopover can be:

A city where you fly and stop to spend a few days
Either end of an open jaw. For example, if you fly into Copenhagen and take the train to Madrid to catch your next flight, both Copenhagen and Madrid count as stopovers. However, you do not count the distance from Copenhagen to Madrid when determining the price of your ticket

No more than 3 stopovers in Europe
No more than 4 stopovers in Japan
Your trip must last at least 10 days from the departure of your first international flight (note that in the example above, that would be the flight from Guam to Tokyo).
Flights may be operated by ANA or Star Alliance partners
Your itinerary must touch at least one country in each of the three following "areas":

Area 1: North America, South America, Central America, Hawaii
Area 2: Europe, Middle East, Africa
Area 3: Japan, South Korea, China, Southeast Asia, South Asia, Southwest Pacific
Most of those rules are pretty self-explanatory. Make sure you cross both oceans, don't backtrack, and hit one country in each of the three "areas" are all pretty straight-forward.
I think the most confusing thing is the stopover rule. Here are a couple of examples to help illustrate.
Stopover example 1
Let's start with an itinerary with no "ground stops". In other words, you'll actually fly a Star Alliance carrier between each of the cities you visit. Let's further assume that you don't want to pay any fuel surcharges. Here is a possible itinerary:
That would be:
Newark to Honolulu on United
Honolulu to Guam on United
Guam to Tokyo Narita on United
Tokyo Narita to Beijing on Air China
Beijing to Copenhagen on Air China or SAS
Copenhagen to Madrid on SAS
Madrid to Bogota on Avianca
Bogota to Newark on Avianca
That's a total of 7 stops (Honolulu, Guam, Tokyo, Beijing, Copenhagen, Madrid, Bogota). Since the entire itinerary is just under 25,000 miles, that should be bookable in business class for 145K ANA Mileage Club miles (plus taxes).
Stopover example 2
Let's say that you want to fly the same itinerary as above, but you're going to fly into Tokyo Narita and then leave out of Tokyo Haneda (separate airports). Your itinerary looks basically the same, you just spend a few days in Tokyo and switch airports.
However, you now have a total of 8 stops (Honolulu, Guam, Tokyo-Narita, Tokyo-Haneda, Beijing, Copenhagen, Madrid, Bogota) because the change of airports counts as a ground stop. In this case, you would be at the maximum number of stops (8).
Note that you could alternatively use the train to get around Japan and instead of flying out of Tokyo Haneda, you fly out of Osaka. That's still 8 stops and it looks like this:
Stopover example 3
Let's back up and erase that Osaka or Haneda bit and go back to the original itinerary in Stopover example 1. As a reminder, that example looked like this:
Let's say for an example's sake that flights from Tokyo to Beijing are really cheap and so you'd rather just buy that leg with cash. Transportation within Europe (whether by train or plane) can also be really cheap — or maybe you just want to bicycle your way from Copenhagen to Madrid. Let's pretend you want to make your own way from Tokyo to Beijing and from Copenhagen to Madrid, so you add two "ground transfers" on those sectors. Here's your new itinerary:
You've still got 7 stops: Honolulu, Guam, Tokyo-Narita, Beijing, Copenhagen, Madrid, and Bogota.
You may also notice in the map that I don't actually have it returning to New York-Newark but rather Orlando. You'll see that by eliminating the flights from Tokyo to Beijing and from Copenhagen to Madrid, you also get the itinerary down to just under 22,000 miles — which means you'll only pay 125K miles for this itinerary in business class. Is it worth paying for the flights/transportation from Tokyo to Beijing and Copenhagen to Madrid to save 20K miles? Beauty is in the eye of the beholder. The key here is that you can think outside the box a little bit. In some cases, paying for a really cheap flight to connect a couple of dots might save you a bundle of points.
Taking that "outside the box" example a step further, let's say that instead of starting in New York-Newark, you start your trip in Honolulu (after all, we know you can position there for just 7,500 Citi ThankYou points from Newark). That would cut more than 4,000 miles off of the distance traveled while still ending in Newark. By positioning to Honolulu to start, you could fly all of this in business class for 105K ANA miles.
By piecing together some other sweet spots or award sales that could line up well, you could get yourself a great bargain.
Reader tips
A reader who has been enjoying an ANA around the world trip reached out to us recently and answered a number of our questions about the process and gave us some great tips.
For those wondering if it is a long and arduous process to book, reader Bill tells us that he went into his phone call armed with an intended itinerary since he had checked for availability in advance (starting with United to find available award flights and then cross-referencing it with what he saw available at ANA's website to make sure they would see the same availability). He said the call took about 20 minutes.
Here are some of the valuable takeaways Bill shared:
You can book for someone else. I had read somewhere that you can only book an ANA Around the World ticket for yourself, but Bill transferred points to his ANA account to book the trip for 2 passengers without a problem (he notes that you can only book for immediate family members whom you register online in your ANA account, though they apparently did not request verification of relationships)
The agent proactively offered a 3-day hold. While this wasn't expected or needed, the agent offered to put the award on hold for 3 days once they had built the itinerary over the phone. You may not be able to count on this, but it's nice to know it is possible since Membership Rewards transfers take a day or two and transfers from Marriott Bonvoy could take a week or two.
Some backtracking may be possible. While the rules are clear that backtracking is not allowed, Bill reports that agents may have some leeway to allow it within a region. For example, Bill was flying from Vienna to Bangkok and got the impression that they would have allowed him to book it as Vienna to Zurich to Bangkok — which technically backtracks westward from Vienna to Zurich before going east to Bangkok. YMMV of course and this may depend on the agent.
Bottom line
The ANA Around the World chart offers some amazing value. The fact that you can get all the way around the world without any fuel surcharges makes it an outstanding sweet spot. Even if you included a partner or two with moderate fuel surcharges, it could still easily be a killer redemption for the trip of a lifetime. It does require some planning to execute, but using less than 150K Membership Rewards points to fly any of the itineraries above in business class (and some as few as 105K) would certainly be a big win in my book. With the newfound ability to separately position to the far ends of the United States for just 7,500 miles, you can easily trim down your redemption a bit or maybe get in an extra stop, and who doesn't want to take the scenic route on a 'round the world redemption?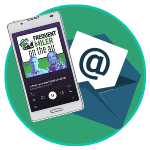 Want to learn more about miles and points?
Subscribe to email updates
 or check out 
our podcast
 on your favorite podcast platform.