I've really come to love Aeroplan more and more this year. Obviously it was a big tool on my path to victory in the 3 Cards 3 Continents challenge, but I also find it just a lot of fun to daydream about great Aeroplan awards thanks to their great partnerships and really cool award chart for those looking to piece together unique itineraries. At the Chicago Seminars recently, one of the questions I got from a number of people was how I went about piecing my award together. Many people wanted to know how difficult it is and how long it took to do. The good news is that it isn't very difficult at all thanks to Aeroplan's pretty good search tool, but it does take some time. Still, if you enjoy puzzles and puzzle games, piecing together a great Aeroplan award can be a lot of fun. In this post, I imagine myself wanting to take a trip next year during the summer school break (August 2023) with my family of 4 and I show you how I'd go about searching and putting together an epic trip.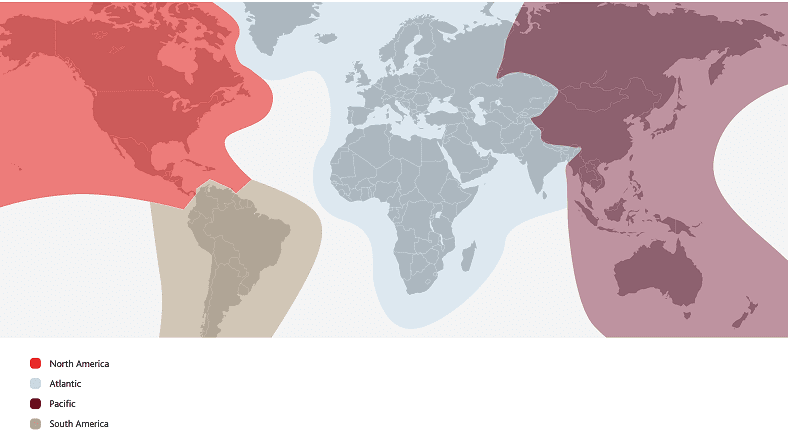 An example award search for summer 2023
AirCanada.com's search tool is robust and I believe it includes all of their partner flights. You can only search one date at a time (you can't even click around on the 7-day calendar shown at the top of results), but as long as you have the box checked to use Aeroplan points it returns award flight results promptly.
For the purposes of this post, I wanted to examine what it would be like if I were looking to book a trip for my family of four during August 2023. I intentionally chose a time of year when many kids would be off of school because peak summer dates can be hard in terms of availability, so it would give me a chance to demonstrate how I'd go about searching. Parts of the story may be tough to wrap your mind around on the first read, but hopefully this gives some food for thought in terms of how to plot out your own award searches.
First steps
My first step in thinking about these types of awards is doing a simple search or two based on the award I really want to book while paying close attention to what else comes up in the results.
For instance, let's say that I wanted to fly to Rome next summer. I've never looked for data on this, but my impression is that there are more flights to Europe from New York than any other US city (somebody please feel free to fact check me on that!) — and I'm based in New York State — so I always start with searching from New York City. Unfortunately, Newark was recently taken out of the "NYC" airport code, so that sometimes means needing to search both "EWR" and "JFK" for international routes out of New York.
I began with August 3, 2023 and searched for awards from New York (JFK) to Rome (FCO). Important note: Despite the fact that I need 4 total seats for my family, I always start by searching for only one passenger. I'll explain why in a minute. Take a look at the results:
As you can see, there are itineraries available entirely in business class on Brussels Airlines and Egyptair. The Air Serbia result at the top says "mixed cabin" in red. Air Canada codes mixed-cabin results by color: red means that less than 50% is in business class and black means more than 50% is in business class. Since there are only two segments and mixed cabin is in red, I immediately know that it's only the Belgrade to Rome segment that is in business class, so I ignore that result.
I was happy to see availability on both Brussels and Egyptair, but unfortunately there was only one seat on the Brussels itineraries and only 2 seats on the Egyptair itineraries. However, the "1 seat left" or "2 seats left" designation applies to the entire itinerary. It is possible that one segment has more seats available — the search tool is only displaying how many seats are available on the entire itinerary. In other words, maybe one leg has 4 seats available and the other leg has only 2 seats available — in that case, I would expect the tool to show only 2 available seats for the overall itinerary.
For instance, while there are only 2 seats left from New York to Cairo to Rome, it is possible that there are more seats on either New York to Cairo or on Cairo to Rome, but there are 2 seats left on that combination of flights. So when I see a result like that, my next step is to try searching from New York to Cairo to see how many seats are available on the long-haul flight. Sure enough, there are five seats available in business class on the long-haul flight.
That's more than enough space for my family of 4 to fly across the Atlantic in business class. This is why I only search for one passenger to start — had I searched from New York to Rome for four passengers, I wouldn't have seen any seats available on Egpytair since there weren't four seats available on the connecting flight from Cairo to Rome.
By contrast, the Brussels flight only had one seat from New York to Brussels. That won't work.
So let's imagine for a moment that I was happy enough to fly Egyptair (which would be true on their 787; in reality I'd be more hesitant about this 777 route, but let's ignore that and just play along with the notion that I was happy with the Egyptair flight). Since that is an overnight flight departing on August 3rd, it arrives at 9:45am local time on August 4th. A connection time of up to 24 hours is allowed on international award tickets without counting as a stopover, so that means that I could continue on from Cairo on any flight up until 9:45am on August 5th.
Note the difference between a stopover and a layover. A stopover is when you stop in a connecting city for 24 hours or more. A layover is a connection of fewer than 24 hours. Air Canada allows one stopover on a one-way award for an additional 5,000 miles. You are allowed a total of up to 6 segments on a one-way award and layovers between segments can be up to 24 hours.
Expanding the net to flights within 24 hours
Continuing with this idea that I'd like to get to Rome, that means I'd next search business class from Cairo to Rome on August 4th (the day of my arrival). I like to sort the results by departure time since I know I need to look at flights that depart after 9:45am on August 4th or before 9:45am on August 5th.
There were no options with 4 award seats in business class on August 4th. I did find results through Brussels, Abu Dhabi, and Bahrain that had two seats available.
As was the case with the Egyptair flight, I wondered whether in those itineraries through Brussels, Abu Dhabi, and Bahrain it was the first or second leg (or both) that were limiting the search results to two seats. I thought that perhaps I could find a connecting flight from Cairo to one of those cities and then find a separate flight to Rome. Unfortunately, when I searched from Cairo to Brussels and Cairo to Abu Dhabi and Cairo to Bahrain individually, all of the nonstops had only 2 seats available.
When I searched from Cairo to Abu Dhabi, I did find several connecting itineraries that had 4 seats in business class, but only two seats on the nonstop options.
All of those itineraries above include a leg on Egyptair to Saudi Arabia and then continue on Gulf Air through Bahrain. Unfortunately, you might notice that I forgot to sort the results above by departure time — all of them depart Cairo before I'd be there on August 4th. I did find one option leaving Cairo at 2:45pm and connecting at a different city in Saudi Arabia, but at the end of the day let's say that I wasn't interested in the above travel gymnastics since I ultimately want to end up in Rome, not Abu Dhabi.
Remember that I would have up to 24 hours from my time of scheduled arrival on August 4th to depart Cairo without paying for a stopover — so I next searched on August 5th from Cairo to Rome and sorted by departure time to look at the flights departing before I hit the 24hr mark at 9:45am. Here were the options:
As you can see, only the last itinerary on the list above had 4 seats. It leaves at 9:40am on August 5th — just in time for me to stay under 24 hours (I'd be in Cairo for 23 hours and 55 minutes, plenty of time to do some sightseeing). However, unfortunately, it's mixed-cabin. The good news: it is in black, so more than 50% is available in business class. The bad news is that the flights from Cairo to Istanbul and Istanbul to Rome are nearly equidistant — so just over 50% would be in business class. As it turns out, the flight from Istanbul to Rome would be in business class. That sounded good since Greg reported Turkish's intra-European business class to be really good. However, I wasn't thrilled about the prospect of flying from Egypt to Istanbul in economy class (since you need to pay the award price of the highest cabin on your itinerary, I'd be paying for business class even if one or more segments are in economy class).
Scrolling back to the top of the list, I see that the first itinerary from Cairo to Istanbul to Athens to Rome only has 1 seat left in business class — but, once again, I don't know which leg(s) might be the limiting factor. So I tried searching Cairo to Istanbul on August 5th.
Three seats! So close! If I only needed 3 seats, that might have been perfect(ish). I'd arrive in Cairo at 9:45am on August 4th, have plenty of time to go see the pyramids (or whatever) and come back to the airport around midnight for my 2:45am departure to Istanbul. Then, I could spend all day in Istanbul and fly to Rome on Saturday night, August 5th — nonstop or via Vienna.
But that flight from Cairo to Istanbul only had 3 seats and I need 4 seats. I should note that there were itineraries with 4 seats in business class that connected in Kuwait City or a couple of cities in Saudi Arabia — but that was more out of the way than I wanted to be for this example.
Remember that I would arrive in Cairo at 9:45am on August 4th. I therefore decided to back up and see if I could fly from Cairo to Istanbul on August 4th (maybe I could find onward connections to Rome still). Unfortunately, the nonstop on Turkish Airlines on the evening of August 4th also only had 3 seats.
Again, that's not enough seats. But once again, I found a number of connecting options with 2 seats — so once again I had more searches to do. For instance, there was this itinerary from Cairo to Budapest to Istanbul with 2 seats.
That interested me less for the prospect of flying from Cairo to Budapest to Istanbul and more because Budapest might be a fun destination for a night on the way to Rome. Unfortunately, there were only 2 seats on the nonstop from Cairo to Budapest on Egyptair. However, there were 4 seats on Turkish connecting in Istanbul!
Those with an astute eye might recognize the departure time there — that 20:40 departure from Cairo on August 4th is the same flight shown a moment ago. Nonstop from Cairo to Istanbul it only has 3 seats in business class — but continue on to Budapest and suddenly there is space for my family of four!
If you actually wanted to book that flight, I think you would have to be specific (and insistent) with the Air Canada phone rep as to how they search it. If they search just Cairo to Istanbul (going segment-by-segment), they are only going to see 3 seats on the Cairo-to-Istanbul leg. If they search Cairo to Budapest, they should see the four seats. I'm making that educated guess based on similar experiences I had where Turkish showed availability on the flights to Istanbul only when combined with a flight out of Istanbul (and based on the way my phone conversations went on two separate occasions — each time, I was told there was no space from Cairo to Istanbul only to continue insisting that they search Cairo to [insert destination] and find the option on Turkish).
While that itinerary would leave enough time to see the pyramids in Cairo and provide a 12 hour layover in Istanbul, the layover is from midnight until 12pm. Factoring in time from the airport to the city and back to the airport, that's not actually very appealing since you'd barely have enough time for a rushed breakfast in Istanbul.
However, in searching Cairo to Budapest I did stumble on some other options like this itinerary through Istanbul and Vienna, where I suddenly found 4 seats on the 2:45am flight from Cairo to Istanbul (on August 5th) provided I continue on to Vienna and Budapest.
Notice yet again that there are suddenly 4 seats available in business class on a connecting itinerary where one leg (Cairo to Istanbul at 2:45am on August 5th) only had 3 seats available when examined alone. I also found four seats from Cairo to Istanbul to Athens starting on the same 2:45am flight.
Backing up and retooling plans
At this point, I had to back up and look at the big picture again. I wasn't thrilled with any of the options above. I decided to reverse-engineer. I thought that I wanted to end up in Rome and there weren't seats on the nonstop on Egyptair from Cairo to Rome, so I'd need to connect somewhere between Cairo and Rome. Rather than waste more time doing scattershot searches, I wanted to figure out which Air Canada partners fly to Rome because then I could search from Cairo to the hubs of those partners and potentially build in a stopover.
I went to FlightConnections.com and searched from Rome for Star Alliance routes. Note that searching by alliance requires a paid subscription, but the paid subscription for this excellent tool is only $36 per year and it is well worth it. The free version allows you to search one airline at a time, which can also be useful, but for my purposes here it would have been tedious. Note that by filtering to Star Alliance airlines, I would miss some Air Canada partners that fly to Rome like Air Dolomiti and Air Serbia, but this would give me a good starting point of cities I could sandwich between Cairo and Rome.
I learned about a couple of routes from that map. I previously had no idea that Ethiopian has 5th freedom routes on some days of the week from Marseille, France and from Milan to Rome.  I couldn't find any availability on those flights, but it was interesting nonetheless.
I decided to next search from Cairo to Brussels thinking that I could ultimately end in Brussels and take a cheap Ryanair flight to Rome if that's what it took to get there. I searched from Cairo to Brussels on August 4th to see whether there was a shot at getting that far in business class. Unfortunately, there weren't enough seats on a nonstop, however, I found that there were four seats on the Egyptair flight from Cairo to Paris and then onward to Brussels.
Paris in the summertime sounds nice! In fact, maybe it sounds even nicer than Rome! Who needs Rome if I can get to the city of love and a cheaper Disneyland all in one shot?
I recently wrote a post explaining how I am very destination-open when booking trips. I'll often go where availability takes me — and in this case, while I started with Rome in mind, I wouldn't be disappointed with Paris instead. If you want to find seats for a family during peak school break dates, you often need to have that kind of flexibility (see Business class for 4 or more: finding multiple seats for family award travel for more about that).
Unfortunately, that flight from Cairo to Paris takes off 5 minutes before my flight from New York would arrive. Doh! That wouldn't work.
But man, I'd really like to get to Paris. Unfortunately, the 9:40am flight on August 5th (23 hours and 55 minutes after my planned arrival on August 4th) only had one seat, so that wouldn't work either. Back to the drawing board….
What if I could get to Cairo in time to catch the flight to Paris? In order to do that, I would need to land in Cairo really early in the morning on the 4th or the day before.
As it turns out, I could start my trip one day earlier and fly from New York to Cairo departing on August 2nd and arriving on August 3rd as there were 5 seats in business class on that date.
Again, that flight arrives at 9:45am on August 3rd. I could then spend 23 hours and 55 minutes in Cairo and continue on from Cairo to Paris on August 4th
Boom! That's New York to Paris with a 23 hour and 55 minute stop in Egypt for four people on peak summer dates — and I haven't even used a stopover yet.
But perhaps I can't leave on August 2nd. Maybe I really need to leave on August 3rd but I'd like to arrive in time for the flight to Paris at 9:40am on August 4th. I'd go back to Flight Connections and figure out what other airports Egyptair serves from Cairo — maybe I could find availability on something with a better schedule.
I immediately noticed that they also fly to Cairo from Washington (IAD). I searched that flight on August 3rd — and sure enough, they have a flight from Washington that arrives at 4:30am on August 4th — plenty of time to catch the connection to Paris at 9:40am.
Unfortunately, all of that work done to find business class for a family to Paris and I wouldn't be paying a great price for it. That's because whether you start in New York or Washington DC, your total travel distance from New York to Cairo to Paris will be about 7,600 or 7,800 miles. That means you would pay 90,000 miles one way for New York or DC to Cairo and on to Paris. That's not at all a good price for business class to Europe. 
But the beauty of Aeroplan's award chart isn't for simple trips to Europe — the beauty of the award chart is being able to piece together awards on different partners that stretch to the ends of the chart. For instance, flying anything more than a couple hundred miles from Paris will put you into the top end of the distance band for the Atlantic zone, so why not stopover in Paris for a few days and then continue on to Mauritius on August 7th, when there is space for 5 in business class on the 12hr flight to Mauritius.
Since the total distance flown would be much greater than 8,000 miles, and Mauritius is within the Atlantic zone, you'd pay 110K miles + 5K miles for the stop in Paris.
I know that we have to get back home and I don't usually worry about booking my return flight through the same airline program, but I know many people would like to see that a return is possible. For the return journey, it would be possible to fly a family of four in business class to Johannesburg after a couple of days in Mauritius.
And then after nearly 24 hours in Johannesburg, you could continue on to Abu Dhabi and back to New York — yes, this is space for 4 passengers (both legs are operated by 787s).
That "return" itinerary from Mauritius to Johannesburg to Abu Dhabi to New York has no stopover, so it would cost 110K miles — or stop in one of those locations on the way back for a total of 115K miles one way.
In total, a trip like that would cost 225K-230K miles per passenger with nearly 24 hours in Egypt if you want plus a stopover in Paris for a few days (or as long as you want up to 45 days on a stopover) before continuing on to your destination of Mauritius for a few days (or as long as you want or as the schedule allows) and then you could try to plan a stopover in either Johannesburg or Abu Dhabi (again, for up to 45 days) on the way back to New York and pay just 230K miles plus taxes, flying entirely in business class with a family of four during (Northern Hemisphere) summer dates. If you took advantage of the current Chase transfer bonus, you would only need to transfer 177K Ultimate Rewards points to book that trip.
Stretching it out for only a few miles more
But maybe you want to stretch things further. After all, while this trip to Mauritius would cost you 110K miles + 5K miles for the stopover in Paris, a trip between North America and the Pacific zone only costs at maximum 115K miles + 5K miles for the stopover in Paris.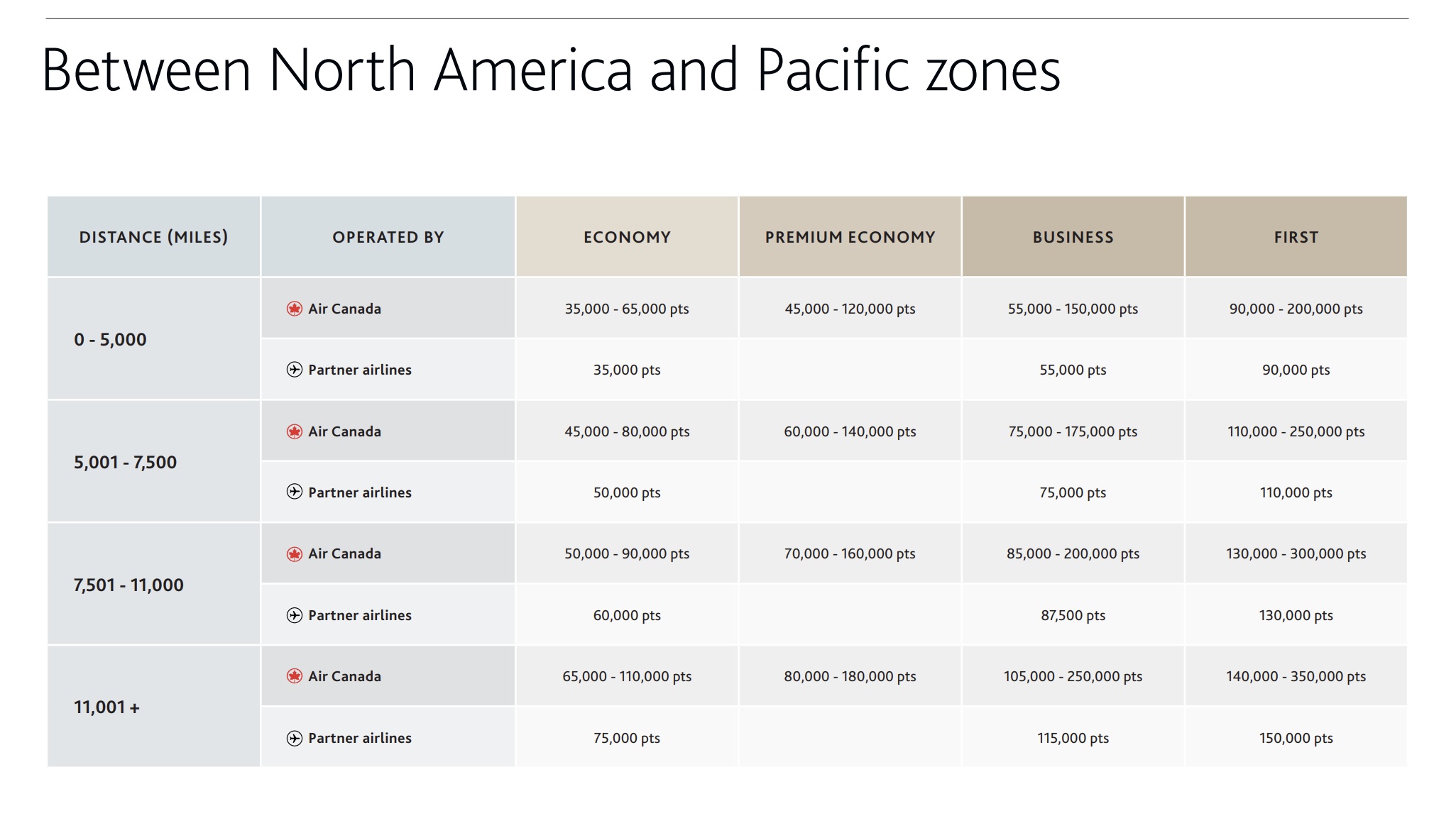 In other words, for 5K miles more than it would cost you to get to Cairo, Paris, and Mauritius, you could instead go to Cairo, Paris, and basically anywhere in Asia / Oceania. North America to the Pacific zone with a stopover in the Atlantic zone is a sweet spot in my opinion.
For instance, you have a stopover in Paris and then continue on to Bangkok via Istanbul on August 10th, spending from 1hr to 16hrs in Istanbul (I'd recommend 16!).
But maybe you're not long for Bangkok and you'd rather continue on to Singapore and Bali. If you took that 16hr layover in Istanbul that lands in Bangkok at 06:15 on August 12th, you could spend the day in Bangkok and then continue on with 4 seats in business class to Singapore and on to Bali.
At that point, you could have flown:
JFK to Cairo, 23 hours and 55 minutes in Cairo
Cairo to Paris, stop for as long as you like (in this example, six days, but Aeroplan allows a stopover of up to 45 days)
Paris to Istanbul, 16hrs in Istanbul
Istanbul to Bangkok, 14hrs in Bangkok
Bangkok to Singapore (overnight layover in Singapore that you could spend in the lounge or a transit hotel)
Singapore to Bali
That's six segments, all in business class, for 115K miles.
How did I find all of those options with 4 seats in business class during a peak school break period? The same way I found the seats shown at the beginning of this post — trial and error by searching a route with one passenger and examining the results to see what other routes I might want to try.
It helps that I'm fairly familiar with Air Canada's partner airlines. I tend to search from hub to hub. For instance, I know that Air Canada partners with Star Alliance airlines, so I searched from Cairo to cities that I know are Star Alliance hubs like Istanbul (Turkish), Bangkok (Thai), and Singapore (Singapore). I also searched to cities like Muscat (Oman Air) and Abu Dhabi (Etihad). I search segment-by-segment and always start with one passenger so that I don't miss connecting itineraries that might have a segment that works for my family.
Bottom line
I know that this post may be tough to follow on first pass, but I hoped that it would lay out the process for piecing together a big Aeroplan award and show that it is certainly possible to do — even with a family and even during a peak travel period. Would my kids really love going to Cairo for 23 hours or Istanbul for 16 hours? Maybe not. I'm not really booking this trip, but rather showing my plan of attack for finding something like it. The AirCanada.com search tool is incredibly powerful and while it is tedious searching one date and city pair at a time, it loads results reasonably fast for each search. More importantly, because of Air Canada's highly flexible routing rules, you can get very far on a one-way award. Yes, it'll probably take some trial and error to find the right itinerary — you probably won't find what you're looking for on the first search. However, when it comes to award booking, I love the thrill of the hunt. If you enjoy piecing together puzzles, Air Canada offers the opportunity for endless puzzle play.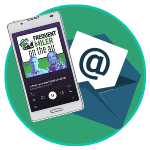 Want to learn more about miles and points?
Subscribe to email updates
 or check out 
our podcast
 on your favorite podcast platform.