In this Frequent Miler Week in Review Around the Web, the spotlight is on Citi: from a decent (if not amazing) award option I skipped over in my best uses of Thank You points to the possibility of earning AA miles in lieu of interest and more below. There's also good news for those over 5/24 — though see the link below for cautions on that. All this and more in this week's recap:
Earlier this week, I went over the best uses of Citi Thank You points. I completely skipped over Qantas in my look at the best transfer options. If you're flush with Thank You points, you might want to check out this post from Australian blog Point Hacks about a new way to redeem points between Los Angeles and Tahiti / Auckland. Alaska Airlines charges fewer miles and allows a stopover (and might also charge lower fees), so Qantas is not the best way to book this route. That said, if you have been hammering away at an AT&T Access More for 3x for a couple of years, you might be satisfied with the ability to fly down under for a competitive rate with Qantas points.
---
I don't fly many paid flights each year, so when an offer comes out to earn bonus miles based on paid flight activity, I usually don't give it much thought personally. However, if you do a significant amount of paid travel, you'll want to check out this post from OH Travel Dad, as it seems that the current United offer might turn out even better than expected.
---
When it comes to rewards programs, a lot more light gets shined on Membership Rewards and Ultimate Rewards simply because there are so many ways to rack up those points in a hurry. That said, Travel in Points makes a case in this post about why Citi is worth your attention as well. Many of Citi's strengths rely on the user to put in a little effort (whether via calling for retention offers or knowing what product change options are available that may not be out there for new applications), but that makes for a number of good opportunities.
---
Speaking of Citi, word on the street is that they may begin trying to compete for your online savings account business by awarding American Airlines miles. I'm skeptical as to whether or not they will award enough to make it interesting, and in my mind this is comparable to regularly buying miles, which is something I probably wouldn't do unless the rate were excellent. This post from Miles Talk has covers the speculation of for those interested in speculating.
---
Doctor of Credit reports a very positive development for those over 5/24. That said, walk softly here as a new account can be the first step toward triggering a Chase shut down (See our post on why Chase shutdowns happen and how to avoid them for more on that). Still, for those who understand the triggers and/or accept the risks, this is some good news.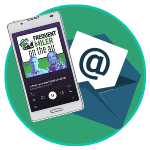 Want to learn more about miles and points?
Subscribe to email updates
 or check out 
our podcast
 on your favorite podcast platform.