A reader named Ed recently reached out with a piece of feedback that I featured in a "Question of the Week" segment of Frequent Miler on the Air. I thought the commentary was an interesting one to ponder, both for some of its really strong points and the places where I saw flaws in the logic. I completely agree with Ed that the Hilton cards can offer excellent value and I can see the perspective in calling them underrated (or at least underappreciated) even if I take exception with pieces of Ed's argument.
In order to provide some analysis, it is useful to first take a look at Ed's argument. I have made some slight edits for clarity and to remove parts that weren't directly relevant while keeping most of what Ed wrote in his own words:
I think you and all of the points bloggers grossly underestimate the value of Hilton points and bonuses. This is why…

Over the past 2 years, we (Ed and his wife) have both applied for the Aspire, Surpass and Hilton Business and kept all 6 cards so far, but will cancel the business ones soon before the one year mark. The bonuses were mostly 150k w a couple of 130k with $50 statement credit. The spend requirements averaged 3k (and average return on spend is 5x considering 7x at restaurants, 6x at supermarkets and gas etc and 3x everything else). And with Aspire you get a free night automatically every year (typically it's a weekend night good for a year, but due to covid it's valid any night and good for 2 years) (Note from Nick: certificates issued in 2021 are valid through December 31, 2022, not for two years). Surpass AND business come with the same unrestricted free night after modest $15k of spend each year, but let's just say as a married couple you spend the $15k on just 2 of these cards.

Math time:

Sign up bonuses: 860k
Initial spend points: 90k (18k x 5x)
Annual spend of $30k: 150k

So first year points for the 6 cards averages out to be 1.1 Million. But by year end you're also sitting with FOUR Free night certificates, actually 6 if you are past one year mark on Aspire.

Let's look at the Grand Wailea in Hawaii as one of MANY examples. Average night there is $700 conservatively. But with 1.1 Million points and the four free nights you get 21 Free nights. 21 x $700 = $14,700. To me that should be minimum value….

The point is (sorry for pun), that just doing this strategy can net nearly $15k of year one value. Year 2 would look more like:

$30k of spend x 5x = 150k points (Again must spend 30k on 2 of the cards to get Free nights)

Aspire points from the 34:1 return for the Grand Wailea drinks, spa, incidentals = 40k points (very conservative).

So 190k points, which is 2 more free nights PLUS 4 free nights again = 6 free nights at Grand Wailea in year 2 (and 3 and 4 and so on), at least a $4200 value. So while some people are spending $30,000 to get $450 of 1.5% cash back, I'm getting about 10x that.

I look at spending the 15k each year for the free nights as getting minimum 8:1 points, since I look at the free night as at least 75k points since I'm always using at a high end Hilton. So 75/15 = 5 pts plus the minimum of 3:1. So if I'm getting gas or groceries on the Surpass I'm always looking at that being 11:1.

And BTW the $1,280 in fees for these 6 cards the first year easily pay for themselves. And in year 2 you would most likely cancel the Hilton Biz card, so total fees drop to $1,090…..sticking w Hilton on the hotel side has been a home run!!!!
Is Ed right? Do points bloggers grossly underestimate the value of Hilton points and bonuses?
Let's first consider the parts of Ed's agreement that I find compelling.
The Hilton cards offer a potential points bonanza
Ed's first and most compelling point is that the Hilton credit cards offer an unmatched opportunity in terms of point earning from credit card bonuses. Most hotel chains have a single credit card. Only Marriott rivals the volume of available cards that Hilton has, but Marriott has byzantine rules about which you can get depending on which other cards you have or have had. Amex and Hilton make it really easy to accumulate Hilton points. Here are the current Hilton credit card welcome offers:
Card Offer

150K Points + free night certificate
150K after $4K spend in 3 months. Free night certificate every year - first certificate is awarded 8-12 weeks after approval. Terms apply. $450 Annual Fee
Information about this card has been collected independently by Frequent Miler. The issuer did not provide the details, nor is it responsible for their accuracy.

130K points
130K after $2K spend in 3 months. Terms apply. $95 Annual Fee
Information about this card has been collected independently by Frequent Miler. The issuer did not provide the details, nor is it responsible for their accuracy.
Recent better offer: 130K + free night certificate after $2K spend in 3 months [Expired 7/19/23]
130K Points
130K after $3K spend in 3 months. Terms apply. $95 Annual Fee
80K points
80K after $1K spend in 3 months. Terms apply. (
Rates & Fees
)
No Annual Fee
Recent better offer: 70K + free night certificate after $2K spend in 3 months. [Expired 7/19/23]
The welcome bonuses on those cards have increased since Ed originally wrote, so the totals are even higher. If one person were to open all 4 of those cards, they would have 640,000 Hilton points in welcome bonuses alone (note that Amex wouldn't let you open all four at once, this is just a math exercise in what is possible). That means a total of 1.28 million points for a couple in 2-player mode. That's pretty incredible. That doesn't include the points you would earn from meeting the minimum spending requirements. At a minimum of 3x, the additional $58K in spend required to earn those bonuses would yield at least another 174,000 points for a grand total of at least 1,454,000 points. Hilton lets you pool points with up to 10 people, so a couple in two-player mode could easily combine the power of those points.
At the top-tier Waldorf-Astoria Maldives, that total would get you twelve nights (not including the free night certificates you would also have and not considering the fact that Hilton offers the 5th night free on award stays). Most Hilton properties top out at just 95,000 points and so those welcome bonuses would get you enough for fifteen nights at a more typical "top-tier" Hilton (again, before considering 5th night free if you're staying in 5-night increments). That is far more nights than you could realistically earn at top-tier properties in other chains from welcome bonuses alone (unless you count the Ultimate Rewards-earning cards for Hyatt).
While Hilton points are clearly worth less individually than most other hotel currencies, you just can't ignore the massive quantity on tap here. And while most people probably wouldn't want to sign up for 4 Hilton credit cards in one year (never mind 8 between a two-player team), it is likely possible to do.
I agree with Ed that the fact that it is so easy to become a Hilton points millionaire is underrated, underappreciated, and gets far less air time than it deserves in the blogosphere.
Annual free nights are awesome
The analysis of the welcome bonuses leaves out the fact that the Aspire card comes with a free night certificate every year beginning right away (it takes 8-12 weeks after approval for your first free night certificate to arrive). For the imaginary couple playing in 2-player mode and each opening all of the Hilton cards, that is 2 more free nights on top of the totals above.
Furthermore, Ed makes the point that spending $15,000 per year on either the Hilton Surpass or Hilton business card will yield another free weekend night certificate. I totally agree with Ed that it is well worth spending on a Hilton card for these. Even if you only value the free night certificate at $225 and you value Hilton points at half a cent each (note that our Reasonable Redemption Value is actually a bit lower but I'll come back to why I'm deviating from it here in a moment), spending $15,000 even in totally unbonused categories creates decent return:
$15,000 * 3x = 45,000 Hilton points (worth $225 at half a cent)
1 free night certificate valued at $225
Total return on spend = ~$450
$450 / $15,000 = 3% return
Three percent is pretty good. If you do any of the spend in bonus categories and/or value the free night more highly, it is a perfectly respectable play.
Ed only assumes spending for a couple of those certificates, but each player would have the capacity to spend $15K on the Surpass and $15K on the business card and end up with a total of at least 90,000 points (base earning rate of 3x on the Hilton cards) and two more free nights (for a total of at least 180,000 points and 4 free nights between two players). Realistically, you would probably end up with far more points given easy bonus categories on the cards (Ed assumes 5x on average).
Hilton free night certificates can be highly valuable. They are normally restricted to weekend nights, but certificates issued through the end of 2021 are valid any night of the week through the end of 2022. If you find a standard room available on points, it should be available on a free night certificate. Someone applying right now could do really well since free night certificates earned this year are valid through the end of 2022, so it would at least theoretically be possible to stack this year's free night certificates and next year's certificates for an even longer free stay late next year. Ordinarily, one certificate would expire before the next is issued, but this year is different and has made it a great year to get a Hilton card.
On the other hand . . . 
Does all of the above mean that the cards are underrated? Maybe. But I am not quite as enthusiastic as Ed is about the cards.
Are the points "worth" the redemption value or the money they replace?
The first thing that jumped out at me when I read Ed's analysis was the way he valued Hilton points and free night certificates based on the cost of a fancy hotel redemption. He used nights at the Grand Hyatt Wailea as an example showing that he could get $14,700 of value in year 1 by redeeming all of his points and free night certificates for a 21-night stay (he assumes accumulating more points based on bonus categories and leveraging the 5th night free on award stays). There are a couple of key problems with that analysis.
First, there is the difficulty of availability. I haven't actually checked this, so look to the comments for someone who will prove me wrong, but I doubt that it is easy to find 21 straight nights of standard room availability at a high-demand Hilton property like the Grand Wailea. I find that Hilton is generally decent about making awards available, but I would expect 21 straight nights in paradise to be a tough redemption to snag.
But more importantly, when valuing Hilton redemptions, I try not to get swept up in the sticker price of the room. That's because I would never pay the sticker price of a high-end Hilton when awards are available. That's not (just) because I'm a cheapskate: it's because Hilton so frequently sells their points at half a cent each. As long as award stays are available, I would likely never need to pay sticker price. At a property like the Grand Wailea, that means that if awards are available a room would cost me $475 worth of Hilton points (95,000 points x 0.5c per point). Keep in mind that while Hilton limits the number of points an individual can buy in a year, they let you pool with up to 10 people, so the real limit is in the millions if you have friends with Hilton accounts willing to help you buy points. So whereas Ed valued those 21 nights at the Grand Wailea at $14,700, I wouldn't value them at more than $9,975 since it wouldn't cost me more than that amount in on-sale Hilton points.
To be fair, getting $9,975 worth of hotel rooms is still downright amazing, but the point here is that I don't want to overvalue my redemptions based on a cash cost that I wouldn't pay — and critically important is that I'm not saying here that I wouldn't pay it because I wouldn't spend $700 on a hotel night but rather because I wouldn't spend $700 on a hotel night that I could buy for $475 by buying points. Same as anything in this game, I shop around and like to pay less.
Are the bonus categories that good?
Through the same lens, the value of spend on Hilton cards loses some luster. Our Reasonable Redemption Value for Hilton points is actually 0.4c, but it is obviously possible to redeem for higher value against the cash cost of a room as Ed highlights. However, as I explained above, I don't like to value the points at more than half a cent each since I would sooner buy points than pay the cash rate when cash rates are very high.
Since I would consider buying points for those times when redemptions are favorable, I look at Hilton category bonuses based on a point valuation of half a cent each. Note that our Best Offers page calculates the value of welcome bonuses and category bonuses at 0.4c each since that is our general expected Reasonable Redemption Value (and I'll come back to this in a minute), but because I know that Ed and I are are likely to hold out for those Grand Wailea-type redemptions, I think about the category bonuses based on a half-a-cent-per-point valuation:
3x (base spend) = 1.5% back
5x = 2.5% back
6x = 3% back
7x = 3.5% back
12x (at Hilton properties on some cards) = 6% back
14x (at Hilton properties on the Aspire card) = 7% back
Because I think of bonus categories based on those values, I don't get particularly excited about the prospect of earning 5x Hilton points since I could alternatively use my Alliant Cashback Visa for 2.5% cash back and then buy Hilton points when I need Hilton points (chances are good they'll be on sale when I need them or within a couple of weeks of any given time) or I could use my Bank of America Premium Rewards card for 2.625% cash back (with Platinum Honors status) for an effective return of 5.25x Hilton points per dollar spent. Keep in mind that those are my floor-level cash back options on unbonused spend (and I am comparing to a 5x Hilton card bonus category).
In those 6x and 7x bonus categories, I generally have other cards that earn greater return. For instance, while the Hilton business card offers 6x on wireless phone service purchased directly from a US provider, my Chase Ink Cash card offers 5x. If I just take that 5x from Chase and cash it out as 5% back, I could buy 10 Hilton points per dollar spent — effectively using the Chase Ink Cash card as a 10x Hilton card on wireless purchases.
There are similar situations with the other bonus categories: 4% back on dining via the US Bank Altitude Go card is an effective 8x Hilton points per dollar spent; 4% back on gas via the Costco Anywhere Visa is an effective 8x Hilton points per dollar spent, etc.
I am not at all saying that I would never spend on a Hilton card. I do value having points and I totally agree with Ed that it is worth spending toward the annual free night certificates. The bonus categories certainly stack nicely on spend toward those free night certificates, but it is the free night certificates that make the spend worthwhile in my opinion. If it weren't for spending toward a certificate, I would use another card and use my cash back to buy Hilton points when I wanted / needed them.
Valuing conservatively is useful
The key point in all of the above is that we do make an effort to value things conservatively. Some will argue that I'm taking all the fun out of earning points in an analysis that requires earning cash back and using it to buy points rather than earning funny money (points) from the start. That's true, but it's my job.
The argument that we put forth on Frequent Miler on the Air in response to Ed was that we do intentionally value points and certificates conservatively and that you should want your points-and-miles bloggers to do so. We are of course aware that you can use points and free night certificates to far outsized value and we very much prefer to redeem that way (and with the upcoming GUC trip we will demonstrate some of what we've done lately in that regard). However, if we valued points based on those outlier redemptions, we would make poor day-to-day decisions.
For example, by considering the $700 nightly price tag of a redemption like the Grand Wailea, one could convince themselves that their Hilton points are worth 0.7c per point. If you do that, you would consider a 6x dining category bonus to be "worth" 4.2% back (6 * 0.0072) and therefore you would conclude that the Hilton card is a better choice for dining spend than the Altitude Go since the Go card "only" earns 4% on dining. However, if you instead used that Altitude Go for 4% cash back and bought Hilton points on sale for 0.5c each, you'd have 8x Hilton points per dollar spent — a return that is 30% higher than the Hilton card despite being "worth" less. It is important not to get swept up in redemptions or you will accept inferior value on your day-to-day spend. Again, I 100% agree with Ed that when you are also spending toward a Hilton free night certificate, the Hilton card is the better choice for spend, but only if you are working on that $15K free night certificate spend.
And all that ignores the fact that most people won't redeem for the Grand Wailea or properties like it year after year. It makes more sense to us to value points based on the value a reader can reasonably expect to get without undue effort. Statistics tell us that the vast majority of points and miles redeemed by Americans are redeemed for domestic (and economy class) travel. It makes more sense to earn based on those numbers than it does based on the champagne-and-caviar experiences. Again, I love the champagne-and-caviar experiences and enjoy writing about them when I redeem for them because that is indeed what makes this hobby fun. I play this game to win and winning (to me) is definitely enjoying a travel lifestyle that punches well above my weight class. In a more normal world, I almost exclusively redeem points for international premium cabin airfares and high-end hotels. But if I'm going to choose to earn Hilton points (or any other point currency) over cash back, I would rather value the points based on what they could reasonably buy me even if I don't take that fancy international trip.
So I'm right there with Ed ready to get to the Grand Wailea and enjoy 21 nights on the beach if I can or one of the many other far-outsized redemptions I've made over the years. I collect points intending to use them for stuff like that. But I want to resist the temptation to make day to day spending decisions based on those outlier situations.
Bottom line
A reader reached out to say that they think we undervalue the Hilton credit cards. I agree that we make an effort to conservatively value points and it is possible to do far better compared against the cash cost of awards. That's true with almost every card on our Best Offers page: we try to value things conservatively with the knowledge (and hope) that many readers will redeem for far more value. I additionally agree with Ed that the ability to earn a boatload of Hilton points as a two-player team is underappreciated. With popular bonus categories and valuable free night certificates available, the Hilton cards can make a lot of sense and help to build a long stay at a high-end property for a couple willing to put some spend into the cards. That's notable. I'll stick with my more conservative numbers, but Ed is right that the Hilton cards don't always get the credit they deserve.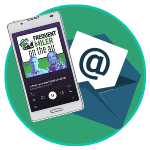 Want to learn more about miles and points?
Subscribe to email updates
 or check out 
our podcast
 on your favorite podcast platform.