Join me as I travel in style to Bangkok and back.
Greetings from Frankfurt!  Time zone wise, I'm now half way to Bangkok. I flew out last night from Detroit on Lufthansa's A330-300. This was an "old style" jet, meaning that it has not yet been upgraded to the best Lufthansa has to offer. I'll be flying the really good stuff soon enough, so I was willing to rough it for one leg of the journey
.
The first class cabin was big and airy. The seats were comfortable. The in-flight entertainment system was terrible, but since this was a fairly short (~7 hour)overnight flight, I didn't mind. My plan was to sleep, not to watch movies. I was a bit disappointed, though, with the food. It was edible, but just barely. Even dessert wasn't great. When I last flew international business class on Delta, I had excellent meals. I expected even better in first class. Ironically, the one part of Lufthansa's meal I enjoyed most was the salad, whereas that was the one part of my meal on Delta that fell short.
Things picked up for me when I changed into my complementary Lufthansa pajamas. Yes, this was my first ever international first class flight and so it was also my first ever free set of pajamas. While I changed in the bathroom, the flight attendant turned my seat into a bed with a mattress pad, comforter, and a good sized, comfortable pillow. While I won't pretend this was as comfortable as a real bed, it was still pretty good.  I think that it helped, too, to be in comfortable PJs instead of jeans.  I slept reasonably well for the rest of the flight.
Here's a crappy photo of a fellow passenger's bed:
The above photo makes the bed appear to be uncomfortably curved, but that wasn't really the case.  It felt flat and comfortable to me.  That is, my bed did.  I didn't try out my fellow passenger's bed.
Next stop, Lufthansa's first class lounge…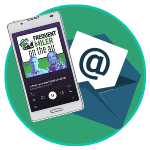 Want to learn more about miles and points?
Subscribe to email updates
 or check out 
our podcast
 on your favorite podcast platform.