Another dull month in the Ultimate Rewards Mall…
Every month, the Ultimate Rewards Mall has new month-long specials. Last month, I wrote about the January specials in the post "Ultimate Rewards Mall Jan 2013 Edition." Today, I'll show you how things look for February.
As always, thanks goes to HikerT for updating his website that shows the Ultimate Rewards Mall payouts for different Chase cards. You can find his website here: lakebagger.com/ur/.
Many small changes
Usually I like to highlight good offers that appear each month, but while there were quite a few small changes to merchant payouts, nothing strikes me as particularly interesting. I'm not saying there aren't any good deals, its just that they haven't changed much from last month. For example:
Kohl's is still 10X
Shoebuy is still 10X
The North Face is still 8X
Lowe's, J-Crew, Macy's, and OfficeMax are still 5X
Sears, which had fallen to 3X, is back up to 5X (but that change occurred mid-month in January)
HikerT's website also shows payout rates for United's MileagePlus Shopping portal whenever it's payout beats the Ultimate Rewards Mall. This month, that amounts to a pretty big list. Most of these are merchants don't exist at all in the Ultimate Rewards Mall. There are, though, a few cases in which a merchant exists in both malls and the United mall is better:
FTD.com 30X (vs. Ultimate Rewards Mall 15X)
Lillian Vernon 10X (vs. Ultimate Rewards Mall 6X)
HSN 6X (vs. Ultimate Rewards Mall 4X)
Avon 6X (vs. Ultimate Rewards Mall 4X)
These payout rates are for United MileagePlus credit card holders. Those without the MileagePlus credit card may see lower rates.
Note: The comparison between the Ultimate Rewards Mall and the United MileagePlus shopping portal is a good once since one of the best uses of Ultimate Rewards points is to transfer them to United miles. In order to transfer points to United, you or your significant other must have a Sapphire Preferred, Ink Bold, or Ink Plus credit card.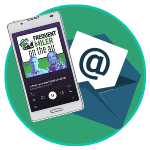 Want to learn more about miles and points?
Subscribe to email updates
 or check out 
our podcast
 on your favorite podcast platform.