Nick previously published "What's the best Chase card that's not subject to 5/24?"  As much as I enjoyed his post, I thought this was the wrong question.  After all, with cards that are not subject to 5/24, there's no particular reason to limit yourself.  Even if you're over 5/24 you can get all of those cards.
Chase's 5/24 Rule: With most Chase credit cards, Chase will not approve your application if you have opened 5 or more cards with any bank in the past 24 months.

To determine your 5/24 status, see: 3 Easy Ways to Count Your 5/24 Status. The easiest option is to track all of your cards for free with Travel Freely.
A more important question is which Chase cards you should get before you go over 5/24.  These are the cards that you absolutely should get before it's too late.  Once you are over 5/24, the only way to get these cards is to get pre-approved or to wait until you fall under 5/24 again.
Chase Cards that are Subject to 5/24
Before I narrow down the list to the must-haves, here's a list of all of the interesting Chase cards that are subject to 5/24 (click the hyperlinks for more info about each card):
Ultimate Rewards Cards:
Airline and Hotel Cards:
Pile on the Business Cards
While most Chase business cards are subject to 5/24 they do not count towards 5/24.  This means that you can get these cards while you are under 5/24 and they won't add to your 5/24 count.  If you can get approved for these cards and can meet the minimum spend requirements for the signup bonuses, you might as well get them.
Chase 5/24 semantics ("Subject to" vs. "Count towards"): Most Chase cards are subject to the 5/24 rule. That means the rule is enforced in making approval decisions. In other words, you probably won't get approved if your credit report shows that you opened 5 or more cards in the past 24 months. Meanwhile, most business cards (such as those from Chase, Amex, Barclaycard, BOA, Citi, US Bank, and Wells Fargo) are not reported on your personal credit report. These cards do not count towards 5/24.

Example: Chase Ink Business Preferred is subject to 5/24, so you likely won't get approved if over 5/24. If you do get approved, it won't count towards 5/24 since it won't appear as an account on your credit report.
The business cards subject to 5/24 are:
Among these, the Ink Business Preferred consistently offers the best signup bonus.  Most Chase card offers state that you can't get the bonus if you've received a bonus for the same card in the past 24 months, but Chase Ink cards do not have that restriction.  As a result, if you have multiple businesses it is possible to sign up for the Ink Business Preferred and Ink Cash cards once for each business and you should get the signup bonus for each!
The idea of piling on business cards while under 5/24 has been explored in depth in our series of posts about the informed newbie, Ben.  See, for example: Over 600,000 points and well under 5/24.
The one business card you may want to hold off on getting until you're ready is the Southwest card.  See the Southwest Companion Pass section below for more information.
Applying for Business Credit Cards

Yes, you have a business: In order to sign up for a business credit card, you must have a business. That said, it's common for people to have businesses without realizing it. If you sell items at a yard sale, or on eBay, for example, then you have a business. Similar examples include: consulting, writing (e.g. blog authorship, planning your first novel, etc.), handyman services, owning rental property, renting on airbnb, driving for Uber or Lyft, etc. In any of these cases, your business is considered a Sole Proprietorship unless you form a corporation of some sort.

When you apply for a business credit card as a sole proprietor, you can use your own name as your business name, use your own address and phone as the business' address and phone, and your social security number as the business' Tax ID / EIN. Alternatively, you can get a proper Tax ID / EIN from the IRS for free, in about a minute, through this website.

Is it OK to use business cards for personal expenses? Anecdotally, almost everyone I know uses business cards for personal expenses. That said, the terms in most business card applications state that you should use the card only for business use. Also, some consumer credit card protections do not apply to business cards. My advice: don't use the card for personal expenses if you're not comfortable doing so.
Which of the business cards are keepers?
Each of the business cards listed above have excellent signup bonuses, but you may not want to keep them past the first year if their benefits do not outweigh the annual fee.  In my opinion, though, there are two definite keepers in the list:
Southwest Companion Pass
The Southwest Companion pass is undoubtedly the most valuable companion ticket benefit of any airline program. The key value lies in the fact that this benefit is repeatable an unlimited number of times while you have the pass and it is not subject to availability of any special fare class. As long as there is a seat available for sale on the plane, a Southwest Companion pass holder can add his/her companion to their reservation and pay only the taxes ($5.60 one-way on domestic flights within the US).
In order to earn the Southwest Companion Pass, a Rapid Rewards member must earn 110,000 qualifying Southwest Rapid Rewards points within a single year. Once the member has earned 110,000 points, the companion pass will be valid for the remainder of the calendar year in which it is earned and all of the following year. For example, if you earned your 110,000th point on February 1st, 2018, your Companion pass would be valid until December 31st, 2019.  Therefore, earning the pass as early in the calendar year as possible maximizes the length of validity of the Southwest Companion Pass.
The easiest way, by far, to earn 110,000 qualifying Southwest points is to sign up for two Southwest cards that each have 50K or 60K signup bonuses (they often do).  Chase offers three versions of Southwest cards: Plus, Premier, and Premier Business.  People often sign up for two of these at once at the very end of the calendar year or very early in the calendar year in order to get a companion pass valid for nearly 2 full years.
As a result of this outstanding opportunity, planning your Southwest card signups is very important when deciding which cards to get while you're under 5/24.  If flying Southwest isn't your thing, then don't worry about it.  But if you think you can get good value from the companion pass, you should plan accordingly.  For many, this means making sure that you're still under 5/24 by December so that you can sign up for two Southwest cards then and earn 110,000 points as early in the next year as possible.
For more about the companion pass, including how to use it and other ways to earn it, see: Complete guide to the Southwest Companion Pass.
Picking Personal Cards
This is where things get trickier since each of these cards count towards 5/24, so there's a real cost to getting these cards.  Each one of these cards that you get brings you closer to the dreaded 5/24 count.
The following personal cards are subject to 5/24 and count towards 5/24:
Ultimate Rewards Cards:
Airline and Hotel Cards:
My Personal Card Rankings
All of the cards listed above are valuable, but some are arguably more valuable than others.  Here is my ranking, sorted most valuable to least:
Sapphire Preferred / Sapphire Reserve
The reason I listed the Sapphire Preferred and Sapphire Reserve together, above, is that once you get one, you can't get the bonus on the other until you cancel the card and wait 24 months from getting the bonus on the first.  In other words, for the purpose of getting signup bonuses, Chase treats them as the same product.  In general, I recommend signing up for whichever currently has the better signup bonus. You can then later product change (without getting a bonus) to the card you really want to keep.  See: Showdown: Sapphire Reserve vs Preferred First Year Value.
For those who spend a lot on travel and dining (as I do), I think that the Sapphire Reserve is one of the best cards available.  It earns 3X for travel and dining, and you can redeem points for 1.5 cents per point value towards travel, or you can transfer points to airline and hotel programs.  It also makes the points you earn from other Ultimate Rewards cards more valuable because you can move the points to the Reserve card and then redeem them for 1.5 cents value each (compare to 1.25 cents value when redeemed from the Sapphire Preferred or Ink Business Plus cards, or 1 cent value from either Freedom card or the Ink Cash card).
Advice for 4/24
Once you have 4 new accounts within the past 24 months, you are just one more personal card application away from getting locked out of getting new Chase cards for the near future.  You can delay going over by signing up only for business cards, but eventually you may want a new personal card (or a business card that counts towards 5/24 such as a Capital One business card).
Let's say, for example, that you want to get the Amex Hilton Aspire card.  After you get the card and it shows up on your credit report, you'll be at 5/24 and unable to get most Chase cards going forward.  That said, there's a window of opportunity from the time you sign up for the card and before it shows up on your credit report.  During that time, you can successfully sign up for one or more Chase cards that are subject to 5/24.  I recommend using this opportunity to sign up for two new Chase cards in one day.  If you're interested in the Freedom and Freedom Unlimited card, for example, those would be great candidates to get at the same time since each only requires $500 in minimum spend for its signup bonus.
Conclusion
While you are under 5/24, I recommend that you get as many Chase business cards as you can handle, and strategically sign up for personal Chase cards. If you are interested in the Southwest companion pass, then make sure that your are at 4/24 or lower at the end of the year (since the new year is the ideal time to get the pass).  As to other Chase personal cards, you can use my rankings above to help decide which to get, but please keep in mind that my rankings are quite subjective. What's best for me might not be best for you.
During this time while you are under 5/24, try to stay away from personal cards from other banks or business cards from Capital One since those add to your 5/24 count too.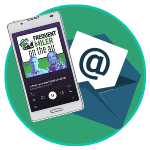 Want to learn more about miles and points?
Subscribe to email updates
 or check out 
our podcast
 on your favorite podcast platform.