With Greg on vacation in the Arizona desert, this week we talked about bucket list awards — the places we want to go or ways we want to get there using points and miles. I think Greg has some excellent choices on his bucket list and it was fun to talk about them and in some cases about the points and miles that will make those trips happen.
In his absence this week on the blog, we've talked about Hilton's war on free breakfast, the surprisingly good Capital One Travel portal, Nick's favorite credit card benefits and more. Watch, listen, or read on for more of this week at Frequent Miler.

1:13 What crazy thing….did Plaid do this week?
7:13 Mattress Running the Numbers: Which Hilton Surpass offer is the best?
21:31 Main Event: Bucket list awards
51:44 Question of the Week: The Capital One Travel portal doesn't have the booking options I want. What am I going to do with these points?
Subscribe to our podcast

We publish Frequent Miler on the Air each week in both video form (above) and as an audio podcast.  People love listening to the podcast while driving, working-out, etc.  Please check it out and subscribe.  Our podcast is available on all popular podcast platforms, including Apple Podcasts, Spotify, and many more.
Alternatively, you can listen to the podcast online here.
This week at Frequent Miler
Rumor has it that Hilton will permanently eliminate the breakfast credit for Gold and Diamond members and replace it with the food and beverage credits that they've been offering for the past year. Honestly, I see where they are coming from but I think this change will turn my stay choices into more of a calculation of value and less of an irrational response to loyalty benefits. That probably represents a net win for my wallet even if it feels like a disappointment.
Plaid Class Action Settlement: Submit Claim By 4/28/22
Have you used Plaid before to link up bank accounts or cash back apps with your bank? Of course you have. If you've done so recently, you've probably noticed the ability to choose whether Plaid should collect and share just your name and address or if it should also have access to all your past and future bank statements and other accounts, etc. That probably isn't unrelated to this settlement. You may remember that there were rumors about early X1 shutdowns being due to X1 somehow determining past manufactured spending activity through its connection to your bank. I definitely don't know that there is a connection here, but it certainly did make me wonder. See the post for more information about the settlement and how you can make a claim. I don't usually bother with class action settlements, but this is one that I will probably join since I used Plaid plenty during the included window.
When the Capital One Travel portal launched a few months ago, I didn't pay it much attention because the credit card booking portal was a story I already knew: almost surely, flights would be the same predictable price as elsewhere and hotels would be a less predictable mix of a little overpriced to ridiculously overpriced. Imagine my surprise when I found Capital One Travel to actually have not only better prices than other booking portals but as good or better deals than hotel program member rates. The icing on top was the number of those rates that were refundable up to a couple of days before check-in. After starting to look into this, I made my first Capital One Travel booking and stayed at a Fairfield Inn this week. I earned 10x Capital One miles and the front desk agent was able to attach my Marriott number, so I got a late checkout and it looks like I'll get credit for the stay. I could get used to this!
While my early searches with Capital One Travel looked pretty good (see above), many credit cards come with far more valuable features. While things like the Alaska Companion Certificate and 10% discount on Wyndham awards can be a lot of fun and very valuable in the right circumstances, I probably think more often these days about purchase protections like return protection and coverage against damage. While many of these types of benefits have been trimmed back, there are still some good options out there and these are some of my favorites.
There are several different offers available right now on the Hilton Surpass card between the more "standard" offer, a dummy booking offer, and other offers advertised on hotel Wi-Fi and it isn't immediately clear at a glance which is best. If you want to know what Greg The Frequent Miler thinks, you'll want to watch or listen to this week's Frequent Miler on the Air. On the show, I gave Greg a pop quiz and you can hear him work through the relative value of each offer on the fly.
One of those Hilton Surpass offers from the post above comes from a "dummy booking". Sometimes during the checkout process of booking a flight or hotel, you will be presented with an alternatively offer for the program's credit card. In some cases, the offer you'll see during the booking process is the best available offer. This post shows some scenarios where that is the case. While we often link directly to these offers when they are the best offer(s) available, in some cases the only way to find these offers is to start the booking process.
Estimated taxes for 2021 Q4 are due in a few days. This updated guide includes the latest information about fees and options for paying taxes via credit card, which can be a great way to generate points or meet a spending requirement without much effort.
---
That's it for this week at Frequent Miler. Don't forget to keep an eye on this week's last chance deals.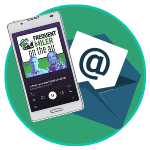 Want to learn more about miles and points?
Subscribe to email updates
 or check out 
our podcast
 on your favorite podcast platform.