Offers detailed in this post have expired
---
The $450 annual fee on my Business Platinum card just came due.  For years I've been cycling through different versions of the Platinum card in order to get a new signup bonus each year along with a total of $400 in airline fee reimbursements ($200 for the current calendar year plus $200 the next).  This year, though, I kinda wanted to stick with the same card.  Partly its because I like the card's free Gogo Inflight Wifi that works on international flights (the personal Platinum cards do not have that feature).  Partly its because I've regularly found incredibly lucrative Amex Offers on the card.  Mostly its just laziness.
People have been getting Business Platinum retention offers from Amex out of the blue.  A number of people reported getting emails stating "We value your Business Platinum membership, so… [here's a bunch of points]."  The offer was for 40,000 points after $5K spend, and then another 10,000 points after an additional $5K spend.  If I had received an offer like that I'd keep my Business Platinum for sure.  But I didn't.  I guess they don't value my Business Platinum membership.
Via email and through the Frequent Miler Insiders Facebook Group, I've learned that some Business Platinum cardholders have called to cancel and have been offered $300 or 30,000 points to keep the card and there was no spend requirement whatsoever.  Sweet.  I'd like that!
I called and told the computer that I'd like to cancel my card.  The computer suggested that it could handle my request itself.  Was that OK?  Absolutely not.  "No."  I was transferred to a person who then transferred me to a retention specialist.
The retention specialist had three offers for me.  The first was an offer to let me sign up for the Blue Business Plus card.  No thanks.  I already have it.
The second offer was a $100 statement credit.  The third offer was for 10,000 points.
"Any other offers?" I asked.  Nope.  "Are you sure?"  I'm sure.  "Can you check in the back?"
I took the 10,000 points.
Next Steps
At this point I do think I'll keep the card since I get a lot of value from it, but Amex seems to be trying to change my mind.  I just got a 60K offer in the mail for the personal Platinum card and it does not have the lifetime language on the offer.  In other words, even though I've had that card before, I could get the signup bonus again.  Hmmm.  Tempting, very tempting…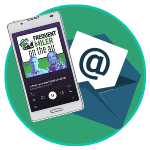 Want to learn more about miles and points?
Subscribe to email updates
 or check out 
our podcast
 on your favorite podcast platform.