Update 1/22: This post was accurate at the time of original publication in 2018, but there have been major changes in the time since including a new $695 annual fee and benefits. The offer information in this post has expired. For updated offer information, see our Business Platinum card page.
American Express has sent out an email to Business Platinum cardholders advising them of changes coming to that card in 2019, including an increased annual fee of $595 (expired), Dell statement credits, an increased hotel credit on bookings through The Hotel Collection, and more. My first instinct is that these changes likely are not positive for most cardholders considering the 32% increase in the annual fee.
New Additions
New additions coming to the Business Platinum card in 2019 include:
Up to $200 in statement credits annually for purchases at Dell (information about how to enroll and how these work to be released in February 2019) (as of 2022, these credits are now up to $400 in statement credits annually for purchases at Dell — $200 from January to June and $200 from July to December).
$100 hotel credit on qualifying charges when you book The Hotel Collection through Amex Travel for new reservations made after 1/1/19. This is increased from $75 (I believe these require a 2-night minimum stay)
Get 5X Membership Rewards® points or use Pay With Points on prepaid bookings on amextravel.com at select prepaid Fine Hotels & Resorts® properties
One year of complimentary Platinum Global Access from WeWork, a network of premium workspaces around the world. (They tout over 300 workspaces in 75+ cities and 20+ countries). More information on how it works and how to enroll coming in Feb 2019 Update: This benefit is no longer available for registration as of 1/1/20.
We haven't yet seen information about whether the Dell credits will come in a lump credit or twice a year (like the Sak's credit on the personal card) or monthly (like the Uber credits on the personal card). Unless those credits can be used in a single purchase, I think it would be hard to justify the $145 increase in annual fee with this benefit. Even if it were a twice-yearly credit like the Sak's credit on the personal card, it comes with the hassle of remembering to make a $100+ purchase twice a year using a card that earns a suboptimal return on those purchases. It's not bad, but neither does it excite me enough to renew at nearly six hundred bucks a year.
The increase in hotel credit is certainly nice if you book via The Hotel Collection. Personally, I've never made a booking with those hotels. Note that this is not Fine Hotels & Resorts — it includes a wider range of properties. But I haven't found it to be competitive in my searches. YMMV of course.
One interesting piece of note is that it mentions cardholders will be able to earn 5x "at select prepaid Fine Hotels & Resorts properties". When this benefit was launched recently, I don't think it was clear that the 5x prepaid option would only apply to select FHR properties. I'm not sure this has any major impact on the card's value, I just find it interesting that they aren't planning to roll that out to all FHR properties.
The access to WeWork might be valuable for some. I'm familiar with the concept of co-working spaces, but don't have direct experience with any of them. If they happen to have a location that meets your needs a few times a year, this might be valuable. Amex is advertising this benefit as a $2700 value. I looked up a couple of cities and it looks like monthly plans start around $500 a month for a hot desk and go up to the $2700 range per month for a private office, so I'm assuming the deal with Amex will be limited to a certain number of times per year or hours per stay or both. We'll apparently find out in February 2019.
New Annual fee
Amex concludes the email saying that these changes will also lead to an increased annual fee of $595, set to take effect on your next renewal date starting in February 2019. Here is a quote from the email:
Along with these changes, the annual membership fee for Business Platinum will be $595. This fee increase will not take effect until your next membership renewal date on or after your February 2019 billing cycle. We will send you a separate notice with additional information about this change to your annual membership fee.
It's unfortunate to only have a few months notice. That will work out nicely for those whose cards are renewing soon, but those whose renewal dates are in February 2019 or shortly thereafter will of course be displeased.
Bottom line
Just at first glance, these changes look like a net negative to me. An annual fee of $595 is just massive and in my opinion makes this card a very questionable long-term value, despite its suite of benefits (like Hilton Gold status, National Executive status, $200 airline incidentals credit, etc). My renewal date is shortly after February and I can't imagine keeping the card for another renewal unless some additional benefits are announced.
On the other hand, this announcement makes now a good time to consider the Business Platinum card if it has been on your radar as it should be possible to triple dip annual benefits at the current $450 fee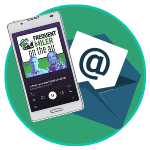 Want to learn more about miles and points?
Subscribe to email updates
 or check out 
our podcast
 on your favorite podcast platform.